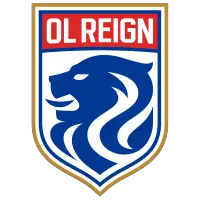 OL Reign Suffer 2-0 Loss to Washington
October 17, 2021 - National Women's Soccer League (NWSL) - OL Reign News Release



TACOMA, WA - OL Reign (12-8-3) picked up their first loss since August against the Washington Spirit (10-7-6) in their last home match of the regular season. This draw leaves the Reign in second place going into their final game of the season, still fighting to secure a top two finish.
OL Reign started the match hungry for a goal. Megan Rapinoe had the first chance of the match just 47 seconds in but shot the ball wide of the goal. The momentum slowly shifted in favor of Washington. The visitors fired off five shots before finding the back of the net with their sixth shot in the 22nd minute. Taylor Aylmer received a ball from Julia Roddar in the box and volleyed it into the top left corner of the goal.
Chasing the game at home, the Reign tried to find a goal of their own. The team struggled to connect their passes, making it difficult to progress up the field. The Reign had three chances on the goal before the end of the half, but nothing that posed a real threat to Washington goalkeeper Aubrey Bledsoe. Washington went into the locker room with the advantage at half time.
After halftime, OL Reign made two changes, bringing Quinn and Dzsenifer Marozsán into the middle. Things were looking better for the Reign at the start of the first half. The team was applying quicker pressure to Washington and had three chances in five minutes starting in the 52nd minute. Kristen McNabb, Jess Fishlock and Rapinoe all took shots, but none of them found the back of the net.
In the 59th minute, Ashley Hatch doubled Washington's lead. Hatch dribbled the ball for a few yards before finding a shot from outside the 18-yard box and hitting the lower right corner of the goal. Down two goals, the Reign needed to find some urgency to begin a comeback.
In the 62nd minute, Trinity Rodman took a close range shot that looked like it was going to put Washington up 3-0, but Fishlock hustled back to the goal line to make an incredible save with her feet and keep the score 2-0.
The Reign had 68.7% of the possession and four more chances on goal but were unable to find a goal back and picked up their first loss since August. The Reign play their last regular season game on the road, Saturday, October 30 against Kansas City.
KEY TAKEAWAYS:
With this loss, OL Reign maintain their second-place position in the NWSL standings
OL Reign are 1-2-0 against the Washington Spirit this season
OL Reign defender Kristen McNabb earned her 50th NWSL regular season start
This is OL Reign's first loss since August 14 and first home loss since June 26
OL Reign has secured a spot in the playoffs, but are still working to secure the top 2 finish
MATCH SUMMARY
2021 NWSL Regular Season
OL Reign (12-8-3, 39 points) 0-2 Washington Spirit (10-7-6, 6 points)
Date/Time: Saturday, October 16, 2021, 7:00 p.m. PT
Location: Cheney Stadium, Tacoma, Washington
Weather: 60, Cloudy
Scoring Summary
TEAM 1H 2H FT
OL Reign 0 0 0
Washington Spirit 1 1 2
RGN:
WAS: Aylmer - 22', Hatch - 59'
Discipline
RGN: Barnes (Caution - 27'), Le Sommer (Caution - 50')
WAS: Roddar (Caution - 65'), Rodman (Caution - 81')
Lineups
RGN: GK Bouhaddi, D McNabb, D Cook, D Barnes ©, D Huerta, M Angelina (Marozsán 46'), M Fishlock (Watt 85'), M Weatherholt (Quinn 46'), F Le Sommer, F Lavelle, F Rapinoe (Balcer 70')
Unused Substitutes: GK Tullis-Joyce, D Brooks, D Celia, D Cox, M Cruz
Total Shots: 15 (Fishlock - 5)
Shots on Goal: 3 (Lavelle - 2)
Fouls: 8 (Rapinoe - 3)
Offsides: 3 (Rapinoe - 2)
Corner Kicks: 9
Saves: 4 (Bouhaddi - 4)
WAS: GK Bledsoe ©, D Staab, D O'Hara, D Sonnett, D Roddar (McGrady 72'), M Sanchez (Huster 81'), M Bailey, M Aylmer, F Rodman (Takarada 92'), F McKeown (Heilferty 72'), F Hatch (Yokoyama 92')
Unused Substitutes: D Nielsen, GK Kerr, D Rodriguez, D Biegalski
Total Shots: 17 (Rodman - 4)
Shots on Goal: 7 (Rodman, Aylmer - 2)
Fouls: 9 (Rodman- 3)
Offsides: 1 (Rodman - 1)
Corner Kicks: 2
Saves: 4 (Bixby - 4)
Officials
Referee: Ekaterina Koroleva
Assistant Referees: Jennifer Garner, Tiffini Turpin
• Discuss this story on the National Women's Soccer League message board...


National Women's Soccer League Stories from October 17, 2021
The opinions expressed in this release are those of the organization issuing it, and do not necessarily reflect the thoughts or opinions of OurSports Central or its staff.