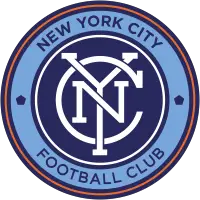 Notes & Quotes: D.C. United 1 - 2 New York City FC
June 19, 2019 - Major League Soccer (MLS) - New York City FC News Release



RECAP
New York City FC traveled to Audi Field for the second time this season to take on D.C. United - this time for a U.S. Open Cup Round of 16 match.
The Boys in Blue advanced to the Round of 16 after defeating North Carolina FC, 4-0, just a week prior in Queens.
Captain Alex Ring reclaimed his armband after shaking off an injury, while the big three, Alexandru Mitriță, Ismael Tajouri-Shradi, and Héber carried the charge up front.
D.C. United kicked off the night with an early shot on goal from Wayne Rooney off a back-heel from Luciano Acosta, but fortunately for NYCFC, the shot went off the post.
The Boys in Blue, with hopes of continuing their U.S. Open campaign, looked to score early on with back-to-back attempts from Mitriță but both attempts were saved well by Chris Seitz.
The team's luck nearly turned when Héber seemed to find the back of the net off a corner in the 7' minute, but the goal was disallowed as a handball, though replays seemed inconclusive in determining whether the ball just went off the Brazilian's shoulder or lower down.
Rooney scored the first goal of the night in the 32' minute, off a long pass from Ulises Segura, to beat Brad Stuver to the back of the net, taking the lead 1-0 against the run of play.
City wouldn't be behind for long, equalizing just six minutes later, deservedly through the dangerous Mitriță.
The Romanian tore through the D.C. United defense on a long ball from Parks to net the equalizer, cooly slotting past the 'keeper. NYCFC tied up the match 1-1 in the 38' minute.
They found the eventual match-winner just three minutes later as Tajouri-Shradi's left foot came through once again for the City, beating Seitz for the lead in the 41' minute, 2-1.
It was a devastating finish on his instep after the Libyan had cut in from the right channel.
With three goals scored, before the half, NYCFC retired to the locker room with the lead and another 45' to go.
D.C. United came out in the second half looking to net the equalizer, which they nearly found when Rooney got in range and took a shot at goal but Stuver was ready to deny the forward with a strong save.
There were a couple of scares but for the most part, NYCFC controlled the game after the break and rarely looked in danger of letting their place in the last eight slip.
When the full-time whistle sounded, the Boys in Blue had secured the win on the road to advance to the quarterfinals of the U.S. Open Cup.
QUOTES
New York City FC Head Coach Domènec Torrent
On advancing to the next round...
"I'm very happy because when you are here, you have to try and win the game. Not just for the result, but because I think the players played really well. It is not easy to play here at Audi Field because they are a good team and we knew that, but we played the last month with personality. I'm very happy because we played again five in the back, when we don't have the ball and the reason why is because they play wide all the time and I thought it was the best way to defend. Then we get the ball for attack and I am very happy for that."
On personality of team...
"It doesn't mean the way you play take the ball pass the ball. I like to have the control. It is much better because I am used to working in that way with my former teams and why not here because we have the quality to play that way. When I say personality, sometimes when you play away some players play a different way, a little bit scared. They have personality when I say take the ball and pass the ball. You have to control the game, if not you are in trouble, especially when they have the ball with the connection between Acosta and Rooney. They are dangerous, in fact the first goal they recovered the ball and one pass and Wayne Rooney is quality and he scored. I've said many times, the best way to defend is to keep the ball, pass the ball and control the ball. You have to defend with the ball if you try to defend without the ball you are in trouble 100 percent especially against this team."
New York City FC Goalkeeper Brad Stuver
On the match...
"We switched into a five back today which definitely eliminates some of the dribbling through the middle and all that type of stuff. D.C.'s a good squad and they try to get crosses in. They are trying to find Rooney and Acosta. A lot of credit to [Alex] Ring, like I said, on doing a great job and limiting the amount of chances that they had and at the end of the day they did have a lot of chances. We probably made it a little bit harder than we needed it to be. If we put a couple in the first half, credit to Chris Seitz, he made some great saves to keep us off the board. But I mean, if we bury a couple of those it would make the second half easier."
On the U.S. Open Cup competition...
"It's been important since day one. There are some teams that take Open Cup and use it as a time to get guys minutes they don't normally play. I think our mindset from the very beginning was, we have a deep team, we are going to rotate some guys but we're also going to go out and win this because it is if you look at it on paper that you win [some] games and you win an Open Cup final and it's a way for us to get into CONCACAF Champions League."
New York City FC Midfielder Keaton Parks
On slotting into this formation for the first time...
"Yeah this game we played with two in the middle instead of three like we did last week...but it's the same formation as we have been playing in all year so we have been training in it all year and I have been training in it as well. Just based on the opponent and based on their formation we switch it up a little bit today but yeah I have been ready all year to play, to play in this formation. We came out in it today and it worked out."
On the system they played in...
"It's always important to be able to play in any formation because depending on the opponent, whatever they're playing, whatever key players they have, we switch our formation to fit that. It's not easy to switch all the time but we train all week in whatever formation we are going to play in so we ready and used to it before we start."
SUMMARY
D.C. United 1 - 2 New York City FC
Wednesday, June 19, 2019
Audi Field - Washington, D.C.
2019 Lamar Hunt U.S. Open Cup - Round of 16
LINEUPS
D.C. United: Christopher Seitz; Leonardo Jara (46' Jalen Robinson), Fred Brillant, Steve Birnbaum, Joseph Mora; Antonio Bustamante (70' Russell Canouse), Chris Durkin, Lucas Rodriguez (88' Griffin Yow), Luciano Acosta, Ulises Segura; Wayne Rooney
SUBS UNUSED: Earl Edwards Jr., Chris McCann, Donovan Pines, Quincy Amarikwa
New York City FC : Brad Stuver; Anton Tinnerholm, Maxime Chanot, Sebastien Ibeagha, Ben Sweat; Keaton Parks, Alex Ring, Maxi Moralez (90'+3' Justin Haak); Ismael Tajouri-Shradi, Héber (49' Valentin Castellanos), Alexandru Mitriță (90' Juan Pablo Torres)
SUBS UNUSED: Jeff Caldwell, Luis Barraza, Jesus Medina, Daniel Bedoya
SCORING SUMMARY
32' - DC- Wayne Rooney (Assisted by: Ulises Segura)
38' - NYC - Alexandru Mitriță (Assisted by: Keaton Parks)
41' - NYC - Ismael Tajouri-Shradi (Assisted by: Sebastien Ibeagha)
DISCIPLINE SUMMARY
55' - DC - Jalen Robinson (YC - Unsporting Behavior)
69' - DC - Luciano Acosta (YC - Persistent Infringement)
76' - DC - Lucas Rodriguez (YC - Dissent)
• Discuss this story on the Major League Soccer message board...


Major League Soccer Stories from June 19, 2019
The opinions expressed in this release are those of the organization issuing it, and do not necessarily reflect the thoughts or opinions of OurSports Central or its staff.