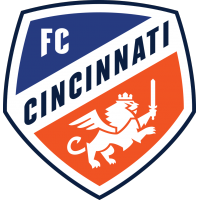 FC Cincinnati Ousted from Lamar Hunt U.S. Open Cup by Saint Louis FC
June 19, 2019 - Major League Soccer (MLS) - FC Cincinnati News Release



FENTON, Mo. - Sam Fink headed in a powerful goal off a corner kick in the third minute of second-half stoppage time to send second-division Saint Louis FC through to the Lamar Hunt U.S. Open Cup Quarterfinals with a 1-0 victory over FC Cincinnati on Wednesday night at World Wide Technology Soccer Park.
With stoppage time winding down, STL earned a corner kick and Fink powered in Lewis Hilton's service to grab the late win.
FCC return to MLS regular-season action and to Nippert Stadium on Saturday, June 22, when the team hosts LA Galaxy. Kickoff is set for 7:30 p.m. The match will be televised locally on WSTR Star64, streamed regionally on FloFC, out of market on ESPN+ and carried on the radio on WDJO, while an audio stream will be available on the TuneIn app and fccincinnati.com. Tickets for the game are on sale at fccincinnati.com/tickets or by calling 513-977-5425 (KICK). Pick-Six mini plans, and individual-game tickets and group options are on sale for all remaining games.
For up-to-the-minute information about FC Cincinnati, visit the team's official website at fccincinnati.com, or follow the team on Twitter, Instagram and Facebook at @FCCincinnati.
Saint Louis FC 1, FC Cincinnati 0
World Wide Technology Soccer Park | Fenton, Mo.
Wednesday, June 19, 2019
SCORING SUMMARY
STL - Sam Fink (Lewis Hilton) 90'+3'
FC Cincinnati: Przemysław Tytoń, Caleb Stanko, Nick Hagglund, Forrest Lasso, Mathieu Deplagne, Eric Alexander, Fatai Alashe (Emmanuel Ledesma 84'), Victor Ulloa (Leonardo Bertone 70'), Kekuta Manneh, Corben Bone (Frankie Amaya 74'), Fanendo Adi
Bench: Spencer Richey, Justin Hoyte, Rashawn Dally
Stats: Shots 10, Shots on goal 2, Saves 5, Corner kicks 4, Offsides 0, Fouls 16, Possession 62.4%, Passes 524 (85.1%)
Saint Louis FC: Tomás Gómez, Matt Bahner, Phanuel Kavita, Paris Gee, Sam Fink, Lewis Hamilton, Kadeem Dacres, Guy Abend (Caleb Calvert 84'), Oscar Umar, Albert Dikwa (Kyle Greig 65'), Russell Cicerone
Bench: Austin Martz, Jake Fenlason, Bradley Kamdem Fewo, Sean Reynolds,
Stats: Shots 16, Shots on goal 6, Saves 2, Corner kicks 9, Offsides 3, Fouls 10, Possession 37.6%, Passes 311 (76.2%)
MISCONDUCT SUMMARY
CIN - Nick Hagglund (caution) 19'
STL - Russell Cicerone (caution) 70'
Referee: Michael Radchuk
Assistant Referees: Jeffrey Swartzel, Benjamin Hall-Volpenhein
4th Official: Don Tebeau
Weather: 77 degrees and cloudy
Attendance: 4,033
HOW IT HAPPENED
7' | Saint Louis left back Paris Gee received a pass just inside the touchline and proceeded to dribble down the pitch into the 18-yard box. Following a pair of passes atop the 18-yard box, Guy Abend sent a shot just high of the crossbar.
16' | Gee charged down the left flank and attempted to sneak a low 25-yard shot by Przemysław Tytoń at the near post, but his shot deflected off the woodwork and beyond the endline.
20' | Gee received a long pass to the left of the 18-yard box, cut inside the box, took two touches and struck a right-footed shot that was secured by Tytoń.
33' | Dacres left a ball for Lewis Hilton in the penalty arc, where the midfielder fired a right-footed shot that forced Tytoń to make a diving save.
73' | Kekuta Manneh laid a pass off to Leo Bertone at the top of the 18-yard box, where the midfielder struck a left-footed shot that forced STLFC goalkeeper Tomás Gómez to make a diving save.
82' | After Sam Fink's diving header to his own goalkeeper fell short, Fanendo Adi was left one-on-one against Gómez. As Adi tried to dribble past the Saint Louis goalkeeper, Gómez was able to palm the ball away from Adi's possession.
87' | Adi raced toe-to-toe with a defender back toward the STL goal, but pulled up lame with a leg injury. Having already made all three substitutions in regulation, FCC was forced to play the rest of regulation with 10 men.
90'+2' | Cicerone received a ball from Oscar Umar outside the penalty box and rifled in a right-footed shot. Tytoń parried the ball out of bounds to concede a corner kick.
90'+'3' | STL GOAL - Hilton delivered a corner kick to Fink, who headed the ball inside the far post to give Saint Louis their game-winning goal just minutes before the final whistle.
GAME NOTES
FC Cincinnati's all-time record against Saint Louis FC falls to 4-1-1 across all competitions
Tonight's match was the first encounter between FC Cincinnati and Saint Louis FC in the Lamar Hunt U.S. Open Cup
FCC fall to 1-3-0 in midweek matches across all competitions this season... the Orange and Blue will play at least two additional midweek matches this season: against D.C. United on Thursday, July 18 and against Atlanta United on Wednesday, September 18
Interim Head Coach Yoann Damet made three changes to the starting lineup from FC Cincinnati's fourth-round match against Louisville City FC ... Eric Alexander (CDM), Fatai Alashe (CM) and Corben Bone (RM) shifted into the starting lineup, while Justin Hoyte, Frankie Amaya, and Emmanuel Ledesma were dropped
Corben Bone became the only FCC player to record a start in at least one match in each of FC Cincinnati's first four seasons of competition in the Lamar Hunt U.S. Open Cup.
Leonardo Bertone returned to the 18-man roster after being out of the country on a pre-arranged break during last week's fourth-round win over Louisville
Jimmy McLaughlin (knee), Roland Lamah (hamstring) and Greg Garza (calf) were unavailable for selection this evening because of injury
POSTGAME QUOTES
FC Cincinnati Interim Head Coach Yoann Damet
On tonight's performance
"Disappointing. We could have played more, we could have created more, I think, again, playing the first half was a tough one for us. In the second half, we had ups and downs. I think at some points, we controlled the game, and we were very vulnerable on set pieces. Very disappointing."
On the goal
"On set pieces, it's individual responsibilities. There are marking assignments. We knew there was going to be movement in the box, we knew there was going to be combination and that's it. Lack of concentration and we paid."
On what he will say to the team
"The truth. I'm going to tell them the truth. We're going to assess the performance, the result. A quick turnaround, we play on Saturday, so we have to regroup quickly and refocus quickly on the league. LA is coming to Nippert on Saturday, so we have to be ready."
On if there is a different in preparing for an Open Cup match as an MLS team
"You try to prepare every game as best as you can, make sure you identify the weaknesses of your opponent. Again, what is difficult to match is the environment, the motivation and the emotion that these guys have to play in such a big game for them. They were super motivated, and you can tell when you watch the game that they were playing 200 percent. They gave it a shot and congratulations to them. The performance they had tonight deserves a reward, and they're moving to the next stage, so congratulations to them."
On if emotion for a USL Championship team can be a factor in matches against MLS teams
"Yeah, of course. They play at home, the support was huge for them, so of course there is emotions and things like that. It brings extra motivation for the players."
FC Cincinnati Midfielder Leonardo Bertone
On if it was nice to return to the pitch
"I think you don't need to speak about that, I'm happy to be back. It's a bad evening for us, for the club. It was a very tough game. They wanted it more than us. We didn't play well from the first minute, the whole game. It was not our game. At the end, they deserve it, to go to the next round. We didn't do everything to go to the next one."
On conceding at the end after holding most of possession
"Yeah, cup games are like this. The underdogs, they are tired after 60 minutes. We had a lot of space on the flanks, and we had a lot of chances, but at the end they had one corner kick. They score in the 90th minute."
On quick turnaround for Saturday's match against LA Galaxy.
"Oh, for sure. I mean, the only thing that we need is victories now, for our players, our club. At the moment, it is a tough moment. Just last week we had a victory in the cup. Now we were defeated in the cup, so you have to go back to the league and we only have the league now. We have to do the best that we can do."
FC Cincinnati Goalkeeper Przemysław Tytoń
On how he feels following his performance
"Disappointed. Before the game, I really think about to go to the next round was our goal. But, we lost the game and we are out. We are really disappointed. We have to be focused for the next game."
On what he saw on the goal
"There were a lot of players in front of me, so I couldn't go out. Before [Hilton] served the ball, I saw that everyone was good, everyone was set in on the players. In the end, [Fink] came with other players. The shot was very hard, I couldn't react and we lost the game."
On if there is frustration in how the match unfolded
"With all respect, we shouldn't have played like this today. We have to expect more from ourselves. We are an MLS team, so we have to show everyone that we deserve to be there and be better. We need to be better, we need to win those games. There is no other explanation, there is no other excuse, we have to be focused for the next game."
• Discuss this story on the Major League Soccer message board...


Major League Soccer Stories from June 19, 2019
The opinions expressed in this release are those of the organization issuing it, and do not necessarily reflect the thoughts or opinions of OurSports Central or its staff.