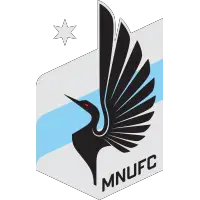 MNUFC Lose 1-3 to Colorado
October 10, 2021 - Major League Soccer (MLS) - Minnesota United FC News Release



SAINT PAUL, Minn. - After receiving word that midfielder Emanuel Reynoso's red card from last weekend's game against FC Dallas would be rescinded, Minnesota United held out hope that even with players absent on international duty, they could pull off a home win against the Colorado Rapids. After nabbing an early goal and going up a man 15 minutes into the second half, it looked like the Loons would do just that. But it all came apart for the home side in the final 20 minutes as MNUFC conceded three goals to fall 3-1 to the visitors.
Minnesota United began the game on the front foot and struck early. In the eighth minute, midfielder Emanuel Reynoso shrugged off a defender before threading a pass ahead to midfielder Franco Fragapane in the box. Fragapane found forward Adrien Hunou near the edge of the area and the Frenchman settled the ball with his left before driving a left-footed shot through the legs of a pair of defenders and onto the far post for his fifth goal of the year.
Colorado did not back off their attacking pressure, though, and Minnesota had to keep throwing the attack forward. Through the remainder of the first half, the Loons had other opportunities, including a point blank shot from Midfielder Ethan Finlay in the 22nd minute, but still needed six saves from Tyler Miller - including back-to-back saves in the 43rd minute - to get into the locker room up a goal.
In the 50th minute, MNUFC had a golden opportunity to double their lead as goalkeeper William Yarbrough came way out of his net to challenge Hunou on a long ball, which found its way out wide to Finlay. Faced with an open goal, Finlay tried to get it back to Hunou in the middle of the box and instead gave Yarbrough the chance to recover and knock the ball wide.
Then, in the 57th minute, Reynoso found Hunou with a deft pass, forcing defender Danny Wilson to bring the Argentine down. With no one left between the midfielder and the goalkeeper, Wilson was shown red for denial of a goal-scoring opportunity, giving Minnesota a man advantage. Colorado quickly adjusted by bringing in four substitutes, the most essential of which turned out to be Michael Barrios.
While MNUFC managed to build up a good bit of possession and create opportunities with the advantage, a slip up at the back would cost them dearly. In the 70th minute, midfielder Jonathan Lewis danced along the edge of the box before firing in a shot that Miller blocked but couldn't hold onto. As he dove for the ball, he collided with Barrios and, after review, the visitors were given a penalty shot. Midfielder Cole Bassett buried it confidently to the left as Miller guessed right.
With the game level and Minnesota in dire need of three points, the onus was on the home side to get a goal back. But in the 84th minute, it was once again Barrios making the Loons pay for pushing forward. Once again, Lewis brought the ball up the right wing as Barrios peeled off defender Brent Kallman's shoulder and got into space for the easy finish to make it 2-1. Hoping to at least salvage a point from the game, MNUFC threw everything forward in six minutes of added time but before they could make anything of it, the overcommitted home side left the back door wide open as Miller pushed up and gave Barrios the chance to ping a ball forward to Lucas Esteves for an empty netter that was the Brazilian's first goal in MLS.
The Rapids left Allianz Field with a 3-1 win, with all three goals coming in the second half after going down a man. The loss all but eliminates the possibility of MNUFC hosting a home playoff game and adds extra urgency to staying above the playoff line period.
MAN OF THE MATCH: Forward Adrien Hunou
LINEUPS:
Minnesota United: GK Tyler Miller; D Chase Gasper, Bakaye Dibassy, Brent Kallman, DJ Taylor; M Hassani Dotson, Osvaldo Alsono (c), Franco Fragapane, Emanuel Reynoso, Ethan Finlay; F Adrien Hunou
Colorado Rapids: GK William Yarbrough; D Keegan Rosenberry, Danny Wilson, Auston Trusty, Lucas Esteves, Braian Galvan; M Jack Price (c), Collen Warner; F Younes Namli, Jonathan Lewis, Diego Rubio
UP NEXT
MINNESOTA UNITED FC @ AUSTIN FC
Q2 Stadium | Austin, Texas
10.16.21 | MLS Week No. 30 | MLS Game No. 29
8:00 p.m. CT (Bally Sports North+, The CW Twin Cities, MNUFC Radio on SKOR North)
MINNESOTA UNITED QUOTE SHEET
MINNESOTA UNITED HEAD COACH ADRIAN HEATH
On how he would sum up that loss ...
"Hugely disappointing. We got ourselves in a really good spot. 1-nil up. Down to 10 men. Two great chances straight after. Fraga [Franco Fragapane] and Adrien [Hunou] and we probably needed the other goal because they were in a no lose really situation. I think they virtually clinched. I said it at halftime, I thought the next goal was going to be huge, because they've got a lot of belief in the group at this moment, they have, you can see that. But, I thought we started the game very well. We looked really bright with our play, but we couldn't get the second goal in. You know, you hear me say it all the time, goals change games and when them opportunities arise, in a game like today, then you have to take them because they'll change the course of the game. And then we didn't manage the spare man well enough that we had. We got desperate. Started to play longer balls. We started to play nearly five on the front so there wasn't room to run into, no room to play. And we played into their hands a little bit. So, hugely disappointing. It would have been a great win for us if we would have gotten the three points when you look at the league table. But, now, hey, six games to go we're in the playoffs. It's all to play for."
On if he got a good look at the penalty and how much that changed the game ...
"I couldn't see from where we are. I'll have to have another look. But, I was more concerned with the defending before that. I think [Jonathan] Lewis went past three of ours. Not a real challenge. I know he's quick, but, if that's the case, you obstruct him. You do something. They did a really good job at fouling today at the right moments. Every time we seemed to break and it was another little foul. Professional foul. But, hey, it's good for them. On the whole, very disappointing because I sensed all week we've been really lively and I thought we started well as well. So, to not take any from the game, when they've played for, how long was it, half an hour with 10 men? That's disappointing obviously."
On how damaging the three points lost is given how tight the playoff race is ...
"Yeah. All of a sudden it's been a great result for all the teams in and around us and below us. Gives them a little bit of belief now. So, when you look at the running, we've got to play each other. Got to go to Vancouver, LA [LAFC] are coming. So, it's... they're the games that are going to be huge for us."
On this being the third game this season his side has been up a man and haven't found a winner, and what the reason is ...
"Because we've changed the way we've played. We've stopped trying to play through the field, waiting for openings, side to side, getting overloads on opposite sides, make the opposition... we've gone long, we've gone straight, we've been playing straight balls. The only place that they haven't lost anybody is in the back. You know? It's 4-4-1. So, that part of the field is still exactly the same. You have to move the ball. You have to move it quickly. Side to side. Get people in little holes. Get the little passes playing. Little combination play. Not long, straight balls, because, for a lot of central defender, that's food and drink. And that's what we've done today. We got desperate and played desperate instead of playing our football, which was getting us the opportunities."
On what it meant for Adrien Hunou to get back on the scoresheet ...
"Well hopefully it'll do his confidence good. Because at the end of the day, that's the main thing with strikers. I thought he started the game really brightly. Little more like himself winning headers, little combinations, little flicks and putting people on goal. Obviously, got a good goal. I thought he had great opportunities second half as well. So, that'll do him good."
On if he feels like his side stepped off the gas after their goal, and Colorado finishing with more shots on goal in the first half ...
"No. We were having a little trouble with their shape, to be honest. It's difficult when you're leading and you look as though every time you break you're going to have an opportunity to change it. But I always knew the next goal was going to be huge in the game. Tyler [Miller] made a couple saves in the first half that you would expect him to make. But, the second half, we got desperate and stopped playing football and, in the end, played straight into their hands. But, credit to them. They dug in and they got a result. That's what has gotten them through most of this season. Their belief."
On no sell out today, no drums in the Wonderwall and how he thought the crowd was today ...
"I was too preoccupied with the game to be honest with you. All I know is, the people who were here couldn't have done much more for us. They've done their bit. We didn't do enough on the field."
MINNESOTA UNITED MIDFIELDER ETHAN FINLAY
On how big of a disappointment the game was ...
"Extremely disappointing, to be up a man for as long as we were, to only come up with one goal tonight, to give up the goals that we did. I mean there's not much good to take away from this game. It's extremely disappointing."
On why he thinks the team struggles to get a goal when they have up a man ...
"I don't want to say that it's panic cause I don't think that's what it is. I think that we need to continue to do what we were doing for the first 55-60 minutes there. I think at times we start to force it and maybe we get too direct and we expose ourselves, which is what happened tonight. And even then, I mean there were opportunities for us to prevent goal one and goal two in those opportunities. I don't have a clear answer for you but there's 11 smart players that should be able to figure it out, out there, and we're not right now. So, it's obviously disappointing. I think we still created some chances and [William] Yarbrough made a save or two, or the last touch was off for us this evening. I think we knew the second goal was going to be extremely important. Had we got that in the first half, I think it would have been a different game and I think if we get it early in the second half, it's a different game. The moment that they get back in the game with their first goal, it's a moment for us as a group where we need to just say okay, deep breath. We still have plenty of time to get a winner here tonight. I don't know, our reaction wasn't characteristic of what this team is all about."
On getting a look at the penalty call ...
"Yeah in real time to me, it looked like a penalty. I think when it wasn't called and they did go to VAR, to be honest with you I kind of thought, from where I saw it, that it was going to be a PK but it's such a preventable play. We have numbers behind the ball, I want to say it's going to end up being like a two versus five, two versus four kind of situation. We let a guy get into the box, and at that point then you have to kind of stay off of them a little bit. Some of our defensive principles... that's kind of 101. I think we expect better of those guys but on the other side of it, we had opportunities, offensively that we didn't finish today. I got a wide open goal in the 55th minute and I choose to elect to pass it and that could be two-nothing in that moment and the game could be over. I gotta own that I know the guys that were a part of that goal, they're gonna have to own that. It's just, it's just lapses at the wrong times and we're getting exploited for it. And that's unfortunate, but we will learn from it, that's for sure."
On how he feels about the team's chances of going to the playoffs with an eight point gap ...
"Yeah, I still feel good about our chances. Anything can happen in this league, week in, week out. This team is very capable of going on a run. That being said, you know, if we have performances like this evening, we probably won't be in the playoffs, right? And that's a reality that we're all going to have to face. And I think that's kind of what set in for us today, that now, we have a little bit of an uphill battle because coming in at seventh place is not our goal. It is to have a home playoff game. That is still a possibility, especially with the teams that we'll be playing ahead of us. But it won't be easy. We're gonna take it one game at a time, and that's Austin next week. A very important opportunity for us to get points on the road. Six games, it'll happen quick, but we need to just be diligent, take it one game at a time because they're gonna come quick in succession with a game every three or four days here in the next couple weeks. But we'll start with Austin and we got to have a reaction.
On if he attributes the loss to the four players missing (Missing players: Michael Boxall [New Zealand], Romain Mentanire [Madagascar], Robin Lod [Finland], Dayne St. Clair [Canada], Jukka Raitala [Finland]) ...
"Not at all. Of course, having more players available would have helped us this evening. But this group was more than capable of winning that game."
On his perspective of the fans' energy and presence ...
"Yeah, you know what, I honestly couldn't tell much of a difference. I thought the people that were there were loud and were into the game, but we didn't give them enough to cheer about to be honest. So, if it was quieter than normal, that was probably a little bit on us. You know, there was an opportunity tonight to be the totally opposite scoreline. This could have been a three, four-nothing win for us. You might have been thinking that's the story you were gonna write after the red card. So, you know, the players and the team at times have to drive the fans and drive the excitement. And I don't think we did that quite enough tonight. The fans that were here, they were great. I don't think that had any play on the game."
• Discuss this story on the Major League Soccer message board...


Major League Soccer Stories from October 10, 2021
The opinions expressed in this release are those of the organization issuing it, and do not necessarily reflect the thoughts or opinions of OurSports Central or its staff.
Other Recent Minnesota United FC Stories