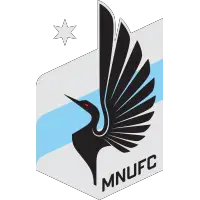 Minnesota United Announce 2021 MLS Season Schedule
March 24, 2021 - Major League Soccer (MLS) - Minnesota United FC News Release



GOLDEN VALLEY, Minn. - Minnesota United and Major League Soccer today announced the full schedule for the 2021 MLS season. Headlining the 34-game season are five nationally televised games, including the season opener at Seattle Sounders on Friday, April 16 at 8:30 p.m. CT on FS1.
MNUFC starts the season in Seattle, but returns to Saint Paul the following week to face Real Salt Lake in the 2021 Home Opener at Allianz Field on Saturday, April 24 at 7:00 p.m. CT. In 2021, Minnesota United will celebrate Mental Health Awareness on Saturday, May 15 against FC Dallas at 7:00 p.m. CT and Hispanic Heritage on Saturday, September 25 vs. Houston Dynamo. Pride Night will see the Loons host 2021 expansion side Austin FC on Wednesday, June 23 at 7:00 p.m. CT.
In addition to the season opener in Seattle, the Loons will feature in four national television games from Allianz Field. First on Sunday, July 18 on ESPN vs. Seattle Sounders, then Saturday, August 14 on FOX vs. LA Galaxy. Minnesota's final two national broadcast games will be against Sporting Kansas City on Saturday, August 21 on ESPN during MLS Rivalry Week, and again on Saturday, October 31 for the season's final home game and Fan Appreciation.
Broadcast information for all games will be provided at a later date.
2021 Minnesota United MLS Schedule
DATE OPPONENT TIME (CT) TELEVISION THEME DAY
FRI. 4/16 @ Seattle Sounders 8:30 p.m. FS1
SAT. 4/24 Real Salt Lake 7:00 p.m. Home Opener
SAT. 5/1 Austin FC 7:00 p.m.
SAT. 5/8 @ Colorado Rapids 9:00 p.m.
WED. 5/12 Vancouver Whitecaps 8:00 p.m.
SAT. 5/15 FC Dallas 7:00 p.m. Mental Health Awareness
SAT. 5/29 @ Real Salt Lake 8:30 p.m.
SAT. 6/19 @FC Dallas 7:30 p.m.
WED. 6/23 Austin FC 7:00 p.m. Pride
SAT. 6/26 @ Portland Timbers 9:30 p.m.
SAT. 7/3 San Jose Earthquakes 7:00 p.m. Salute to Freedom
WED. 7/7 @ Colorado Rapids 8:00 p.m.
SUN. 7/18 Seattle Sounders 3:00 p.m. ESPN
SAT. 7/24 Portland Timbers 7:00 p.m.
WED. 7/28 @ LAFC 9:30 p.m.
SAT. 7/31 @ Vancouver Whitecaps
9:00 p.m.
WED. 8/4 Colorado Rapids 7:00 p.m.
SAT. 8/7 Houston Dynamo 7:00 p.m.
SAT. 8/14 LA Galaxy 4:30 pm. FOX
TUE. 8/17 @ San Jose Earthquakes
9:30 p.m.
SAT. 8/21 Sporting Kansas City 2:30 p.m. ESPN MLS Rivalry Week
SAT. 8/28 @ Houston Dynamo 7:30 p.m.
SAT. 9/11 @ Seattle Sounders 4:00 p.m.
WED. 9/15 @ Sporting Kansas City 7:30 p.m.
SAT. 9/18 LA Galaxy 7:00 p.m. Kick Childhood Cancer
SAT. 9/25 Houston Dynamo 7:00 p.m. Hispanic Heritage
WED. 9/29 @ DC United 7:00 p.m.
SAT. 10/2 @ FC Dallas 7:00 p.m.
SAT. 10/16 @ Austin FC 8:00 p.m.
WED. 10/20 Philadelphia Union 7:00 p.m.
SAT. 10/23 LAFC 7:00 p.m.
WED. 10/27 @ Vancouver Whitecaps 9:00 p.m.
SUN. 10/31 Sporting Kansas City TBD ESPN Fan Appreciation
SUN. 11/7 @ LA Galaxy 5:00 p.m. MLS Decision Day
Schedule Subject to Change
All Times Central
Additional Key Moments in the 2021 MLS Schedule
Audi 2021 MLS Cup Playoffs: At the end of the regular season, the top seven teams from each conference will qualify for the Audi 2021 MLS Cup Playoffs, set to begin on November 19. More information about postseason schedule will be announce at a later date.
MLS Cup: Major League Soccer's championship match will be played on Dec. 11 at 2 p.m. CT and air live on ABC, UniMás, TSN and TVA Sports.
Attending Games in 2021
Over the past year, the COVID-19 pandemic has had a massive impact on Minnesota United operates its stadium. Throughout that time, the health and safety of every individual has been a top priority, beginning with players and employees as MNUFC returned to play last season and now for guests as Allianz Field prepares to welcome fans back for 2021. In order to protect our guests' health, MNUFC has implemented additional protective measures that incorporate guidance and mandates from the Minnesota Department of Health (MDH) and the Centers for Disease Control and Prevention (CDC).
Allianz Field will be configured to seat fans in a socially distant manner and fans will be asked to wear masks as soon as they leave their vehicle and while in the stadium. In addition to the clear bag policy, MNUFC is introducing cashless payments in-stadium. Allianz Field will be accepting electronic payments only from fans making food and beverage purchases or picking up team gear at the Black and Blue Store. Look for more information around updated safety policies as the home opener approaches. The club's goal, as always, is to provide best-in-class service at Allianz Field.
Throughout the season, MNUFC expects the capacity at games to fluctuate as state and local health and safety protocols evolve. To accommodate this ever-changing situation, Minnesota United will be releasing a limited number of games grouped together at one time that season ticket members will be able to purchase as "packages," followed by single game presales for members of The Preserve, newsletter subscribers and - if any tickets remain - the general public.
Fans can join The Preserve - the Allianz Field season ticket waiting list - for just $5 today from 5-10 p.m. CT. To sign up for the MNUFC newsletter, head mnufc.com/newsletter.
Season Ticket Members
Members can purchase up to six (6) seats per package, beginning with the first four games of the season, available on a first-come, first-served basis. Minnesota United has suspended the monthly payment plan for 2021 season ticket memberships and any balance paid toward 2021 season ticket memberships can be applied toward ticket purchases for games played at Allianz Field this season. Note that membership credit cannot be applied to secondary market resale ticket purchases. Find full details on season ticket membership for the 2021 season here.
Additional Notes about the 2021 MLS Schedule
With a focus on the health and safety of all players and staff, MLS clubs will continue to travel on charter flights during the pandemic. In an effort to minimize travel and time on the road, the number of regional matches has been increased and clubs will travel the day of the game whenever possible.
MLS will break during the June FIFA international window, as well as July 9-16 around the opening of the Concacaf Gold Cup. MLS clubs were presented with the option to play during the September FIFA international window, with 14 clubs electing to do so.
Due to travel restrictions between the U.S. and Canada, the three Canadian clubs will play MLS regular season matches in the following U.S. cities and venues until a return to their home markets is permitted:
CF Montreal: Fort Lauderdale, Fla.; Inter Miami CF Stadium
Toronto FC: Orlando, Fla.; Exploria Stadium
Vancouver Whitecaps FC: Sandy, Utah; Rio Tinto Stadium
MNUFC returns to the pitch for its fifth season in MLS. Follow Minnesota United's social channels and check our website at mnufc.com for regular updates on the club.
• Discuss this story on the Major League Soccer message board...


Major League Soccer Stories from March 24, 2021
The opinions expressed in this release are those of the organization issuing it, and do not necessarily reflect the thoughts or opinions of OurSports Central or its staff.