Mayhem Leadership Flourishes to Snap Winless Skid
February 21, 2019 - Southern Professional Hockey League (SPHL) - Macon Mayhem News Release


Four Mayhem veterans scored to lead the Mayhem to a 6-2 victory over the Evansville Thunderbolts on Thursday night, snapping the longest winless skid in franchise history at eight games.
The Mayhem got off to an explosive start, going to an early power play and pinning down the Thunderbolts early. 8:36 into the contest, Jarret Kup fed a pass into the slot for John Siemer, who set up Jake Trask in the right circle. Trask snapped a shot past Braeden Ostepchuk for his team-leading 17th goal of the season.
Trask singlehandedly built upon Macon's advantage eight minutes later. He stole possession at the blue line and ripped the puck into the net from the high slot. Just a minute later, John Siemer scored his 11th goal of the season to give the Mayhem a 3-0 edge heading into the first intermission.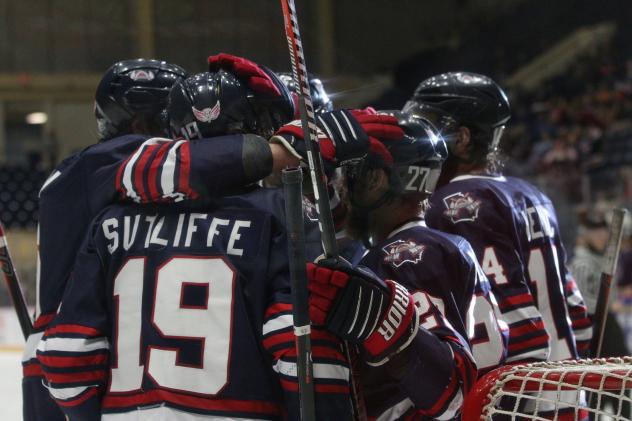 Macon Mayhem celebrate a goal against the Evansville Thunderbolts
(Macon Mayhem, Credit: Bryan Meeks)
Shayne Morrissey gave Evansville life early in the second period, smashing a rebound past Ian Sylves to spoil the Macon netminder's shutout bid. Three and a half minutes later, however, Macon had a response. Derek Sutliffe raced down the left wing on a 2-on-2 and snapped a pass across the crease for Dakota Klecha. Klecha tapped home his 10th goal of the season to re-extend the Mayhem lead to three.
On an Evansville power play, Morrissey continued to punish the Mayhem. Skating down the left wing from a severe angle, he lifted the puck over Sylves' shoulder and into the net for his second goal on the night. The Mayhem managed to fight off an ensuing high-sticking penalty by Zach Urban, and entered the third period with a 4-2 advantage.
Macon built upon its lead in period three to put the game out of reach. Kristaps Bazevics unleashed a left point shot which was redirected by Seth Ronsberg just 2:33 into the third. Klecha buried his second goal of the game six minutes later, blowing past Scott Donahue and deking around Ostepchuk before tucking the puck into the net. The highlight-reel goal put the game out of reach, and the Mayhem held on for a 6-2 victory.
Sylves earned his ninth victory of the season against his former team, denying 28 of 30 shots on goal. Ostepchuk was charged with his 16th defeat, stopping 34 of 40. The Mayhem will head to Huntsville to challenge the Havoc on Friday, February 22nd. Puck drops at 8 pm ET.
Images from this story
• Discuss this story on the Southern Professional Hockey League message board...


Southern Professional Hockey League Stories from February 21, 2019
The opinions expressed in this release are those of the organization issuing it, and do not necessarily reflect the thoughts or opinions of OurSports Central or its staff.