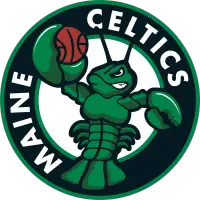 Mad Ants Come Back to Force Game 3
April 11, 2017 - NBA G League (G League) - Maine Celtics News Release



Portland, ME -The Maine Red Claws, presented by Unum, had a 15 point second half lead, but fell to Fort Wayne Monday night, 111-110 in Game 2 of the NBA D-League Playoffs. The series is now tied, 1-1, with the decisive Game 3 slated for Wednesday night at 7 p.m. at the Portland Expo.
Jordan Mickey, on assignment from the Boston Celtics, led Maine with 27 points (11-16 FG) and 13 rebounds. Mickey is shooting 23 for 35 in the series. Abdel Nader added 19 points for Maine, while Celtics 1st Round Draft pick Guerschon Yabusele led the bench with 18 points (7-14 FG), 9 rebounds and 6 assists. Jalen Jones added 18 points, and Demetrius Jackson, also on assignment from the Celtics, scored 15 points and added 10 assists. Tyler Hansbrough led Fort Wayne with 27 points and 15 rebounds.
Mickey opened the scoring up for Maine connecting on a running floater and then making a pair of free throws after being fouled by Tyler Hansbrough. Georges Niang, who was on assignment from the Indiana Pacers, made a turnaround shot in the paint that gave the Mad Ants their first lead of the night, 6-4. Halfway through the quarter Maine trailed Fort Wayne 11-10. Yabusele, making his home debut for the Red Claws, gave the lead back to Maine late in the quarter with a layup and the free throw, Maine led 19-17. Maine closed the quarter with a 9-7 run, leading Fort Wayne 28-24 going to the 2nd quarter. Mickey and Yabusele led the Claws with 8 points each.
In the 2nd quarter, Arthur Edwards nailed a three pointer at the top of the key to give a 7 point lead back to Maine, 31-24. Jones hammered home a dunk over Hansbrough that gave Maine an 8-point lead with just over three played in the quarter, the score was 37-29. Yabusele continued to produce off the bench, scoring a layup on a nice assist from Jones, giving Maine a 45-37 lead with just under 6:00 to play in the half. Mickey made a three on a dish from Demetrius Jackson, also on assignment from Boston, which gave Maine a 10-point lead with under 3:00 to play in the half, 57-47. The score was 59-51 at the half. Mickey led Maine with 19 points, while Jones and Yabusele both added 10 points.
In the 3rd quarter, Nader kicked Maine's scoring off with a three pointer at the shot clock buzzer, giving the Red Claws aa 62-52 lead. Nader scored again on a tough fade away layup, on which he was also fouled, connecting on the free throw, making the score 67-58 Maine. Yabusele converted on a layup for his first basket of the 2nd half, Maine led 74-64. Mickey hit a turnaround hook shot over Hansbrough to push Maine's lead to 13, 80-67. Jackson cut down under the basket and Yabusele found him all alone for an easy lay in, giving Maine a 13-point lead, 88-75. Maine led Fort Wayne 88-77 heading to the fourth and final quarter.
In the final quarter, Mickey made another turn around hook shot, giving him his 25th point, and Maine another 13-point lead, 90-77. Edwards nailed a corner three on a dish from Jones that would give Maine yet another 13-point lead, 93-80. Hansbrough stole the ball and made a layup which would cut the Maine lead to 7, 93-86 with just under 9:00 to play. After a layup from Niang, the Maine lead was 6-points, 96-90. Halfway through the quarter, Maine's lead dropped down to 1 point, 98-97 after a three pointer from Travis Leslie. Jones drained a deep three for Maine on the kick out from Jackson, giving Maine a 103-99 lead. After a goaltending call against Maine, Fort Wayne was back to being down by 1, 108-107. With 47 seconds to play, Trey McKinney-Jones made two free throws, bringing the Maine lead back to 1, 110-109. McKinney-Jones went to the line again for the Mad Ants, this time giving them their first lead since the 1st quarter, 111-110. Maine led throughout most of the game, but fell behind in the closing seconds and could not comeback, falling to Fort Wayne 111-110. Maine finished the night 42/84 (50%) from the floor, shooting 11/31 (35.5%) from downtown, and going 15/20 from the free throw line. Fort Wayne was 39/88 (44.3%) from the floor, 4/16 (25%) from deep, and 29/32 from the line.
Maine will host Fort Wayne on Wednesday night at 7pm for the finale of the first round series. For tickets to the game, please go online at www.maineredclaws.com or call 207-210-6655.
• Discuss this story on the NBA G League message board...


NBA G League Stories from April 11, 2017
The opinions expressed in this release are those of the organization issuing it, and do not necessarily reflect the thoughts or opinions of OurSports Central or its staff.