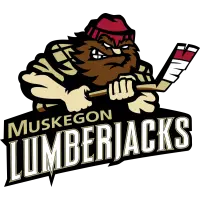 Lumberjacks Excited to Test Themselves against Powerful Chicago Steel this Weekend
November 30, 2022 - United States Hockey League (USHL) - Muskegon Lumberjacks News Release



MUSKEGON - With two big home victories over Madison last weekend, and three wins in their last four games, the Muskegon Lumberjacks have continued to inch toward the top of the USHL's Eastern Conference standings.
The Jacks currently have 20 points, good for a tie with Dubuque for third place in the conference and just shy of second place.
The Chicago Steel lead the conference with 26 points, followed by Green Bay and Team USA, who are tied for second with 21 points apiece.
The Jacks will put their recent success to the test this weekend when they head to the Windy City to face the first-place Steel for games on Friday and Saturday. They will finish the weekend with a Sunday game in Dubuque.
The Chicago series will be a showdown between two teams that have been trending well. Chicago is 6-2-2 in its last 10 games while Muskegon is 7-3.
The Jacks have not played the Steel since their home opener in late September, and that did not go well at all. They lost 5-1, and since then Chicago has proven to be every bit as good as it looked that night.
The Steel lead the Eastern Conference (and the entire USHL) with a whopping 84 goals this season. The Jacks are second in the conference with 65 goals.
Chicago has four players among the league's top 10 point producers, including forward Jack Harvey, who leads the league with 30 points (16 goals, 14 assists), forward Michael Emerson (third in the league with 24 points), forward Jayden Perron (fifth with 23 points) and forwardeNicholas Moldenhauer (seventh with 21 points).
The Lumberjacks currently have no players among the top 20 scorers in the league.
"Their power play (scoring) is around 33 percent," Hamilton said about the Steel. "They lead the league in that.They are very opportunistic.They love to take advantage of odd-man situations and your mess-ups. You've got to play disciplined hockey against Chicago and limit their odd-man rushes, because they know how to finish."
Hamilton noted that his team has improved a great deal since the ugly home opener, and it a different type of team than he expected to have.
Early on the coach thought the Jacks would be a big-scoring team and was worried about having two pretty inexperienced goalies.
As it turned out the Jacks do score a lot, but not as much as the coach anticipated, the goalies (Callaghan and Noah Rupprecht) have played far better than expected, and the team is finding different ways to win.
"I think we've come a long way," Hamilton said. "It took a while to find our identity. All summer we talked about how many goals we were going to score, but when the dust settled, it turned out that we're a big, heavy, long-bodied team with a lot of grit. We're not as pretty as we thought we would be on paper. Our style changed to cater to what we have."
The coach said he's looking forward to measuring his team's progress against Chicago.
"They are in first place and we're eager to see how we match up," Hamilton said, "We haven't seen them very much. We've been playing the Dubuques and Madisons. Chicago is in first place so they have set the bar so far."
• Discuss this story on the United States Hockey League message board...


United States Hockey League Stories from November 30, 2022
The opinions expressed in this release are those of the organization issuing it, and do not necessarily reflect the thoughts or opinions of OurSports Central or its staff.