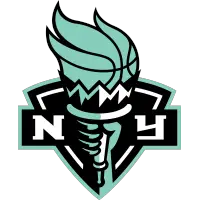 Liberty End Skid, Remain Alive for Playoff Berth
September 17, 2021 - Women's National Basketball Association (WNBA) - New York Liberty News Release



On Friday night, the New York Liberty (12-20) defeated the Washington Mystics (12-19), 91-80, ending their eight-game losing streak. With tonight's win, the Liberty can clinch their first playoff berth since 2017 with a Washington loss to Minnesota and a Los Angeles loss to Dallas.
At Barclays Center, the Liberty led by as many as 24 points and finished on 51.6% (33-64) shooting from the field, 45.5% (10-22) from three, and 83.3% (15-18) at the free throw line.
Tonight, New York set the all-time WNBA single-season three-point field goals made record (321) which was previously held by the 2019 WNBA Champion Washington Mystics (316).
The Liberty recorded 34 rebounds, 24 team assists, 40 points in the paint, and capitalized on 14 points off the Mystics' 11 turnovers. The Liberty outscored the Mystics 40-24 in the paint, and l
Up Next: The New York Liberty will await the results of the Mystics-Lynx and Sparks-Wings games on September 19 to determine if they'll punch their ticket to the 2021 WNBA Playoffs.
PLAYER NOTABLES
Four Liberty players scored in double figures in tonight's game (Howard, Ionescu, Whitcomb, Laney).
Natasha Howard finished the contest with a 24-point, team-high 10-rebound double-double on 84.6% (11-13) shooting from the field; her fourth double-double of the season and third since the Olympic break. Howard also had an 11-point first quarter on a perfect 5-5 shooting from the field.
Sabrina Ionescu had another all-around performance finishing with 22 points, nine assists, and five rebounds. Tonight's 22-point, near-double-double outing marked her 20th game scoring in double figures this season, and 11th consecutive 10+ point outing following the Olympic break.
The WNBA's second leading three-point shooter and Most Improved Player candidate, Sami Whitcomb, knocked down two triples on 71.4% (5-7) shooting from the field and totaled 13 points. Sami also added seven rebounds. Tonight at the 8:35 mark in the third quarter, Whitcomb scored her 1000th point and became the 230th player in WNBA history to do so.
2021 WNBA All-Star Betnijah Laney posted a career-high tie 11 assists for the third time this season along with 10 points and three rebounds. The All-WNBA candidate has now recorded double figure scoring in 27 of 32 games this season.
WNBA All-Defensive candidate, Rebecca Allen, impacted both ends of the floor finishing with nine points on 75% (3-4) shooting beyond the arc, along with two rebounds, two assists, and a block.
Ariel Atkins scored a game-high 29 points on 40.9% (9-22) shooting from the field, including 38.5% (5-13) from deep and 66.7% (6-9) from the free throw line. Atkins added three rebounds, two assists, and two steals.
New York's defense limited the WNBA's leading-scorer, Tina Charles, to 10 points on 55.6% (5-9) shooting from the field- her second-lowest scoring output of the season. Charles also recorded seven assists and four rebounds.
• Discuss this story on the Women's National Basketball Association message board...


Women's National Basketball Association Stories from September 17, 2021
The opinions expressed in this release are those of the organization issuing it, and do not necessarily reflect the thoughts or opinions of OurSports Central or its staff.