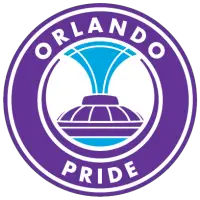 Konya Plummer Called up by the Jamaican National Team
May 7, 2021 - National Women's Soccer League (NWSL) - Orlando Pride News Release



The Jamaica Senior Women's National Football team will play two International Friendlies in the United States as part U.S. Soccer 2021 WNT Summer Series Presented by AT&T 5G. On June 10, the Reggae Girls will tackle Nigeria and on June 13, they will play World Champions and host, the United States of America. Both games will be played at the BBVA stadium in Houston, Texas. Portugal will also take part in the four-team event.
The games will be the first for Jamaica since they participated in Concacaf Olympic qualifiers in February 2020.
"We are extremely pleased to be part of this series of games," said Reggae Girlz coach Hubert Busby. "They come in handy as we begin to put our squad together for the World Cup Qualifiers beginning in November. These games give us a chance to see where we are and to incorporate new faces and talents. These are two great opponents and we are always excited to match skills with the best in the world."
The format of the Summer Series will feature the USA and Nigeria playing three matches while Portugal and Jamaica will play two. No standings will be kept and all matches will be treated as friendlies.
2021 WNT Summer Series Presented by AT&T 5G
Date Matches Stadium City Kickoff (CT)
June 10 Jamaica vs. Nigeria BBVA Stadium Houston, Texas 4:30 p.m.
June 10 USA vs. Portugal BBVA Stadium Houston, Texas 7:30 p.m.
June 13 Portugal vs. Nigeria BBVA Stadium Houston, Texas 6:00 p.m.
June 13 USA vs. Jamaica BBVA Stadium Houston, Texas 9:00 p.m.
June 16 USA vs. Nigeria Q2 Stadium Austin, Texas 8:00p.m.
The USA is the best team in the world and Nigeria is a historic power and the number one ranked team in Africa. Portugal is among a group of European teams that is making big strides forward in the women's game, and Jamaica qualified for its first Women's World Cup in 2019.
Once the teams arrive in Houston, all the players and staff will operate inside highly controlled environments at the host hotels. The staging of training and the matches will fall under the comprehensive U.S. Soccer Return to Play Protocols and Guidelines and in accordance with the Concacaf Return to Play Protocols. Everyone entering the controlled environment will be tested for COVID-19 before traveling, upon arrival and periodically thereafter. The teams will not begin full team training until the results of all arrival tests are confirmed.
Additional Notes:
- The USA has played Jamaica just three times in its history, all in Concacaf qualifying matches, most recently a 6-0 win in qualifying for the 2019 FIFA Women's World Cup. Like with Nigeria, this will be the first friendly between the teams.
- Jamaica has several players currently playing for NWSL clubs.
- Jamaica is ranked 51st in the world, with the USA ranked 1st and Nigeria ranked 38th.
REGGAE GIRLZ PROVISIONAL LIST
JUNE 2021
NAMES CLUB/COLLEGE COUNTRY
1 SYDNEY SCHNIEDER ** Washington Spirit FC USA
2 REBECCA SPENCER* Tottenham Hotspurs FC UK
3 CHANTELLE SWABY ** Glasgow Rangers SCOTLAND
4 MADIYA HARRIOTT Vanderbilt University USA
5 KONYA PLUMMER ** Orlando Pride USA
6 ALLYSON SWABY ** As Roma ITALY
7 DOMINQUE BOND-FLASZA ** Tindastoll FC ICELAND
8 DENEISHA BLACKWOOD ** Houston Dash USA
9 HAVANA SOLAUN ** Carolina Courage USA
10 CHINYELU ASHER ** Washington Spirit FC USA
11 SADE ADAMOLUKEN ** University of Southern California USA
12 DREW SPENCE* Chelsea FC UK
13 PEYTON MCNAMARA Ohio State University USA
14 CHIARA RITCHIE-WILLIAMS* Louisiana State University USA
15 SASHANA CAMPBELL ** Petah Tikva ISRAEL
16 TIERNEY WILTSHIRE Maccabi Emek Hefer ISRAEL
17 JODY BROWN ** Florida State University USA
18 KHADIJA SHAW ** Bordeaux FC FRANCE
19 SHANIA HAYLES* Aston Villa WFC UK
20 GABRIELLE GAYLE South Alabama USA
21 SHAYLA SMART Wake Forest University USA
22 KAYLA McCoy ** Training with Glasgow Rangers SCOTLAND
23 VYAN SAMPSON Charlton FC UK
24 CHEYNA MATTHEWS ** Racing Louisville USA
25 JADE BAILEY* Liverpool FC UK
26 YAZMEEN JAMIESON ** Unattached CANADA
27 JAYDA HYLTON-PELAIA Arizona State University USA
28 MARLO SWEATMAN ** Szent Mihaly FC HUNGARY
29 TIFFANY CAMERON ** Ferencvaros HUNGARY
30 TRUDI CARTER ** Unattached JAMAICA
31 JADYN MATTHEWS ** Cornell University USA
Please note that players with red asterisk (*) are first time call ups.
Players with black asterisk (**) are those who were involved in the 2018-2019 World Cup Journey.
• Discuss this story on the National Women's Soccer League message board...


National Women's Soccer League Stories from May 7, 2021
The opinions expressed in this release are those of the organization issuing it, and do not necessarily reflect the thoughts or opinions of OurSports Central or its staff.