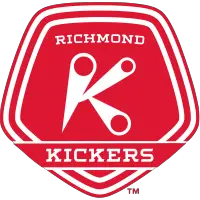 Kickers See out Second Victory against New England
June 5, 2021 - United Soccer League One (USL1) - Richmond Kickers News Release



RICHMOND, Va. - The Richmond Kickers (3-3-1) equaled their highest scoring total of the season as they earned a 3-2 win over New England Revolution II on Pride Night. The tone of the match was set when the Kickers opened up with a spectacular team goal in the first 26 seconds.
Approximately 30 seconds into the match, a quick exchange of passes between Juan Pablo Monticelli and Nil Vinyals broke through the New England right-flank. Vinyals placed a threaded pass to Jonathan Bolanos who exploded into the box then squared the ball across to Matt Bolduc who set up for a left-footed shot and netted an early goal for Richmond.
After 11 minutes, Revs II made their way into the Richmond defense and managed to get a shot off, but Akira Fitzgerald's lightning quick reflexes rejected what could have been an equalizer for New England.
At the 30-minute mark, New England equalized after an incisive run into the box which was followed with a shot that Fitzgerald deflected away from goal but fell into the feet of Noel Buck who struck the ball just quick enough to beat Fitzgerald to the punch.
Only 10 minutes later, Vinyals would place a corner kick that would connect with Monticelli for a beautifully-headed goal into the back of the New England net. The first half wrapped up with Richmond holding a 2-1 lead over Revs II.
With the second half underway, Richmond looked to see out their lead with some insurance. In the 51st minute, Victor Falck drilled a deadball down the right wing to a streaking Bolduc. The right-winger squared the ball into the center of the box to Vinyals who was rushing into the danger area. The Spaniard passed the ball to a centrally-placed Terzaghi, who returned the ball to Vinyals just wide of the goal, only for Vinyals to fizz the ball right back across to Terzaghi who finished with a perfect side-footed attempt.
In the 76th minute, New England halved the Richmond lead but the Reds held onto their lead through six minutes of stoppage time to see out their second straight victory over Revs II.
With another win under their belt, the Richmond Kickers are back on the road and headed to Wisconsin on Saturday, June 12 to face Forward Madison for the first Henny Derby of the season. The game is set to kick off at 8:00 p.m. ET.
Stay up to date with the latest news from the Kickers at RichmondKickers.com and on the official team app.
Team First Half Second Half Final
Richmond 2 1 3
North Carolina 1 1 2
LINEUPS
Richmond: Akira Fitzgerald, Juan Pablo Monticelli, Ivan Magalhaes, Jalen Crisler (68' - Nathan Aune), Esteban Calvo, Zaca Moran, Victor Falck, Nil Vinyals, Emiliano Terzaghi ( 88' - Cameron Vickers), Jonathan Bolanos ( 63' - Oalex Anderson), Matt Bolduc ( 63' - Luke Pavone).
Unused Substitutes: Austin Causey, Chris Cole, Hernan Gonzalez
New England: Brad Knighton, Sean O'Hearn, Colby Quinones (69' - Francois Dulysse), Pierre Cayet, Jake Rozhansky, Michel, Ryan Spaulding ( 68' - Hikaru Fujiwara), Christian Mafla, Noel Buck ( 45' - Justin Rennicks), Damian Rivera, Edward Kizza ( 68' - Ryan Sierakowski).
Unused Substitutes: Joseph Rice, Joseph Buck, Collin Verfurth
STATISTICS
Team Shots Saves Fouls Corners
Richmond 13 2 18 2
New England 14 4 8 7
SCORING SUMMARY
1' RIC Bolduc
30' NE Buck
40' RIC Monticelli
51' RIC Terzaghi
76' NE Cayet
CAUTIONS SUMMARY
36' RIC Chrisler
83' RIC Vinyals
90+1' NE Michel
EJECTIONS SUMMARY
None
MATCH INFORMATION
Referee: JC Griggs
4th Official: Andrew Charron
Attendance: 2,360
Weather: Sunny, 89 F
• Discuss this story on the United Soccer League One message board...


United Soccer League One Stories from June 5, 2021
The opinions expressed in this release are those of the organization issuing it, and do not necessarily reflect the thoughts or opinions of OurSports Central or its staff.