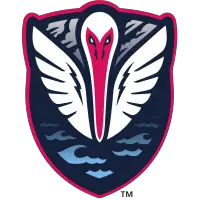 Tormenta FC Tops Red Wolves, Earns First Clean Sheet
June 5, 2021 - United Soccer League One (USL1) - South Georgia Tormenta FC News Release



STATESBORO, Ga. - South Georgia Tormenta FC played through heavy rain and unruly weather tonight to take down Chattanooga Red Wolves SC 1-0 at Erk Russell Park. Taking advantage of the slick field and conditions, Tormenta FC secured its first clean sheet of the 2021 season, and forward Azaad Liadi notched his first goal for the club.
Pressures were high throughout the first half, making it a lively match for fans to watch, resulting in an electric atmosphere at home. Things were chippy and physical between Tormenta FC and Chattanooga as they both pressed for the first goal of the night.
In the 36th minute, midfielder Marco Micaletto made a cross to Nick O'Callaghan, giving Azaad Liadi Tormenta FC's first scoring opportunity of the night. Tormenta FC continued to spend most of the time on the offensive side of the field trying to create any opportunity for a goal.
The second half started off as chippy as the first, with both sides eager to get on the board. In the 58th minute, Tormenta FC finally broke through with a goal. Micaletto skillfully brought the ball down field and fired a shot on goal, and Liadi was there to finish the chance on the rebound, recording his first goal for the club.
Chattanooga attempted to even up the score and raised the pressure, but goalkeeper Pablo Jara made several amazing saves to preserve the home side's lead. Notably, TFC Academy's Brittain Gottlieb entered the game for Curtis Thorn, who had a successful first game back after being injured. Gottlieb made a fantastic goal-line clearance for the team to secure the clean sheet late.
Tormenta FC has a short turnaround and travels to Florida to take on Toronto FC II this Wednesday, June 9, before returning home to face Toronto FC II once again on June 13 from Erk Russell Park. Fans should purchase their tickets, including season tickets, half-season plans or quarter-season plans, in advance.
For additional information and scheduling interviews, call (478-508-2604) or email: bodonnell@tormentafc.com.
Post-Game Match Report:
Starting Lineup: Jara ( C ), Thorn, Phelps, Nus, Eckenrode, O'Callaghan, Candela, Obinwa, Micaletto, Mayr-Fälten, Liadi
Scoring Summary:
59': TRM: Azaad Liadi (No assist)
Substitutions:
45': CHT - Ualefi Dos Reis for Sebastian Capozucchi
45' CHT - Marky Hernandez for Jackson DIeterich
62' TRM - Richardo Gomez for Vinenzo Candela
65' CHT - Juan Galindrez for Blake Frischknecht
65' CHT - Rey Ortiz for Juan Galindrez
73' TRM - Brittain Gottlieb for Curtis Thorn
78' TRM - Craig McCall for Abuchi Obinwa
78' TRM - Clayton Adams for Azaad Liadi
81' CHT - Jimmie Villalobos for Jonathan Esparza
Caution Summary:
27': CHT - Josue Espana
40': CHT - Sebastian Capozucchi
43' TRM - Vincenzo Candela
56' TRM - Joshua Phelps
80' TRM - Nick O'Callaghan
87' TRM - Craig McCall
Images from this story
• Discuss this story on the United Soccer League One message board...


United Soccer League One Stories from June 5, 2021
The opinions expressed in this release are those of the organization issuing it, and do not necessarily reflect the thoughts or opinions of OurSports Central or its staff.