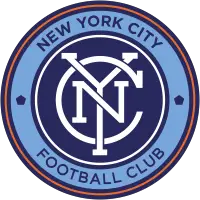 In Quotes: Philadelphia Union 1-2 NYCFC
December 6, 2021 - Major League Soccer (MLS) - New York City FC News Release



New York City FC recorded a memorable 2-1 victory against Philadelphia Union on Sunday evening and that saw them secure the first trophy in Club history as they were crowned Eastern Conference Champions.
Ronny Deila
On today's match...
"It was an even game. They didn't create any chances; we didn't create any chances. We lost too many second balls; we couldn't move the ball good enough. I think we looked like we had (played) 120 minutes on Tuesday. We traveled back at 4 o'clock (in the morning) and the mental thing as well when you're winning a big game like that. It felt like almost winning a cup final and that's something we have to learn, and I think that's why we were half a yard behind. Having said that, we created the things we need to do and sometimes you just have to do what you have to do and dig in there and take your chance when you get it. The way the team keep calm even though we weren't playing the way we wanted was really good. In the end I think we were the dominant team in the second half and in the last minutes of the game we would get more space and chances and the substitutes were really good."
On the significance of this win for the Club...
"This club has been successful coming to the playoffs six times in a row. We haven't dealt with the pressure before and now we're starting to do that. I think the learning for the whole Club to win football games and how to deal with that and how to win them when the pressure is on is something you have to learn over time and this Club has gone through a lot already at a young age and today we have for a third time had success and we bring for the first time a trophy to the Club and I'm sure it's not going to be the last. As I said to the boys, enjoy it because it's a big big thing, the whole club has to enjoy it, the supporters everybody because here in the U.S. it's hard to win. Everybody has the same opportunity and its 28 teams, it's crazy, so what we have done so far has been just amazing, but the biggest one is coming Saturday. Portland is a tough place. They have been in a final before, we haven't but we will do everything to get more energy into us before the game and get everything out because then we know we can beat anybody."
On the mental challenge that they were missing players...
"I think those players all train as well, they didn't just put the boots on. They aren't bad players coming on to the team, they had everything to win they just go together and go for it. They had 18,000 fantastic fans on their back, it's always tough to come here. There aren't many teams that win here, we have done it before this year and we did it now and we knew it was going to be tough. At the same time, we played Tuesday and we were struggling but the way into the game was exactly the same and they didn't change,ad they played the same way and that is what they have done so good. I think the whole staff, the trainers, the coaches in Philadelphia have done an amazing job here and I feel sorry for them for of course what happened but they did everything they could to go through even though they had a tough time before the game. They took advantage of the moment and we struggled but we took it in the end and that was a great feeling and sometimes when you play so many games sometimes you have to dig out a result and we did that today."
On the decision to start Heber...
"I think he deserved to play, it was a tough first half for him because we didn't get any service to him. His strength is inside the box and his back was to goal the whole time. We didn't attack the space at all, everyone comes against the ball and that was a big challenge for us, it's what we talked about during the break. But we knew we had Talles (Magno) and those two were going to play the game and they did it in a good way and now we have more playing time for those two and we also get Taty (Castellanos) back so that's what makes us stronger for the final."
On the adjustments made today...
"They are always tough to play against. They play direct and are a very good hard-working team and are organized. We lost too many second balls. We didn't move the ball quick enough, and everybody came against the ball so the second half we attacked the space better, we skipped the lines sometimes over them and started to cross the ball instead of playing around and then you create more. The subs looked like they were a million dollars, all three of them, and that's good, so happy for the subs coming on and making a big difference and we're going to be more rested in our six days to make us ready for the final."
Sean Johnson
On the difference the three subs made...
"I think it was a tale of two halves. Second half our subs that came on made a huge impact. They've been doing that the entire playoff run. New England, Gudi (Thorarinsson) with the assist there, Gudi with one here, Talles (Magno), Izzy (Tajouri-Shradi) coming on and are difference makers. Everybody is committed to the cause, we've been doing all year, guys have stepped up in different points in time and we've needed that, that's kind of been our backbone."
On the team's response with the equalizer...
"I think it was important for us to have a quick response and even more importantly not to get too emotional after they scored the goal. When you concede I think it's all about mentality and I think we had one goal in mind and that was to make it to a cup final. So, everybody was calm, collected and knew what we had to do, and we were able to convert an opportunity immediately which was huge and went on to win the game."
On the significance of this win for the club...
"I think it means everything for the Club. From the start, coming to this Club, being here for five years, knowing how much it means, how much support we have from our supporters, organization, internally, I think there has been an unbelievable commitment to success and I think it's taken a little bit but guys have been committed to making sure we achieve something and this is the first step for us but we know the more important one is Saturday and looking forward to going out there and giving everything and hopefully lifting an MLS cup."
On whether the approach changed after them losing so many players...
"It didn't change our approach at all. Credit to everybody, I think news like that can kind of upset the balance or focus of the week, but we approached it as if it was a normal game. I think we approached it with the right mentality, we came out and did what we had to do. Ultimately that's what it's going to take, you never know what's going to be thrown at you, but just dealing with the situation and maintaining the right mindset so credit to the group for staying focused this week, it could have been the other way around, but I think we have guys that are locked in."
On the significance of this winning streak since the Atlanta game....
"Yeah, that was a huge moment. Gudi (Thorarinsson) has stepped up in big moments for us. For me, I look at the year as a whole and taking the experience we've had since preseason until now. It's been a journey, one that each and every person in the locker room knows the importance of. All those experiences we've shared together I think everything is coming together and we're using those experiences positively in tough moments. We've stuck together and the season has brought us closer together and those moments matter. Those moments change the course of the season, but it can only happen if your team sticks together, and everybody has done that."
James Sands
On today's game...
"I think they are a tough team to play against no matter who is on the field, especially coming away to a tough environment like that. I think it speaks a lot about our team and being able to get a result. With the way they play, they put a lot of bodies in the middle of the field, they make it tough for us but we figured that out in the end. Two big second half goals and everyone stepped up and got it done."
On Gudi Thorarinsson showing up in big moments...
"I think it shows what a top player he is. The competition between him and Malte (Amundsen) has been great all year and they've pushed each other so now in the playoffs you're getting the most out of both of them. I think it's not easy coming onto the field as a sub and making an impact, but he's done it twice in a row now and Talles (Magno) as well, so the subs are really changing the game for us and that will be important in the final as well."
On the significance of this win...
"It's such an unbelievable feeling. I've seen this team have such a tough go in the playoffs. I remember losing to Columbus, losing to Toronto, losing to Orlando and all such heartbreaking games that finally to get over that hurdle means a lot to everyone but especially the guys who have been on the team a couple years and have gone through that. Then to have academy kids making an impact is even more special."
On adjustments made during the game...
"Yeah, I think the way they were set up in that formation the 4-3-2-1 and just everyone in the midfield they're waiting for a mistake or a misplaced pass in the middle of the park and try to transition. So we had a little bit of a tough time in the first half and I think also part of the problem was coming to the ball and trying to get it to the feet instead of having someone running in behind. I think Talles (Magno) did a great job of that in the second half so I think that was the key in the second half and moving the ball quicker and using the outside of the field a little more."
On when he sensed Philadelphia starting to fade...
"I think the first 20/25 minutes we played well and then the rest of the half was a battle for us. Things were not going our way, but they didn't break through, they didn't score at that point. I think when we got out in the second half we started really well, I think we never let them get in the game."
On how he's feeling physically after coming off early in the last game...
"I had this hamstring problem that I hurt against Atlanta. So it was a bit of an issue going into the New England game but the trainers did a great job with me that I noticed it was a lot less today than it was in the last game. I think that was a real positive and it feels good now so I think I'll be ready for the final."
On Talles Magno scoring the winning goal...
"Unbelievably happy! I think if you ask anyone on the team, they will say the same thing. It's not easy for an 18-year-old to move to a new country, where he doesn't speak the language, but I think it speaks a lot about his work rate and his positive and resilient attitude. I'm super happy about it and maybe he'll grab one next week too."
Maxi Moralez
On his goal and on Gudi Thorarinsson's play...
"It was a tough game, they're a tough opponent. Obviously, they made their home field advantage be felt but Gudi (Thorarinsson) is an important player for us, he's been coming up huge with a couple of assists but that's pretty much every player we have. Everyone is important, obviously everyone on the bench made the difference today but that's how this team is. Anyone can be a starter; anyone can play but we're just happy and happy for the Club. We're going to the final game (of the season) which is what we were hoping for and now we'll get ready tomorrow for this long trip and this tough game and hope we play better and hopefully we can bring home the cup to New York City."
On what it means to be part of such a big moment...
"We're having a good moment right now. Obviously, we didn't show it today in the way we played. It wasn't easy, we suffered but we got the win. I think getting the quick goal after they scored was fundamental but more so we've had a good playoff run and we're reaching the final. Obviously, we know it's going to be a tough final, they have the crowd behind them and it's a long trip for us, but we're going to do everything we can to make history at the Club."
Reflecting on the season...
"On the season we had a pretty good season, but it wasn't the best. We turned it on in the playoffs, there were a lot of different circumstances that played out, but if you go back to the beginning of our run, we played Atlanta at home and we thought we were just winners there. Then we traveled to New England, obviously they set the record in points accumulated in the regular season and we got a just win despite the PKs, that's how the game turned out, and then today besides not playing well we capitalized on the key moments. Obviously, they didn't have their full team, so congratulations to them for making it a fight, obviously it wasn't fair to them but that's soccer. We just have to enjoy this moment; it doesn't happen often. I've been here five years and it's my first time in this situation so we just want to do everything to play right, be ready for the game and bring the cup home to our fans."
• Discuss this story on the Major League Soccer message board...


Major League Soccer Stories from December 6, 2021
The opinions expressed in this release are those of the organization issuing it, and do not necessarily reflect the thoughts or opinions of OurSports Central or its staff.