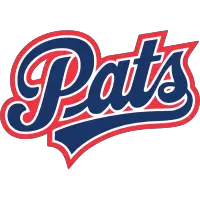 Howe Emerging as One of Top '05 Born Players in the WHL
January 20, 2022 - Western Hockey League (WHL) - Regina Pats News Release



Regina, Sask. - Many of the top rookie scorers in the Western Hockey League this season are names you might expect to see: projected top-10 selection in the upcoming National Hockey League Entry Draft Matthew Savoie, plus many of the top selections from the 2020 WHL Prospects Draft with 16-year-olds like Brayden Yager, Zachary Benson and Riley Heidt.
But right there with Yager, Benson, Heidt and others is Pats forward Tanner Howe, who wasn't chosen in the first round or the second round, or even the third round of that highly skilled draft class. The Prince Albert native wasn't selected by the Pats until the 73rd pick of the draft.
And yet, the 5-foot-8, 176 lb. forward has totalled 14 goals, 17 assists and 31 points in 29 games this season, with eight of his markers coming on the power play. Among 2005-born rookies in the WHL, the left-winger ranks first in power play goals, second in goals and third in points, while leading the entire WHL in shooting percentage at 28 per cent (minimum 17 shots).
"It just shows that the draft isn't a perfect thing," Pats Assistant Coach Ken Schneider said. "Having been a scout, I understand it as we miss on players or we don't gauge what their potential can be, two or three years later. Tanner [Howe] is a really good example of that. That's great motivation for him as 'I'm going to show everyone that you made a mistake thinking I was a fourth-rounder and here I am'. If you look back at the history of the Western Hockey League, guys like Shea Weber and Jerome Iginla weren't even drafted and we all know where their careers went."
"All of those guys are amazing hockey players and so talented, so to see my name with them is pretty cool for sure," Howe said. "I knew to make this team I had to outwork a lot of guys. [This offseason] I tried to get bigger, stronger and faster, and this summer really helped me with that."
Last spring Howe got his first taste of junior hockey as a 15-year-old, scoring two points (1G-1A) in eight games in the Hub. This season, Howe's game took off at the end of October, scoring 30 of his 31 points over his last 19 games, after starting with just one point in his first 10 games. He has also been the model of consistency, with points in 18 of those 19 games. Due to his November 28 birthday, Howe has also played more than half of his games this season as a 15-year-old.
His first breakout game was on October 30, 2021, in a 7-3 win for the Pats over the Swift Current Broncos. In that game, Howe tallied his first career multi-point game (1G-1A), while scoring a highlight reel shorthanded goal.
"[That goal] gave me some confidence. I kinda had a slow start, but I thought to myself that I needed to get it going," Howe said. "I think a big thing for me is my linemates. They seem to find me open. As I built confidence, I trusted myself more with the puck and everything else came with it.
Schneider adds it's also Howe's play away from the puck that is impressive.
"For someone to come here at 16-years-old and understand how to play in his own end so well, in addition to being so good offensively and being so big to our player play, speaks volumes," Schneider said. "The cliche that we use is '200-foot player'. Well that would probably describe Howe."
When people think of a 200-foot player, they think about players like Patrice Bergeron, Sidney Crosby and Anže Kopitar, or retired players like Joe Sakic, Steve Yzerman and Doug Gilmour. Those are all centres. It's not often you find a winger that plays a 200-foot game, which is something that make's Howe's play on both ends of the ice special.
"Typically your centre is working down low with your defencemen and they lead the parade up ice, which leads to all sorts of plays," Schneider explained. "In his case as a winger, he's a bit of an old school person. Even his personality. He's kind of like one of those cactus plants where you don't have to water them for days or weeks. It's a different analogy but it describes Tanner a bit."
One of the standout 200-foot wingers in the NHL is Mark Stone of the Vegas Golden Knights, who Schneider sees some similarities with. Schneider watched Stone play with the Brandon Wheat Kings while he played alongside his son Mark from 2008-2012.
"There are certainly some comparisons that you could use," Schneider said. "The intelligence aspect more than anything because physically there's a difference. Just [Howe's] ability to trap a player on the forecheck, forcing the player to go to his backhand and stripping him of the puck. I don't know how many times I saw Mark Stone do that and not the fleetest of foot on the forecheck. [Stone] would angle the player into a situation that he didn't have anywhere to go and it was just [Stone's] puck. I see those things in Tanner.
"He has good edges, he's strong on his skates but he doesn't have lightning speed. That's something to improve on. I know Mark Stone himself was going to Ottawa all summer working out and skating two or three weeks at a time. He was working a lot with power skating and Mark's skating improved from when he was a Wheat King from when he went to the NHL. His work ethic is through the roof and if Tanner maintains that attitude, the sky is the limit."
Howe has also played in all situations this season and has been one of the Pats' strongest penalty killers: blocking shots, getting in lanes and forcing turnovers. Howe's shot blocking ability impresses Schneider the most.
"[That] stands out to me because he does it the right way," Schneider said. "His angles to the opponent are so good and he's so strong on how he approaches that, by the time the shooter goes to shoot the puck he's within a stick length and he's taking the puck off the shin pads," he said.
Howe has also been clutch so far this season, as seven of his 14 goals have been to tie or take the lead, ranking second on the club to Bedard's 10 goals to tie or lead.
As for goals for the second half of the season, he says off the ice he would like to win the scholastic player of the month, but on the ice, he would like to continue to help prevent goals while continuing his offensive play.
"The big one is getting the pluses for sure," Howe said. "I'm a -2 so I'd like to get to a +8 or +10."
Because of his late 2005 birthday, Howe isn't eligible for the NHL Draft until 2024.
"It's exciting for all of us to have such skilled quality young players like Tanner," Schneider said. "The future is really bright for him...He's going to get stronger and even harder to knock off the puck in a year or two."
• Discuss this story on the Western Hockey League message board...


Western Hockey League Stories from January 20, 2022
The opinions expressed in this release are those of the organization issuing it, and do not necessarily reflect the thoughts or opinions of OurSports Central or its staff.