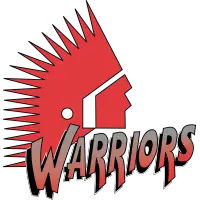 Gould Anxious for 2020 NHL Entry Draft
October 5, 2020 - Western Hockey League (WHL) - Moose Jaw Warriors News Release



Hockey players around the world have been patiently awaiting the 2020 NHL Entry Draft, which is finally set to go October 6 and 7.
Among the many hoping to hear their name called is Moose Jaw Warriors goaltender Brock Gould.
The 6'4", 200lbs product of Colorado Springs, Colorado started last season with the Victoria Royals and then joined the Warriors in early January during a blockbuster deal.
Talking with Gould, he feels his size is something that helps him stand out from other draft-eligible goalies.
"I feel my size and athleticism are the two most attractive strengths I have to show NHL teams. I also like to think I have good crease movement and a good work ethic as well," he said.
Warriors Head Coach Mark O'Leary agrees with Gould on why NHL teams would gravitate towards him. "Brock uses his large frame to cover a lot of the net, but he uses his athleticism to make saves that seem impossible," O'Leary said.  "Sometimes large goalies relay on just blocking pucks, but Brock moves so well inside his crease, he can recover quickly to make highlight-reel saves."
O'Leary also feels that Gould has "intangible qualities" that NHL teams may not have noticed.
"The intangible for Brock is his competitive side.  Whether it's practice or games, he doesn't like to be scored on," O'Leary said.  "When he's screened or there's a breakdown defensively, he's never out of a play because he's always willing to battle and compete to find a way to stop the puck."
Growing up Gould played for the Colorado Thunderbirds program.  In 2015 - 2016 with the 14UAAA Thunderbirds he posted a 1.40gaa and .935sv%.  in 2016 - 2017 he spent time with the 15UAAA and the 16UAAA Thunderbirds, with the U15 team he had a 1.66gaa and .933sv% and while with the 16U squad, he had a 2.50gaa and .848sv%.
Success south of the border led to the Victoria Royals selecting him in the 8th round, 170th overall, at the 2016 WHL Bantam Draft.
In 2017 - 2018, Gould headed to Canada and played for the Rink Hockey Academy in Winnipeg where he posted a 2.60gaa and a .901sv% in 18 games.
Along the way, he says that he has had plenty of people that have had a significant impact on his career.
"There have been so many people throughout the years who have impacted my career, way too many to name, but my parents have been huge supporters of mine since I was little," Gould said.
"I'd also like to mention some of my goalie coaches in Lynden Sammartino and Dwayne Roloson, as well as Matt Weninger, our goalie coach here in Moose Jaw. Although I have not worked with him for a super long time yet, he is already helped me in a lot of areas in my game and it is going to be fun working with him again this year."
Back in January, he was selected to take part in the 2020 Kubota NHL/CHL Top Prospects Game and he was able to play the entire game for Team Red.
The Top Prospects Game is one of many opportunities for prospects to catch the eye of NHL teams, another is the annual NHL Draft Combine, but unfortunately, that opportunity was taken away from Gould and many others due to pandemic.
With the combine not available this year, Gould was left with the challenge of preparing for the draft at home.
"Initially it was difficult to find ways to train but you kind of learn to adapt to the at-home workouts. At the end of the day, working out at home helped me," he said.  "Fortunately, though, since about May rinks and private gyms have been open here, so it has been business as usual, minus having to wear masks."
Gould is ranked 9th among North American goalies in the NHL Central Scouting final rankings.
Coach O'Leary feels that if Gould were to get drafted, it could be a big confidence boost for him.
"Confidence is big with any player, but it is usually doubled in importance with goalies because of their ability to have such a huge impact in a game.  If Brock gets drafted, it would be a boost for sure to have another organization join ours in our belief in what his potential is as a goaltender."
As for Gould, hearing his name get called and receiving a call from an NHL team during the 2020 NHL Entry Draft would be a dream come true.
"Since I started playing goalie, my biggest goal has always been to get drafted and play in the NHL. It is something I have worked hard for most of my life, so it's hard for me to put into words just how much it would mean," he said.
"I am definitely going to try and thank everyone who's helped me get there though because without them I wouldn't have gotten this far."
• Discuss this story on the Western Hockey League message board...


Western Hockey League Stories from October 5, 2020
The opinions expressed in this release are those of the organization issuing it, and do not necessarily reflect the thoughts or opinions of OurSports Central or its staff.