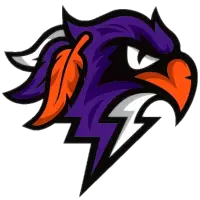 Good Soup: Campbell Looks Back on Illustrious NLL Career
March 18, 2023 - National Lacrosse League (NLL) - Halifax Thunderbirds News Release



Looking back on his outstanding career, it's hard to believe that when Scott Campbell signed with the Rochester Knighthawks back in 2011, he was just trying to stay in the National Lacrosse League.
Campbell was selected 10th overall back in 2004 by the Minnesota Swarm. But he quickly made his way to the Toronto Rock. After six years in Toronto, the defender was in a trade that sent him to Boston.
After a handful of games with his newest team, Campbell was released outright. While considering the next step in his career, he received a call from Curt Styres, who wanted him to join the Knighthawks.
"Curt took a chance on me. And that kind of felt like the M-O of that team. We were just kind of like a band of misfits...a group of guys who were looked over or passed up on. We kind of used that as our moniker for a good long time in Rochester," Campbell said.
Campbell appeared in 13 games during a shortened campaign with Rochester. But in 2012, he and the team would start on a run that would turn them into a modern-day dynasty in the NLL.
Playing in 15-plus games over his first three full seasons in Rochester, Campbell helped the team to three straight championships. He played as part of a now-legendary core of players which featured longtime teammates Cody Jamieson and Stephen Keogh, as well as current Knighthawks head coach Mike Accursi.
Serving as one of the veterans and leaders at that point in his career, his contributions both in the room and on the floor couldn't be discounted when it came to the team's success during that run.
"The dressing room was always a fun time when Soupy was around," Thunderbirds captain Cody Jamieson said. "I think that's what he'll be remembered for. He was a prankster and loved to have a good time with everybody, but he was a great teammate and would stand up for anyone. He scored a lot of big goals and made a lot of big plays for us."
In addition to helping the organization to three titles, the man known as "Soupy" spent parts of eight seasons with the Knighthawks. Serving as an assistant captain during his stint, he was able to help along the next wave of defenders that came through the team.
Several of those individuals have grown into the current leaders in the Thunderbirds' defence, including Luc Magnan, who joined the Knighthawks as a free agent in 2017.
"When I first came to Rochester, we had a pretty amazing leadership group. You could gravitate to any of them. But Soupy kind of stood out as someone who was approachable, had a great sense of humour, and was someone who knew what the room needed at all times," Magnan said. "I think the big thing that stuck out with him was his leadership. He was also a hard-nosed defender who could fight, produce in transition, and was one of the better defenders in the league. He was a true pro's pro."
Campbell would take on a new role with Rochester during the 2018-19 season, as he was named the team's captain ahead of that season. But with the team sitting outside the playoff picture down the stretch of that season, Campbell was moved at the trade deadline to Saskatchewan.
The Rush were expected to make another deep run in the playoffs, offering Campbell a chance to capture another NLL title.
"That year was a tough one in general. Sid Smith was hurt and they had asked me to wear the "C" that year. Being a first-year captain and having a tough year was sort of overwhelming," Campbell said. "A majority of the veterans found their way off of the team. It was difficult. But landing in Saskatchewan, it was nice to be able to go to a team and compete for a championship. But it was tough at the same time.
"Going from Rochester where I could drive home after every game and be around the family a lot more to flying out West, it was difficult. But those guys were great and I was happy to have the chance to be a part of that."
Leading into the trade, Campbell had gone through discussions with Styres and then coach Mike Hasen about the reasoning behind the team moving him. With him becoming a free agent at that season's end, there was a chance for Campbell to choose where his next landing spot would be. In the end, he chose to return to the organization he'd called home for nearly a decade at that point.
However, the team had decided to move from Rochester to Halifax, marking a new era for the Thunderbirds.
"Just the familiarity and the family atmosphere that Curt creates with his teams, that's what drew me back to the team," Campbell said. "Moving to Halifax was also a big thing as well...just being able to start something new but with a really good nucleus of guys. The buzz in Halifax was really special and something I wanted to be a part of.
"...The excitement around the Thunderbirds was special. We had that first Purple and Orange game and there were 6,000 fans there for an inter-squad game. That's when we knew it felt different."
The Thunderbirds got off to a hot start in Halifax, building momentum with their new fanbase. Campbell added that he felt like the team's overtime classic against Saskatchewan in early 2020 was the tipping point where it felt like the fanfare hit an all-time high for the team.
"I'd played in some pretty loud buildings but that was one of the loudest atmospheres I've ever been a part of. I think that, mutually, we all sort of fell in love with the city at that point."
Just as the team was hitting its stride during the 2019-20 season, the unprecedented COVID-19 pandemic brought the season to a grounding halt. Campbell was 38 when the season came to an end, and after two years away from the floor due to the global health event, he returned to the floor with his teammates at 40 years old.
The pandemic brought something different for Campbell. He was able to take the time to let his body fully heal and train for an uncertain return date for the NLL.
"I had that motivation where it was like, 'OK, another season going up against 20-year-olds.' It was the thing that kept me motivated to put in a garage gym and stay in shape when the gyms were closed. It was my outlet as well. That was always what was driving in my head. If I was taking shortcuts, I wasn't sure that a 25-year-old was taking those same shortcuts."
It paid off in a massive way for Campbell, who came into training camp looking strong. He carried that into the 2021-22 season, helping to be one of the tone-setters on the Thunderbirds' defence.
Appearing in 16 games, Campbell put up nine points along with a career-best 101 loose balls and 16 caused turnovers - the third-best total of his career.
Campbell was in the conversation as a Defensive Player of the Year candidate due to his big year. But he was chasing that fourth career title with the Thunderbirds.
Unfortunately for him and the team, they came up short in the playoffs, dropping a heartbreaker to Toronto in overtime in the first round.
Following the season, it was time for Campbell to assess his future, something he said he'd been doing every year for about five seasons. He added that it came down to if he was still having fun playing the sport he loved and could still physically go. But his 17th year in the NLL would wind up being his final one.
"Kind of midway through last season, it was kind of unsustainable, the amount of work I had to put in and spending time away from my family. As well as rehabbing after games and all of that," Campbell said. "Some nights when I was driving to the rink, my brain was saying, 'What are you doing?' And those were kind of the signs that it was time to be done.
"I talked to Curt and he asked me what my plans were, and I just told him that I thought I was done. When I said the word retired, it didn't even put chills into me or anything like that. And that's when I knew it was the right time."
While the playoff game in Hamilton would be the last time the veteran stepped on the floor, it did come with a silver lining. His entire family was in attendance for his final game.
During warmups, they came down to the glass to see him, and he got to share a moment with his mother and daughters - who had been little when he first started on his journey with the organization in 2012.
"They were the ones who were like, 'You're not done! You've gotta play more.' So as much as they would've been there to support me through all of that, it's time for me to be (my daughter's) fan and be there to start watching their dance and horseback riding, skiing and gymnastics and all of the other things that they are into," Campbell said. "Now that I get to be their fan, it's even cooler for me."
As Campbell began to consider his status when it came to playing over the last few years, he and Styres had conversations about what his life after lacrosse would look like.
"Talking to Curt, I'd be like, 'Hey, I know I can't play forever. But obviously, I've spent a lot of time within the game. Would there be a role in some shape or form once I'm done?' And once those conversations evolved, he'd invite me to the draft and those types of things. Each year at contract time, we'd have those talks."
After he officially announced his retirement, Campbell didn't stray far away from the Thunderbirds, he transitioned into a role as the team's new Assistant General Manager this off-season, working alongside Styres to help build the roster.
Going from the routine he's known all too well for two decades to now being able to spend more time at home while staying involved with the Thunderbirds, Campbell admitted that it has been a bit of a change.
The Thunderbirds will have a chance to honour one of their longest-tenured players in franchise history on March 18 when the team welcomes Campbell and his family back to The Nest for a halftime ceremony.
"For me, he's such a good friend and a great guy. You always hate to see guys end their career, even though you know it's the right time," Accursi said of Campbell. "It's kind of the end of one era and the beginning of another. (The ceremony) will mean a lot to the guys that played with him and for the guys that didn't, they probably grew up watching him. It's going to be a special night and I'm glad that I can be a part of it."
When asked what he'll remember most about his time in lacrosse, Campbell said that his favourite memories during his career came off the floor, spending personal time with his teammates and having the chance to make friends wherever he went in the sport. As a teammate, he was one of the most respected players you'll ever find in the NLL. And the same goes for Campbell as a competitor.
He did it the right way his entire career and garnered the respect of teammates and opponents alike with his grit and ability to produce no matter the situation. He'll have the opportunity to address The Nest on Saturday night.
"Any time you have an organization honour you - for lack of a better term - It's pretty cool. I just hope I gave back as much to them as they gave to me. It's still very strange to me. Like who wants to hear from me?" Campbell said with a laugh. "I was just playing a game that I loved and I just tried to hang on to that as long as I possibly could. As much as it is my retirement night, it's an opportunity to thank the people that got me there and the people that made the sacrifices for me to be able to play for 18 years.
"All of those minor coaches, equipment guys, and trainers. There are just thousands of people that made it possible for me to play for as long as I did and have the career that I had. So it's just an awesome opportunity for me to thank all of those people."
• Discuss this story on the National Lacrosse League message board...


National Lacrosse League Stories from March 18, 2023
The opinions expressed in this release are those of the organization issuing it, and do not necessarily reflect the thoughts or opinions of OurSports Central or its staff.