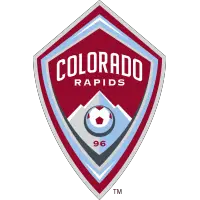 Galván's Two Assists, Yarbrough Clean Sheet See Rapids Top Timbers
October 24, 2021 - Major League Soccer (MLS) - Colorado Rapids News Release



NOTABLE NUMBERS
The Rapids clinch their second playoff appearance in two full seasons under head coach Robin Fraser and their second consecutive playoff berth for the first time since 2010-11.
Colorado have now clinched their last three playoff berths (2021, 2020, 2016) with clean sheet victories over the Portland Timbers.
F Dominique Badji made his 100th appearance with the Rapids tonight. He scored his third goal since rejoining the club in July and his second in as many games. It is his 27th goal in Burgundy, tying current assistant coach Wolde Harris for sixth-most in club history. 
F Braian Galvan assisted on both of Colorado's goals, marking his first multi-assist match in MLS. The 21-year-old Argentine now has two goals and three assists this season, all MLS career highs. Galvan now has two game-winning assists in 2021.
F Diego Rubio scored his fifth goal of the season and picked up his fifth assist on F Dominique Badji's game-winning goal. It was Rubio's first game with multiple goals contributed since September 2020. 
GK William Yarbrough made four saves to earn his 12th clean sheet of the season, second-most in MLS, which extended his single-season club record. 
Colorado is three points away from tying its highest ever points total set in 2016 (58).
The Rapids are now unbeaten in their past five games against Portland (2-0-3); tonight's result ended the Timber's 20-game scoring streak, which was the longest active streak in MLS.
The win is Colorado's 300th all-time in the regular season. It also ties the post-shootout era single-season club record set in 2016 (15).
COLORADO RAPIDS HEAD COACH ROBIN FRASER
On the match:
"IÂ was really proud of the approach that we had tonight. As we get closer to the playoffs, we've talked about the fact that concentration, discipline becomes more and more important as we finish the year and try to win something. The teams that win are the teams that, as I said, are disciplined and can concentrate and are disciplined and fulfill their roles. I thought tonight we did a good job. It was a pretty professional performance. For that, really, I'm very proud of the group and how they were tonight. This is a really good team in Portland with a lot of very good players. Very well organized. It was hard to break them down. It took us a little while to get through, but I really applaud the effort and the stick-to-it-ness of the group."
On Dominique Badji and Diego Rubio's performances:
"I imagine extremely [cathartic for them to score]. Dom certainly has been frustrated with not being able to play more. We just have so many attacking players, it took some circumstances to really get him an opportunity. You talk about someone who's taken his opportunity and run with it. He's been fantastic for the last two games and has really shown that he's a really, really important part of this group. Going forward, we certainly will rely on him, as we have all of our attacking guys to create goals. In terms of Diego, it's great for him to score. He's been through a lot this year, a lot of injuries, starting in preseason. Being able to fight his way back and get healthy and then you have to try to get up to game fitness. He's been battling all of that. To come out tonight and to score a big goal to help us get into the playoffs is certainly great for him. I'm very proud of both players."
On making playoffs in both of first two full seasons:
"It's why we play. It's why we compete. It's why I've done this for as long as I have, is to try to win and try to get into positions to win things. What I'm really proud of is this group of players that is oftentimes disregarded. Small team, low budget, all these things. I'm really proud of how hard and how cohesively they've worked all year to get to this point. I'm really, really happy for them because we're not here by luck. We're here because they earned it. For that, I'm really, really excited. But as you said, that's the first goal. We have a couple of other goals we want to address here. But just to get here and to be in the playoffs is certainly a gratifying feeling. Again, just really proud of the group."
COLORADO RAPIDS FORWARD DIEGO RUBIO
On the match:
"Very tough match. Very good team. We respect them. I think that's the good thing about our team, we respect every team so we show that playing hard, playing 100 percent, especially here at home, we can get the result. We're very happy to make it to the playoffs one more year with this group. This is a family. We just play for each other like we always say. It's not just by saying that, we actually do. Every guy who steps on the field gives everything, tries to do the best for this team and we were able to show that today. We scored two goals. We could've scored more goals. We played hard the whole game. This is us. This is us and I'm very proud of this group and I'm very proud of this team."
On what scoring tonight meant to him:
"It's been a tough year for me, you know. Injuries, I played two games, I missed two games. It's not been the best year for me in terms of injuries, but I always say, I just want to play for this team because I love this group. I love this group and if I can help this group win, I'm going to be very proud of myself. Today I was able to score the second one. We say it-we just want to score. We don't want to have anybody else affecting the result [clinching] and we did it today. I think we could've scored a couple more goals, but I'm very proud that I could help the team to score the second goal, to be more relaxed about the result. But this is all about the team, we could see it. Michael [Barrios] entered the game, Jonny [Lewis], even Nico [Mezquida] for the last minutes with Andre [Shinyashiki] and we want to keep scoring. This is us. This is us. We never go down. We never try to defend the result. No, no, we want to score more goals and this is us. Every player on this team, especially the attacking [players], we all want to score. We all want to help the team and I think we did it today. We do everything to get the result and we did it, so I'm very proud of this group, of every player this team."
COLORADO RAPIDS FORWARD BRAIAN GALVAN
On playing as a wingback:
"Like I always say, each player gets asked to play new positions every game. One has to get used to it because the team needs it. Kellyn never plays as a right back, but today it was his turn and he did very well. It's the first time we played with two 9s, which went really well for us. We have to keep fighting. We're all committed to reaching MLS Cup."
On Diego Rubio's goal:
"It makes me very happy because Diego is a friend, a brother to me. I try to help him score. I know he hasn't had a lot of goals, so I try to help him, like I help all my teammates. Today was my first game together with [Dominique] Badji and I could give him an assist. Like I said, I try to give the most assists on the team. I leave it all on the pitch. It makes me very happy that I could help Diego score."
On clinching playoffs at home:
"I didn't know [the team clinched]. The truth is I'm very happy to do it here at home. Happy for all my teammates that grinded, fought. We have highs and lows but here we are. What we fought so hard and dreamed for since the beginning of the year in preseason, here we are. I always say, we are going for the Cup."
• Discuss this story on the Major League Soccer message board...


Major League Soccer Stories from October 24, 2021
The opinions expressed in this release are those of the organization issuing it, and do not necessarily reflect the thoughts or opinions of OurSports Central or its staff.