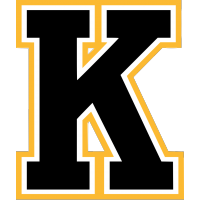 Franchise Memories: a Goal for the Goalie
January 7, 2021 - Ontario Hockey League (OHL) - Kingston Frontenacs News Release



On January 7, 1986, fans entered the Kingston Memorial Centre excited to see an OHL game between the Kingston Canadians and Toronto Marlboros. When the buzzer sounded, they had just witnessed something that nobody had ever seen before.
That was the night that Kingston Canadians goaltender Chris Clifford became the first goaltender in CHL history to score a goal.
We chatted with Radio Play-by-Play Announcer, Jim Gilchrist to relive the memories of that historical night in Kingston.
When someone is the first to do something, it doesn't just go into the record books. It becomes permanent history. It is something that can never be taken away. Others may repeat the feat but nobody else will be the first to accomplish it.
On the 35th anniversary of one of those firsts, I (JJ) chatted with the man who was there to call the play as it happened, Jim Gilchrist (JG).
Here is his story of the night Kingston Canadians goaltender Chris Clifford became the first goaltender in the Canadian Hockey League (CHL) to score a goal.
JJ: Jim, when we wanted to talk about some of the best nights our franchise has had on the ice, there was no one better to talk to than the guy who has been there to call most of the games.
When I asked you what game you wanted to talk about first, you said Chris Clifford's goal. So, it is January 7, 1986 and the Kingston Canadians are taking on the Toronto Marlboros. Set the scene for us.
JG: It was a rare Tuesday night game, so there weren't too many people in the crowd for this one. As the years go by, I think half of Kingston is saying they were there that night at the game.
It was the Kingston Canadians against the Toronto Marlboros, of course both those teams aren't around anymore. It is now the Kingston Frontenacs and the Marlies are now in the American Hockey League.
It was a great game, tied 1-1 after the first period and tied two-all after forty minutes. Going into the third period Kingston took a 4-2 lead by the midway point of the period. Toronto was hanging around and they made it 4-3 going into the last minute of play.
It wasn't until after the game that we found out that Chris' goal wasn't just the first by a goaltender in Ontario Hockey League history, but also in Canadian Hockey League history.
On This Date with @jimgilly19
In 1986, Chris Clifford became the first goaltender to score a goal in CHL history.
Chris scored at 19:35 of the 3rd period to secure a 5-3 win for the Kingston Canadians over the Toronto Marlboros. pic.twitter.com/QhGmRTmbLa
- Kingston Frontenacs (@KingstonFronts) January 7, 2021
JJ: We have heard and read many interviews with Chris and he swears that his goal was just to avoid a whistle in his zone, and he wasn't trying to score. Do you believe that?
JG: Ahhhh, no! I'm not going to hint around...c'mon Chris! If you look at the replay you can see that he is trying to get it down ice as far as possible.
He got a great amount of help from Mike Maurice, who ironically enough had two goals that night and if he had picked up the rolling puck at the Toronto blueline and put it into the empty net, he would have had a hat trick. He could have very easily done that but instead, he didn't exactly wipe out the Toronto defender, but he kind of edged him away from the puck or picked him on the play. These days it would have been an interference penalty, but he kind of edged him out of the way there.
But no, I don't believe that from Chris. He was meaning to get it down there!
JJ: Another interesting point, and I learned this from Chris himself, is that if Maurice had of scored there it would have been the fastest hat trick in team history at that point.
JG: Exactly, yeah. He had scored at 3:13 of the third period and then he scored at 12:05 as well. He would have scored in the final minute so he would have had all three of his goals in the final period of play.
It was a great team play by him. We got together a couple of summers ago and we were talking about that play. Mike continues to remind Chris about that, that he let it go and that he could have had the record, but he let it go so he (Chris) would become the first goaltender to score. I think he will continue to remind Chris about that as long as they are around to chat about it.
JJ: You mentioned that with it being a Tuesday night game the crowd may not have been as large as a regular night, but what was the crowd reaction like when they realized a goalie had just scored a goal?
JG: I think surprised, really. Everyone roared but then they were all just kind of standing around looking at each other asking "Did that really happen? It must have hit somebody on the way down or Maurice must have touched it." That was my first reaction too, but then everybody on the ice was going down and swarming him (Chris) right by his goal.
I think it took a while for him too because he shot it down the ice and he kind of took a second to realize that it went in and it didn't touch anybody. I think it was just a surprise to everybody there!
JJ: It was a pretty good year for the Kingston Canadians standings wise. They were about 10 games above .500 and made it out of the first round of the playoffs. Where do you think that night stood for the team over the course of that season?
JG: That had to be number one because of that. I don't want to say the turning point of the season, but certainly a highlight of the year. And they had a good team with guys like Wayne Erskine, Scott Metcalfe, Brian Verbeek who led the team in scoring, Mike Fiset, Jeff Chychrun and many others.
JJ: Now, as the guy calling the game, I know you aren't necessarily involved on the ice, but you are still a part of the team. Where does it rank for you in your lengthy career of calling OHL games to see the first goal scored by a goaltender in the CHL?
JG: Certainly, in the top three I'd say.
I think number one is the longest game in CHL history during the 1991 season. On the road, Belleville and Kingston went into the fourth overtime period.
Number two, I'd say, would be the longest game in Kingston that was against North Bay which is the second longest game in Kingston franchise history right behind that Belleville game.
I'd put this one at number three in my career because that's something I can say I was a part of, sort of, and that I was there to witness because it certainly was history.
I couldn't say for sure at the time because I was sort of guessing it was the first in OHL history but didn't realize right away that it was the first in CHL history as well.
JJ: It's been 35 years now, but do you remember your goal call?
JG: Ahhhh, a little bit. It was a rolling puck; I will never forget that. It was just rolling in the net perfectly. At the time I was just looking around for someone to touch it. Then it was just that surprise factor.
I remember saying "Clifford fires it down the ice" and then there was a little pause and I said, "HE SCORES!" and I realized, yeah, it was Chris Clifford who scored that goal.
Ironically enough I was just looking at my game sheets and that was on the Tuesday night. The following Friday night, so January the 10th, they came up with another big win and this one was over Sudbury 10-1. Chris picked up an assist in that game and I remember some of the guys joking that he had more points than some of the actual players on the team.
JJ: So that was the very next game the team played?
JG: Yeah, the very next game. At the Memorial Centre again and they pounded Sudbury 10-1 with Chris getting an assist in that game.
JJ: Wow, it's not often you see a goaltender with a point streak!
JG: Exactly!
JJ: Jim, back in December of 2019 the Frontenacs put Chris's jersey in the rafters. Did you get a chance to chat with Chris and reminisce about that night?
JG: Yes, for sure. People ask me "out of all the years you have been here, who was your favorite player to be around?" and I always say Chris.
Nothing against the other guys who have played here because we have had several great players and great kids, but Chris was just so special. You talk to his family and realize how great the whole family is too.
I remember at breakfast one morning before a game we were going to play at Maple Leaf Gardens, I was talking to Chris' mom and she was asking about my daughters, who were still young girls at the time. She would say "If you ever want to bring them over so you and your wife can have a night out, just let us know!" They were always asking about you and how your life was going. He was just a great kid from a great family.
JJ: Jim, it has been 35 years since Chris became the first goalie to score a goal in the Canadian Hockey League. Thanks for sharing your memories with Fronts fans and helping those who weren't there that night feel like part of the moment.
JG: Okay, thank you!
• Discuss this story on the Ontario Hockey League message board...


Ontario Hockey League Stories from January 7, 2021
The opinions expressed in this release are those of the organization issuing it, and do not necessarily reflect the thoughts or opinions of OurSports Central or its staff.