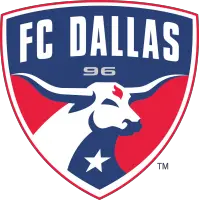 FC Dallas Falls to Los Angeles Football Club 2-1
March 26, 2023 - Major League Soccer (MLS) - FC Dallas News Release



LOS ANGELES - FC Dallas' (2-2-1, 7 points) comeback falls short in a 2-1 loss to LAFC (3-0-1, 10 points) at BMO Stadium on Saturday night.
CENTERBACKS WHO ATTACK
Nkosi Tafari scored his second career goal for FC Dallas in the 73rd minute of the match which tied the game at 1. His centerback partner, Sebastien Ibeagha, earned the assist after setting up Tafari for the goal. In the last road game against Whitecaps FC, Tafari was the one who assisted Ibeagha on his goal in the 1-1 tie. The last time Tafari scored was in the 2-2 draw against Houston Dynamo on August 21, 2021.
A CENTURY MILESTONE
Marco Farfan appeared in his 100th MLS match Saturday night. He signed as a Homegrown player for the Portland Timbers in October 2016. He played a career-high 32 games for FC Dallas in 2022. Prior to joining FC Dallas, Farfan played one season with LAFC.
UP NEXT
FC Dallas hosts the Portland Timbers, in a match presented by AdvoCare, on April 1 at 7:30PM for its Red Out match at Toyota Stadium. The match will be available for free on MLS Season Pass on Apple TV.
Lineups
FC Dallas - Maarten Paes; Marco Farfan (Sam Junqua - 87'), Nkosi Tafari, Sebastian Ibeagha, Ema Twumasi; Facundo Quignon, Facundo Quignon (Tsiki Ntsabeleng - 70'); Jáder Obrian (Geovane Jesus - 40'), Alan Velasco (Jesús Jiménez - 70'), Paul Arriola (José Mulato - 88'); Jesús Ferreira.
Substitutes not used - Jimmy Maurer, Amet Korça, Paxton Pomykal, Bernard Kamungo.
LAFC - John McCarthy; Ryan Hollingshead, Giorgio Chiellini, Jesús Murillo (Aaron Long - 65'), Sergi Palanca; Kellyn Acosta, Ilie Sánchez; Timothy Tillman, Stipe Biuk (Dénis Bouanga - 65'), Carlos Vela; Kwadwo Opoku.
Substitutes not used - Eldin Jakupović, Denil Maldonado, Erik Dueñas, Nathan Ordaz, Julian Gaines.
Scoring Summary:
LAFC: Timothy Tillman - 2'
FCD: Nkosi Tafari (Sebastien Ibeagha, Jesús Jiménez) - 73'
LAFC: Dénis Bouanga (Carlos Vela) - 84'
Misconduct Summary:
FCD: Ema Twumasi (ejection) - 35'
LAFC: Jesús Murillo (caution) - 38'
FCD: Facundo Quignon (caution) - 41'
FCD: Nico Estévez (caution) - 45'+4'
FCD: Sebastien Ibeagha (caution) - 53'
FCD: Edwin Cerrillo (caution) - 62'
FCD: Nkosi Tafari (caution) - 66'
LAFC: Ryan Hollingshead (caution) - 69'
Weather: Clear, 59°F
Attendance: 22,163
POSTGAME QUOTES
FC DALLAS
Head Coach Nico Estévez
On the postgame message to the team...
"I will say we didn't play good the first 15 minutes of the match and that goal [LAFC] scored is what resulted because of it. We have to be critical and take a look at ourselves first. When we scored the goal that was disallowed, I immediately started to get doubts because Jáder (Obrian) is a small guy, but then Acosta was making an effort to block the shot, but unfortunately Jáder was in the keeper's way.
We kept responding and then the red card deflated us a little bit. It was difficult to accept because the referee did not bother looking at Tillman's pull on Alan Velasco early in the game. Ema was trying to avoid a head-to-head collision and he unfortunately makes a connection between his bicep and the player's head.
At halftime, we talked about having a special group of players with special characteristics. We had to go out there and recognize that those first 15 minutes of the half were poor. We had to believe that even with 10-men we can still attack, connect, counter and even score. We did a good job on that, but unfortunately they were able to come away with the win late in the match. I am proud of my players and it's not easy to start sloppily and respond the way we did with 10-men and calls not going our way."
On the yellow card he received in the match...
"I wanted to show my players that I'm fighting for them. I told them in the half, if I have to get a red card, I will get it. We are all fighting together today and they have to see that I have the energy to fight with them. They saw that and that also helped them understand that we were fighting from the bench with them and helping them achieve their objective today, which was coming here and winning against the champions."
On the momentum shift after the first 15 minutes of the game...
"We came in sloppy, afraid and slow in the beginning of the match. They were onto us mentally, physically and intensity wise. Our backline, movement and actions were not ideal at first. From the seventh to the 10th minute, I was a bit more proactive on the bench and I was yelling more than I usually do. I was telling them to think about what I said to them in the locker room before the match, but I don't think it worked as well. I just wanted them to show more energy, the game plan was clear. Once they were on it you could see a different side than to the one in the first 15 minutes. We created spaces and we were able to hurt them a couple of times. At the end of the game the opponents bench was telling us how we deserved more today and to not feel down."
Defender Nkosi Tafari
On the goal he scored and the chemistry he has with Sebastien Ibeagha...
"It's coming along pretty well. I'd actually like it if we were on the other end of three points instead of centerbacks scoring goals."
On the team's perseverance tonight...
"We have a great group of guys here. I don't know how long we were down. Maybe 70 minutes? Seventy-five? We were fighting and had chances to win the game. In all actuality, if we were even, 11 v 11, they knew that we were dangerous and that the game could turn any way at any moment. So we just have to keep pushing forward, trying to be a little bit more rigorous in the next game around and take our chances."
LAFC
Head Coach Steve Cherundolo
Opening Statement
"We are very happy with the result. Luck and good fortune was on our side tonight, and we needed it to get the three points. We were not happy with our performance, especially with the ball and without the ball at times. I felt that we were a bit off-rhythm, sloppy with our passing, and impatient. We couldn't find the right windows to break down more frequently than we did."
"There is definitely room for improvement. It's a game we will certainly analyze and take some valuable lessons from both sides of the ball. It wasn't much transition for either team tonight. It wasn't our best performance. What I told the players after the game was that these are the games that are very important to win. When you're not playing at your best and you can still win, it's a great sign for the group. It's an important obstacle or hurdle to get over because Dallas is a very good team. These points are ours and we're happy with that, but we will certainly learn from this performance moving forward."
• Discuss this story on the Major League Soccer message board...


Major League Soccer Stories from March 26, 2023
The opinions expressed in this release are those of the organization issuing it, and do not necessarily reflect the thoughts or opinions of OurSports Central or its staff.