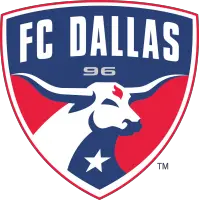 FC Dallas Falls to Barcelona S.C. in International Friendly
January 25, 2023 - Major League Soccer (MLS) - FC Dallas News Release



FRISCO, Texas - FC Dallas fell to Barcelona S.C., 1-0, in its first preseason match of the 2023 season. The international friendly was the first meeting between both teams.
NTSC ON THE RISE
The starting lineup for FC Dallas featured four players who featured on the North Texas SC's roster last year including Bernard Kamungo, José Mulato, Isaiah Parker and Collin Smith. Second half substitutions saw André Costa, Tarik Scott, Pablo Torre and Alejandro Urzua feature for Dallas as well.
PRESEASON CHANCES
FC Dallas head coach Nico Estévez featured all but one player on his preseason roster in the international friendly tonight, mixing his lineups with rookies and veterans. 26 players in total logged playing time for Dallas tonight.
FC DALLAS AND BARCELONA S.C. CONNECTIONS
There are three players who have ties with both teams: former strikers Cristian Colmán and Ariel Graziani played for both teams throughout their careers, while current Barcelona S.C. defender Joshué Quiñónez was on loan with FC Dallas during the 2022 season.
UP NEXT
FC Dallas will play an intrasquad scrimmage on Saturday, January 28 before leaving for Marbella on Sunday, January 29. The team will be in Spain from Jan. 30 through Feb. 9 and return to Frisco on Feb. 10.
LINEUPS
FC Dallas - Jimmy Maurer (Maarten Paes - 46'); Isaiah Parker (Herbert Endeley - 46'), José Martínez (Nolan Norris - 46', Amet Korça - 71'), Sebastian Ibeagha (Nkosi Tafari - 46'), Collin Smith (Marco Farfan - 46'); Edwin Cerrillo (Facundo Quignon - 46'), Tsiki Ntsabeleng (Sebastian Lletget - 46'), Brandon Servania (André Costa - 46', Alejandro Urzua - 85'); Bernard Kamungo (Alan Velasco - 46'), José Mulato (Kameron Lacey - 46', Ema Twumasi - 71'), Jader Obrian (Tarik Scott - 46', Pablo Torre - 85').
Substitutes not used - Alex Araneda.
Barcelona S.C. - Javier Burrai; Pedro Velasco (Jordan Moran- 76'), Joshua Quiñónez, Carlos Rodriguez, Segundo Portocarrero; Bruno Piñatares, Leonai Souza, Christian Ortiz (Agustin Rodríguez - 59'), Adonis Preciado (Isaac Delgado- 85'); Fidel Martinez (Janner Corozo - 53'), Jonatan Bauman.
Substitutes not used - Victor Mendoza, Luca Sosa, Jeison Mina, Mario Pineda, Fernando Gaibor, Ezequiel Emanuel, Jhon Cifuente, Damián Díaz.
Scoring Summary:
BSC: Agustin Rodríguez - 75'
Misconduct Summary:
DAL: Sebastian Ibeagha (caution) - 13'
DAL: Isaiah Parker (caution) - 35'
BSC: Leonai Souza (caution) - 45'
DAL: Ema Twumasi (caution) - 79'
Weather: Mostly Clear, 39°F
Referee: Lorenzo Hernandez
Assistant Referees: Ken Mizuno, Joshua Ell
Fourth official: Olvin Olivia
• Discuss this story on the Major League Soccer message board...


Major League Soccer Stories from January 25, 2023
The opinions expressed in this release are those of the organization issuing it, and do not necessarily reflect the thoughts or opinions of OurSports Central or its staff.