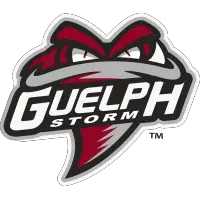 Fashion Lighting Player Spotlight - Matthew Poitras
November 18, 2020 - Ontario Hockey League (OHL) - Guelph Storm News Release



He grew up a fan of the Chicago Blackhawks and with his similar size, smooth skating, and slick passing ability he might remind you a little of Blackhawks star Patrick Kane. Unlike Kane though, 31-years-old with 13 NHL seasons and three Stanley Cups to his name, Matthew Poitras knows he is just beginning his journey.
Poitras, 16, from Whitby, Ontario, was drafted in the 1st Round 12th overall by the Guelph Storm in the 2020 OHL Priority Draft this past April.
For Matthew growing up in Whitby, sports and especially hockey were ingrained in his family. His dad played Junior B with the Char-Lan Rebels in Williamstown, Ontario and his mom won a provincial and Eastern Canadian Championship with the Peterborough Ice Kats hockey program.
"I started when I was around three or four, both my parents and my older brother played hockey so it was just natural for me to be put into hockey and I loved it"
As Matthew grew up he worked his way through the Whitby Wildcats hockey program of the Ontario Minor Hockey Association, finally this season being given the honour of being named captain of the Wildcats U-16 AAA team.
The role of captain is something Matthew took seriously and he believes he did a good job for the rest of his teammates "I feel like I was a good leader in that I led by example if our team was down I could be someone to look to, to get us back in the game."
He wasn't wrong, after a 14 point season in 16 games the year prior Matthew became the cornerstone of the Wildcat offensive leading the team in scoring with 26 goals and showing off his creativity finishing tied for first in the Eastern Triple AAA League of the OMHA with 42 assists.
It was that offensive creativity that caught the attention of Storm Head Coach and General Manager George Burnett, "Matthew is very skilled and an offensive threat every time he's on the ice," Burnett said after drafting Poitras back in April. "He is extremely competitive and has an elite vision with the puck."
For most, Saturday April 4th, 2020 was a regular day but for Matthew it was the both the best and most nerve-wracking day of his life. He knew his strong season with the Wildcats had moved his projections from a previously unheralded prospect to a potential mid 1st-Round pick. It didn't really matter where he ended up though as for him "I was just really excited, it was a dream of mine to be drafted in the OHL."
After he got the congratulatory call from George Burnett and saw his name on his computer, it can understandable how the rest of his draft day felt very surreal, "The day just kind of flew by, a bunch of my friends contacted me to congratulate me it was really just an exciting day."
Like most 16-year-olds, going to high school in 2020 hasn't been easy as Matthew is quick to acknowledge that "Online schools is kind of tough, it gets a bit boring sitting at home all day" but at the same time he is trying his best to stay in shape for when the new season eventually kicks off, "I go to the gym three times a week and twice a week I'm on the ice training."
When the season eventually returns it is hard to know where Matthew will fit in a shifting Storm lineup but he knows that even if he does not take on as significant an offensive role as last season he isn't worried "I think I'll bring energy and I'm a good hard worker so I'll bring a good work ethic as well. "
• Discuss this story on the Ontario Hockey League message board...


Ontario Hockey League Stories from November 18, 2020
The opinions expressed in this release are those of the organization issuing it, and do not necessarily reflect the thoughts or opinions of OurSports Central or its staff.