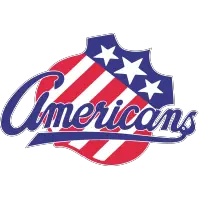 Eight Former Amerks to Compete in 2011 Stanley Cup Conference Finals
May 13, 2011 - American Hockey League (AHL) - Rochester Americans News Release



(Rochester, NY)... Eight former Amerks are among the four remaining teams competing in the Conference Finals of the 2011 Stanley Cup Playoffs. The battle for who is going to represent the West and the East in the Finals set to commence this weekend where eight more wins is all that is needed to claim hockey's biggest prize.
The Eastern Conference features the top-seeded Boston Bruins and Tampa Bay Lightning, both of whom advanced to the third round thanks to four-game sweeps over the Philadelphia Flyer and Washington Capitals, receptively. On the west coast, the President Trophy-winning Vancouver Canucks will have a few days rest before clashing with the San Jose Sharks, who staved off elimination with a Game 7 win over the Detroit Red Wings last night.
The Bruins feature the most Amerks alumni on their bench in the likes of forwards Greg Campbell and Daniel Paille and assistant coach Doug Houda.
This is Campbell's first NHL playoff appearance after being picked up by Boston in 2010 from the Florida Panthers, where he was a third-round pick (67th overall) back in 2002. For the bruins, Campbell has tallied a total of 29 points (13+16) and 93 penalty minutes in 80 games. The London, Ontario native also had a commendable career with the Panthers ever since his NHL debut in the 2003-04 season, leaving his mark with 29 goals and 85 points. In 2008, Campbell also reached a pro-career high of 32 points and left in 2010 leading the team in hits with 158. The 6-foot-0, 197-pound center played 11 games for the Amerks for the 2005-06 season, even helping the team reach the playoffs that season with six points (3+3) and 30 penalty minutes.
Fellow offensive skater, Paille, was drafted first round by the Buffalo Sabers in 2002 (20th overall) and is in his second season with the Bruins. A native of Welland, Ontario, Paille completed four years of Junior Hockey for the Guelph Storm (OHL) and represented Team Canada for two World Junior Championships, bringing home Silver in 2003 and 2004. The left-winger has 13 points (6+7) and 28 penalty minutes for the 2010-11 season and is appearing in his third playoff appearance, second with Boston. While skating for Rochester from 2004 to 2007, Paille racked up a total of 77 points (35+42) and 95 penalty minutes in 153 games.
Houda, currently in his fifth year as assistant coach for the Bruins, started his coaching career in Rochester upon his retirement from the team in 2003. One of the most recent inductees to the Amerks' Hall of Fame, Houda played in 284 games in the red, white and blue, registering 23 goals, 87 assists and 683 penalty minutes.
Mathieu Roy and Dwayne Roloson of the Tampa Bay Lightning each had very brief stints with the Amerks before moving on with their careers, but they did call Rochester their home for at least a game.
Roy finished his fifth season in the NHL and first playing with Tampa Bay in 2010-11. So far, the 6-foot-2, 208-pound defenseman has only played in four games for the Lightning, but he has totaled 13 career points (2+11) and 76 penalty minutes. A seventh-round draft pick by the Edmonton Oilers (215thoverall), Roy had a brief stint in Rochester during the 2009-10 season, suiting up for one regular season game and six playoff games.
Roloson, a more seasoned Amerks alumnus, played his only season in Rochester in 1998-99. The goaltenders' time in Rochester was also very brief as he went 2-0-0 and recorded 51 saves. Roloson has been in the NHL for 16 seasons now and is presently in his third Stanley Cup Playoff appearance. In his premier game with the Lightning, Roloson became the first goaltender in the Bolt's team history to record a shutout in his Lightning debut, also making him the third goaltender in last 33 years to post a shutout at age 41 or older (Hasek and Belfour). Though beginning the campaign with the New York Islanders, he enters the postseason having played 34 games (18-12-4) with 882 saves and securing a 2.56 goals-against average and a .912 save percentage. The netminder also currently ranks first among all NHL goaltenders in the postseason in saves (366), goals-against average (2.01), save percentage (.941) and wins (8).
Moving to the Western Conference, San Jose Sharks' forward Scott Nicholhelped his team dispatch the Detroit Red Wings in seven games for the second straight year. After establishing a 3-0 series lead over the Wings, Detroit, with former Amerk Doug Janik, rallied back to tie it up at three apiece. San Jose staved off elimination, avoiding a complete collapse in the process, with a 3-2 Game 7 win on home ice last night to move on to the Western Conference Finals for the second time in as many years.
Nichol, a 17-year pro making his fifth NHL playoff appearance, enters the postseason after notching only seven points (4+3) in 56 games with the Sharks during the regular season due to an upper body injury that left him out of action for more than 20 games. A heavy fan favorite during his six seasons with the Amerks from 1994-00, Nichol launched his professional career in Rochester in 1994-95, after just two seasons of junior hockey. A year later, he helped guide the Amerks to their sixth Calder Cup in 1995-96. In 326 career games with the Amerks, the Edmonton, Alberta, native finished his tenure in Rochester recording 173 points (80+93) and 813 penalty minutes. Serving as team captain for two seasons (1997-99), Nichol presently ranks 35th among all-time forwards in scoring, while his 813 PIMs remain seventh on the franchise's all-time leaders list.
Vancouver Canucks forwards Tanner Glass and Victor Oreskovich turned the hunter into the hunted and finally sent the Nashville Predators packing in Game 6, winning the series 4-2 to set up a showdown with their foes in central California.
Glass, playing in his second straight playoff appearance with the Canucks, returns to the Conference Finals for the second time in his NHL career. Glass is coming off another productive season in 2010-11 in the NHL, having captured seven assists and 10 points. Originally a ninth-round selection (265th overall) of the Florida Panthers in the 2003 Entry Draft, the 6-foot-1, 210-pound winger played two full seasons (2006-09) in Rochester, registering 25 points (10+15) and 189 penalty minutes in 91 career games. Despite being a fairly recent pro, Glass has an impressive 184 NHL regular season games under his belt.
Oreskovich is a second-round pick (55th overall) in the 2004 NHL Entry Draft by the Colorado Avalanche. The Whitby, Ontario native had an impressionable stay in Rochester for the 2009-10 season. Over a 34-game span playing for one of the AHL's oldest clubs, Oreskovich snagged 15 points (6+9) and 18 penalty minutes. His NHL debut with the Panthers earned him six points (2+4) in a notable 50-game season as a rookie the same year he was playing in Rochester. This is also Oreskovich's first time in the NHL playoffs, already suiting up for the past eight games.
• Discuss this story on the American Hockey League message board...


American Hockey League Stories from May 13, 2011
The opinions expressed in this release are those of the organization issuing it, and do not necessarily reflect the thoughts or opinions of OurSports Central or its staff.
Other Recent Rochester Americans Stories