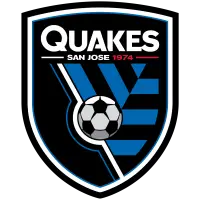 Earthquakes to Honor Most Dedicated Members of the Quakes Family with Devotion Scarves
December 8, 2020 - Major League Soccer (MLS) - San Jose Earthquakes News Release



SAN JOSE, Calif. - The San Jose Earthquakes will honor 14 recipients with a Devotion Scarf, an honor bestowed upon only the most devoted Earthquakes fans, staff, alumni or other members of the Earthquakes family. The Quakes presented Devotion Scarves for the first time in 2015, and they are now awarded annually at the final home game of the regular season. Due to the ongoing COVID-19 pandemic, this year's recipients will have their scarves delivered to their homes and will be recognized through the club's social media accounts. The 14 recipients of the 2020 Devotion Scarf are included below with descriptions of their commitments to the club. The complete archive of all Devotion Scarf recipients can be found here.
Gabrielle Antulovich - Gabrielle Antulovich is the President of the Billy DeFrank LGBTQ Community Center in San Jose and a longtime LGBTQ advocate. She has partnered with the Earthquakes for the past five years to plan and promote the annual Quakes' Pride Night at a home game each year. This year, Gabrielle helped to continue that tradition by pivoting and organizing this year's Pride Night into a sold-out virtual watch party event with Quakes fans and season ticket holders.
Charlie Bedard and Karlina Ott - Charlie Bedard and Karlina Ott have been longtime Earthquakes season ticket holders and club advocates for social causes in our local communities. Charlie and Karlina helped organize the Bedard Foundation in memory of their son Andrew Bedard, a young Earthquakes fan who passed away at age 8 and had The Andrew Bedard "Spirit of the Game" Award named after him. The award is now presented annually to the Earthquakes player that works hard in the community and best embodies Andrew's positive attitude both on and off the field. In addition to the Bedard Foundation, both Charlie and Karlina have been involved in other numerous projects with the Earthquakes and currently sit on the board of the Quakes Foundation.
Lars Frederiksen - Lars Frederiksen's Earthquakes fandom began as a child growing up in Campbell, Calif. when George Best visited his school for a community appearance. Although Lars went on to become one of the most celebrated artists in punk rock history with his band Rancid, his support never wavered for the team he grew up watching at Spartan Stadium. Often donning Earthquakes logos on his guitars in front of massive audiences, he became one of the club's most vocal advocates and season ticket holders. His second band The Old Firm Casuals wrote and recorded the Earthquakes anthem "Never Say Die" released in 2014 and is still played before kickoff and after every late goal at Earthquakes Stadium.
Dr. Richard Gayle and Dr. Daniel Ouyang - Dr. Richard Gayle and Dr. Daniel Ouyang are medical doctors from the Sutter Health Palo Alto Medical Foundation and the first team's medical physicians. Dr. Gayle specializes in advanced arthroscopic surgery and sports medicine, while Dr. Ouyang specializes in internal and sports medicine. Since the onset of COVID-19 in March, Dr. Gayle and Dr. Ouyang, along with the Sutter Health Palo Alto Medical Foundation, have been working extensively in collaborating with top health officials and Santa Clara County leaders, overseeing protocols and preparing the team for the MLS is Back Tournament and the continuation of the regular season. Their medical work continues to assure the health and safety of the first team players and staff as they now prepare for the 2021 MLS season.
Eric Hanninen - Eric Hanninen was a longtime employee who worked with the Earthquakes organization for over nine years. Eric's career with the Quakes started in the sales department in 2010, where he excelled in season ticket and group sales. His performance would see him climb the ranks to manager roles of different departments and ultimately becoming the executive assistant of the organization's executive team. Later promoted to Chief of Staff in 2019, Eric assisted the executive team with strategy work and participated in various initiative groups towards the growth and development of the organization. His drive and love for the Quakes inspired him to devote his time, work and energy towards the club and support the team by participating in related events and traveling to road games. Eric continues to be an active advocate of the club, residing in San Jose with his wife and newborn daughter.
Regina Keydeniers - Regina Keydeniers has been a game day operations staff member with the Quakes for over ten years, starting as a "Blue Crew" volunteer in 2008. Since then, Regina has progressed in her department by moving up to lead event ambassador and becoming an important member of her team during each event. She has always been willing to go the extra mile to provide the best experiences for stadium guests and staff. This year, Regina has been extremely open to working new roles, assisting her team during Earthquakes Stadium closed-door matches, leading stadium viewing parties and even helping with extensive sanitary stadium operations during off hours. Regina plays an important role behind the scenes in the overall success of our home matches and events.
Derek Lawrance - Derek Lawrance is the club's Director of Health and Performance, overseeing all department efforts and working closely with athletic trainers, first team and academy coaches, psychologists, and other medical personnel. Working with the Quakes first team since 2013, Lawrance took lead this year in all team safety operations, testing procedures, planning COVID-19 protocols, and consulting with Santa Clara County and Major League Soccer officials. His hard work, commitment and adaptability helped keep the first team safe and cleared to play every scheduled match this season.
Sabrina-Mone Lamontagne - Sabrina-Mone Lamontagne is the Operations and Finance Manager at the African American Community Service Agency (AACSA) in San Jose. Since 1978, the AACSA has been a leading community organization in supporting the South Bay's most vulnerable populations, especially now more than ever due to the COVID-19 pandemic. Sabrina has contributed extensively to Pledge 74, where she and the AACSA have hosted Quakes supporters for numerous monthly volunteer sessions with their CARES Program and collaboration with the Quakes Foundation Black Lives Matter Scarf fundraiser earlier this year.
Hal and Ted Ramey - Hal and Ted Ramey are the first father-son duo to win this recognition. Hal broadcasted for the Earthquakes from 1976-1983 and later provided television play-by-play coverage for San Jose in the inauguration of Major League Soccer in 1996. Ted would follow his father's footsteps by becoming the current radio broadcaster for the Earthquakes. Since 2014, Ted's dedication and commitment has motivated him to voice the Quakes' games, as well as his radio show "The Ted Ramey Show" and his participation in "The Soccer Hour", which can both be listened to on KNBR 1050. Ted continued his match broadcast this season by attending an empty Earthquakes Stadium every gameday and highlighted the team throughout the season in his radio shows.
Dave Romero - Dave Romero is a longtime Earthquakes season ticket holder and one of the lead members of the Quakes' supporters group The Faultline. Since 1997, Dave has supported the club both on and off the field as a fan, supporter and advocate. This year, Dave has been very active helping different Quakes initiatives and causes. From participating in Intermedia virtual watch parties during this summer's MLS is Back Tournament , to designing fan banners displayed at Earthquakes Stadium for home games, Dave has always showed his passion and support for the club. He has also been active away from the pitch, becoming one of the volunteers with the most logged hours towards Pledge 74, the company-wide initiative to combat hunger in the South Bay.
Miggie Trevino - Miggie Trevino has been a long-time benefits representative who has partnered with the Earthquakes for more than seven years. She has played a vital role in the organization by fighting through professional adversity, assisting others with company benefits needs, and resolving requests and issues with external stakeholders. Miggie has gone above and beyond when assisting the Earthquakes, and this year was no exception. She was a familiar face at Quakes games, attending matches with her family and creating new fans within her professional networks. After working for three different insurance companies, Miggie continues to show her devotion and pride for the club and is undoubtably part of the Quakes family.
Previous Devotion Scarf Recipients:
2019: Juan Alcaraz, Almaden, Carlos Chang, Crystal Cuadra, Anastasio Garcia, Bang Huynh, Jerri Johnson, Scott Schlotfeldt, Beatriz Torres, and Ned Zuparko.
2018: Dorene Bolanos, Terry Cotting-Mogan, Curtis Hisao, Jacquie & Jeff Hofmann, Colin McCarthy, Kevin Moore, Raul Peralez, Cezar Popovici, Joe Santos Sr., Susan Silveira, John Wondolowski.
2017: Raul Bueno, Debbie Freeman, Brian Holmes, Betty Jean Schweitzer, John Jussen, Darryl Kojima, Amanda Farina-Morris, Jeff Ota, Easy Perez, Mike Pizzo and John Todd.
2016: Dan Burkhead, Olly Bayliss, Ted Firestone, Krazy George Henderson, Dan Ignacio, Bryan Jarvis, Jerry and Bernie Larkin, Mayor Sam Liccardo and Eric Santiago.
2015: Mark and Patty Biagini, Marlee and Glenn Castleman, Shaun Del Grande, Julie Di Maria, Dr. Michael Furlong, Jose Fuentes, Don Gagliardi, Jeff Kordes, Dan Margarit, Dave McAllister, Carol Haner, Shelley McCune, Jesse Mendes, Dave Obenour, Anthony Perry, Carlos Cesar Rivera, Brenda Scott, Alan Wolfe and Ken Yeager.
• Discuss this story on the Major League Soccer message board...


Major League Soccer Stories from December 8, 2020
The opinions expressed in this release are those of the organization issuing it, and do not necessarily reflect the thoughts or opinions of OurSports Central or its staff.
Other Recent San Jose Earthquakes Stories