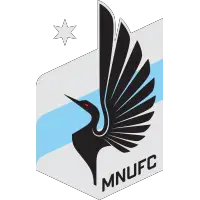 MNUFC Lose 3-2 to Seattle in Western Conference Final
December 8, 2020 - Major League Soccer (MLS) - Minnesota United FC News Release



SEATTLE, Wash. - After handling their business as the higher seed against Colorado Rapids and then upsetting the Western Conference's top seed against Sporting Kansas City, Minnesota United came into Monday night's Western Conference Final against the Seattle Sounders with dreams of upending expectations once again. When they leapt out to a lead off an Emanuel Reynoso free kick in the 29th minute, the home side stayed calm. But after having a Raul Ruidiaz goal called back for a foul and surrendering another set piece goal to Bakaye Dibassy in the 67th minute, Seattle looked to be in real trouble. But the reigning champs clawed their way back into the game with grit and canny substitutions, eventually coming back to win 3-2 in the final minute and book a trip to the Final.
In the game's opening minutes, Minnesota United went right to working a possible weak point in the Seattle defense with Head Coach Brian Schmetzer's decision to opt for consistency by continuing to play Alex Roldan at right back instead of Kelvin Leerdam. Beaten by a streaking Kevin Molino, Roldan went to ground and was given a warning in the second minute. In the ninth minute he would again challenge Molino - this time at the edge of the box - and earn a yellow card for his troubles.
As for Seattle, it was clear their main avenue of attack was unleashing Jordan Morris down the left wing and the speedy U.S. national team player was able to get out ahead of the defense time and again in the first half. In the 20th minute he had a good opportunity to cross the ball to a trailing Raul Ruidiaz but it was just beyond the Peruvian's reach.
Coming up to the half-hour mark, both teams were playing well without breaking the game open or getting too stretched out. The result was a back-and-forth game that lacked compelling final balls from either side. A few times, passes went awry as players didn't quite read each other's intentions. Thus, it was only fitting that the game would shift on a dead ball opportunity.
In the 28th minute, midfielder Ethan Finlay was taken down by Shane O'Neill a few yards out from the top of the box. It was a stern challenge and one that possibly could have earned a red card, but either way, it resulted in a free kick from a dangerous spot. After striking the woodwork a couple of times in the regular season off of free kicks, Emanuel Reynoso made no mistake this time, striking a left-footed shot that curved over the wall and onto the post past goalkeeper Stefan Frei to give MNUFC a 1-0 lead. It was Minnesota's first direct free-kick goal in 127 MLS games.
Seattle responded by redoubling the pressure in the midfield and for a stretch they managed to pin the visitors in their own end. In the 36th minute, defender Romain Metanire went down in pain and stayed down for some time, only to rejoin the fray for a few minutes before going down again and making way for Hassani Dotson. Tasked with containing the electric Morris, Dotson began his shift well by bottling up the left winger for the remainder of the half. Some staunch defending by Chase Gasper on the other side of the pitch kept Alex Roldan from getting off a clean cross in the 44th minute and Ruidiaz couldn't quite get the look he wanted in front of goal off a corner kick in the 46th minute. The teams headed into the locker rooms with the visitors on top by a goal.
Although Seattle didn't make any changes to the lineup to start the second half, Schmetzer did flip Morris and Jones. The home side picked up where they left off, putting the visitors under heavy pressure in front of goal and at least initially keeping the Loons from putting together any kind of threat. In the 53rd minute, Cristian Roldan send forward a long outlet pass to Ruidiaz, who shrugged off defender Michael Boxall and fired a strike past goalkeeper Dayne St. Clair to draw the Sounders level. A look at the tape, though, revealed that Ruidiaz had pushed Boxall in the back and the goal was waved off.
Despite longer and longer strings of possession with Minnesota holding on seemingly by their fingernails, the Sounders were for a long time unable to muster truly threatening shots. It looked like that was going to change in the 65th minute as Morris got space to blast a rocket from outside the box that caught St. Clair flatfooted, but the ball caromed off the post instead and then just two minutes later, a foul on Molino gave Minnesota a free kick out wide on the left. Reynoso sent the ball curving in perfectly for defender Bakaye Dibassy cutting inside of Nouhou. Dibassy - who scored his first MLS goal in the last game against SKC - confidently nodded the ball onto the far post and past Frei to make it 2-0. The play also gave Reynoso the record for most assists in a postseason at seven.
Looking to change the complexion of the game, Schmetzer went to his bench, bringing in Will Bruin in the 73rd minute. The move paid instant dividends as Bruin was there to clean up a Ruidiaz shot just two minutes later to cut the deficit in half on a goal that made it 2-1. In the 77th minute, Schmetzer brought in Gustav Svensson and the momentum shifted definitively towards the home side.
The Sounders threw everything they had forward against a Minnesota side that looked gassed and the cracks began to show. Off a left-side corner kick by Lodeiro in the 89th minute, the ball was flicked across to Ruidiaz on the right and he drilled it past St. Clair to draw Seattle level just before the start of stoppage time. And then in stoppage time it was once again the Sounders breaking Minnesota hearts as Svensson drilled a header off a corner kick in the final minute of stoppage time to end the Loons' playoff run.
BELL BANK MAN OF THE MATCH: Midfielder Emanuel Reynoso
GOAL BREAKDOWN
29' | Reynoso hit the post twice on FKs this season. Does not miss from the spot, drilling the ball with his left and curving it onto the post. First direct free-kick goal in 127 games in MLS. 1-0
67' | Reynoso whips in a free kick that's perfectly aimed to find Dibassy cutting inside of Nouhou and he drives the ball onto the far post and past Frei. 2-0
75' |Will Bruin comes in and instantly gets a goal. Ruidiaz takes a shot and it hits Bruin but then Bruin puts it in. 2-1
89' | Lodeiro lines up the corner and it gets flicked across the box to Ruidiaz who doesn't miss. 2-2
94' | Svensson scores a header off a corner kick. 3-2.
LINEUPS:
Minnesota United: GK Dayne St. Clair; D Chase Gasper, Bakaye Dibassy, Michael Boxall, Romain Metanire; M Jan Gregus, Osvaldo Alonso, Kevin Molino, Emanuel Reynoso, Ethan Finlay, Robin Lod
Seattle Sounders: GK Stefan Frei; D Nouhou, Shane O'Neill, Yeimar Gomez, Joevin Jones; M Joao Paulo, Cristian Roldan, Nicolas Lodeiro, Alex Roldan; F Raul Ruidez, Jordan Morris
MINNESOTA UNITED QUOTE SHEET
MINNESOTA UNITED HEAD COACH ADRIAN HEATH
On if he has ever been in a game quite like tonight's game ...
"No. It's a cruel game when you're on the receiving end of it. But, you know, I said to you guys before, I was a bit concerned about the lack of rest that we've had. I thought that was pretty apparent this evening. I can't fault the guys for their effort. What they've done this year has been remarkable. Because I know what we've been through internally. But, you know, I think that the extra two days that they had was a huge advantage. And, I'm glad I mentioned this before the game to the press, because it's not an excuse. But, late on, we were sort of running on empty a little bit and obviously when you do that, you concede space and suddenly they've got extra bodies in the box and you leave yourself vulnerable. Unfortunately, that's what happened."
On what he saw in the last 15-20 minutes from his vantage point on what broke down on the back line ...
"As I say, because we were so tired, we didn't have enough control of possession so we never really gave ourselves a little bit of rest. We'd continually clear it and then they'd bring it forward again. I just thought it was a lack of energy from us at the end. That was to be understandable. I sensed it in training the last couple of days. You know, we've had a lot of physical and mental emotional games the last few weeks and maybe it's' caught up with us. But, as I said, I can't fault the players. Their energy this year and their desire for us to do well has been fantastic. And, football is a cruel game. We've all been on the receiving end of the night at some stage, and we've been on the side where it's you that gets the goals. So, hats off the them. They, somehow, always seem to find a way. It's in their DNA here. And, at the end of the day, hats off the them. Congratulations to them."
On if he addressed the team after the game and how you begin to sob the emotion of that ...
"No. It's obviously a very distraught dressing room. A lot of upset players. Sometimes it's best just to say nothing. We'll have a chat with the group and thank them for their efforts this year. It's been remarkable, what they've given us. It's been a really testing and trying season for everybody. But, none more so than us I don't think."
On what this playoff run says and shows about the direction of Minnesota United as a club ...
"The most important thing is that we're moving forward. We're getting better. Each and every transfer window. And, that will be the same again. We've got a lot of big decisions to make in the next 24, 36 hours of where we go and what we do to move forward. But, that's what we'll do. That's the nature of the game. Sometimes you've got big decisions to make, and they're not incredibly popular at times, but you have to believe that they're the right decisions. And, I think we've done that over the last couple of years. We've made some really good decisions with the players and the quality that we've brought in. Now we have to go and do it again. Try and keep moving forward. And that's what we'll do."
On both mid-season additions to the roster, Bakaye Dibassy and Emanuel Reynoso, making waves in MLS and what he saw from these two tonight and this season ...
"They've been everything and more we expected. The two of them were probably the longest, sort of, attractive transfers that we've had since I've been here. We thought that they would bring us quality, bring us leadership and experience. That's what they've done. They've given everybody in the club a boost. And, they've given us extra quality on the field. And, we have to go again and try and bring in another two or three players to supplement what we've got. I think that we're very close to having a top-drawer team and squad. And, we'll try and add to it with a little bit more quality as well."
On what he was looking for out of Kei Kamara after he came on after the second Minnesota Untied goal ...
"Well, obviously, as I say, you could see the energy levels were going down and we just thought that Kei [Kamara] might give us a bit of physical presence, which, he did. But, you know, they kept coming and they kept putting us under more and more pressure and we didn't have any real, sustained possession to take any of the sting out of the game in the second half. When you keep turning it over because lack of effort, we don't have enough men in their half of the field, then it becomes very, very difficult. But, I thought Kei did well when he came on. But, obviously, at that stage, they're really putting the pressure on us and kept delivering the ball in our box. You know, normally, when you keep getting balls in the box, at some stage, something drops for you. Which, it did for them today."
On Seattle's quality on set pieces and what they were doing that was breaking MNUFC down on those set pieces ...
"I think, you know, if you don't win the first header, you have to make sure that you're available for the second ball. They had a couple first half. [Raul] Ruidiaz had one on the back post in the first half, and we mentioned it at halftime. But, you know, if you switch off against quality players, they will go and find a spot where the ball ends up. And, that's what he did. They paid an awful lot of money for him. That's why. Scoring and making goals is the hardest thing in football. We always say that. He's Johnny on the spot, isn't he? We don't win the first one and he's pulled off and he's in a different spot. The last goal, obviously, it's a good ball in, but it's just sheer numbers in the end."
On Romain Metanire's status and how much that affected the squad with him leaving the game ...
"It looks like it's a hamstring. We'll have a better idea tomorrow. I thought Hassani [Dotson] did great when he came on. As we expected he would. Obviously, you don't want to make them changes as early as we did. Romain [Metanire] is a quality player. When you disrupt the back four, it affects you in other areas. Obviously, the timing, if you're going to do your hamstring, do it in the last game of the season, that's the best way to do it. He's got a few months now to hopefully get himself fit and healthy."
On if he feels the final score line represents the balance of play in the 90 minutes ...
"I'm not sure. I'll have to watch it again. I know that we probably didn't play as well tonight as we have in the last few weeks. I don't think we were as crisp and as sharp as we have been. I don't think our ball movement was as good. I thought we probably turned it over more tonight than we have done of late, and, against a quality team. That's a dangerous thing to do. But, we'll watch it. I'll have a look at it. To be honest, at this moment in time, what's the best way to describe it, just a little bit of a shell shock to be honest."
On what he told his squad heading into the second half ...
"A couple of things in my mind were, I thought we could play better, and, I said to the players at halftime, we are better than what we've shown. What my overriding worry, even before the game, was, you know, I know it's been a strange year, but I don't think it's particularly fair when we've had to travel in the week, get back early Friday morning, and we travel again Sunday. Against a team like this, who have had an extra couple of days to prepare. As I said, I'm glad I said this before the game, because I don't want it to be an excuse. But, it would have been nice to have the same amount of rest as Seattle. For sure. "
On if he brought up to the league the game date and the potential to move it back for rest and recovery reasons ...
"I don't think the final was going to be allowed to be moved. So, we're pretty much up against it. You know, as I say, and I'm saying this to maybe somebody else next year, it shouldn't happen where, and, I'm not saying that we shouldn't have played on the same day, I just needed a couple more days. The players did. A couple of more days. I don't care if they have nine and we only have seven. But, the three days that we had between the game, was a little bit too much to come here and perform like we can."
MINNESOTA UNITED MIDFIELDER ETHAN FINLAY
On the gut-wrenching nature of the loss...
"Yeah, it's hard. This will be the last time this group of guys are together, and for it to end the way it did tonight, in that fashion, after 75 really good minutes I thought...we knew it was going to be a tough one tonight, and we kind of...we bent, but we didn't break for a majority of the game. I'm just sick to my stomach obviously, everyone in that locker room is sick to their stomach. I think we fell short obviously this evening and there will be a lot of soul searching, I think, from individuals and as collectives, but you know, it was a great year, but absolutely disappointing tonight."
On how long it will take to process a moment like this...
"Yeah, it takes usually post-Christmas, because things will happen, obviously, quick now. I said, first thing I thought about was that this is the last time this group of guys will be together. It's a great group of guys. It's a group of guys that from the very start were very close and continuing to get closer as the Orlando tournament went on and as the season went on, and I think we saw that in really how we played. And, you know, we're not the flashiest team at times, even though I think we've had maybe the best player in MLS, but we grind. And tonight was a grind and I think that's what hurts so bad right now. Because for 75 minutes of this game, I thought we grinded our way through it and I thought we deserve more, but, yeah this is a great step obviously for the club to be here. But trust me when I say this, the guys in that locker room are disappointed we weren't able to do more for the club and for our fans this year, because we know we're capable...or were capable."
On everything that went down this year and what they've been through, what the guys will remember the most...
"Unfortunately I'll remember the last 10 minutes of this game most likely. There's a lot of great things that happened this season, don't get me wrong, but we play this game not for individual success or individual stats or even a contract. I play this game for trophies, for championships. I'd say I speak for the locker room when that's our mentality here. This is hugely disappointing. This is something that I think will, we will think about and we will marinate on. You know, I just go through the locker room and I just think of every guy who has either been in this situation or a similar situation, I think, know how difficult it is. That's why it hurts. I've been there once, Ozzie [Alonso] has been there several times. Kei's [Kamara] been there once. It stays with you beyond next year even. We'll find a way through it, players will find their way through it, Minnesota United will find their way through it going into 2021, but this will be a talking point for weeks, for months into 2021. We understand that the only thing you can do is just get back on the horse and ride it again. That's what this organization will do. You know, that's what we have to do."
On anything particular that changed after those first 70 minutes...
"It's obviously the first goal - a fortuitous bounce for them and I think obviously the momentum changes. I think we'll say we're disappointed we didn't get much possession tonight. We didn't have much of the ball. It felt like we couldn't get ahold of the game there in the second half, even when we did score the second goal. I don't know what the numbers came out, but it didn't feel like we could get control of the game and I always felt like even at a 2-0, you're always at a situation where you're a little bit nervy if you don't have control of the game and I felt like that's where we were at. You know, two set piece goals is not acceptable, and it's no individual person's fault by any means, it's the collective. But that's going to be disappoint because it's something we've been so good on I think, and to give up two, and again in quick succession like we did tonight, was just...it's not us. It's not our brand."
On a message to the fans back home...
"First off, thank you. It's been a really tough year for everybody. Them, us, our families, that we've felt their support. And the follow-up would be...just, you know, sorry. It's gravely disappointing because I think our fans...we've got to the point in this organization where there's expectations and that's a good thing. It's a good thing that our fans are going to be disappointed and not just happy to be here, because that's the mentality this group. And we need our organization, we need our fans to be the same way. That's going to push us higher. So, we will be back, we will rebuild - not even rebuild, but we will reload. We've already got very talented players on this roster and yes it will be a different roster next year and I understand that, but there's a lot of positives obviously to take, but this is disappointing, everyone should be disappointed. And our fans should mourn this, but also understand that we need them to support us as we go on to next season and continue to push us higher, and challenge us, because that's what we're doing as individuals, that's what the staff's doing, that's what our front office is doing. This is what this is. This is a process and we made big steps this year, but you know we have high expectations."
On the lack of rest not being an excuse, but was a factor...
"I think everyone individually could answer that question probably how their legs feel, felt. I feel like I had a tough task dealing with [Jordan] Morris and Nouhou down that side for our side at least. It's always challenging, playing on turf is always challenging. I'll tell you, I had a knee operation two months ago, and playing on turf I feel that unfortunately, more than I do on grass. But, again, I'm not sitting here complaining personally, it didn't affect my play tonight. Guys would say it didn't affect their play. This is all adrenaline at this point. Everyone's on short rest, everyone's got tired legs. Fitness was not our issue. We're one of the fitter teams in the league I think. We went up against a team that has a lot of movement, and we knew what the requirements were going to be and I don't think that was the difference tonight. I agree with Adrian [Heath], it's not an excuse, we won't use it as an excuse. We knew the schedule, I guess of last week, so we could be prepared for it. But like I said, you're just running on adrenaline and that wasn't the reason we lost tonight."
On veterans comforting younger players after a moment like this...
"You know, you got to remember it. I sat on the field and watch Portland celebrate on my field when I was with Columbus in 2015 and I still remember it. I remember their faces, I remember their excitement and that fueled me and continues to fuel me. And so that's the mentality. You go to work this offseason, when you get back in preseason, you remember these moments. You remember the pain, and you make sure you do everything you can to change that and to get back here. I mean nothing's promised. You can play many, many years in this league and never get back even here, let alone MLS Cup. I wasn't counting my chickens by any means, but it's my ninth year in the league and I've been in one MLS Cup and I would say that's disappointed for me because I've been a part of some really good teams and that's what's difficult. You look back and guys will look back, hopefully, on their career and the won't regret it, they won't feel bad about this moment, but you don't know. Could be, for some guys, the last time they get this far in their career and that's a tough point. That's the tough part about this whole situation. It's small margins and you know like I said, most of these guys in this locker room are guys who have been around, maybe not their first team or their second team, and they've had some experience losing in playoffs. But to get as far as we did, I think this was a new thing for a good amount of guys and that's why it is disappointing, because though guys obviously know, especially a guy like Marlon Hairston, hardly making the playoffs in almost his career, getting this far, this is a tough moment and you can tell, because guys like that, in the locker room when they're disappointed."
On Columbus being a factor on his desire to go back to MLS Cup...
"Yeah. Absolutely. But I really would have loved to have hosted it, even if we wouldn't have had fans. I think that would have been really cool for our stadium and just for our fanbase. I'm sure there would have been thousands of people outside, maybe breaking quarantine rules necessarily in the city, but that obviously would have been my first choice. But either way it felt like a win-win. Whoever won that game, it would have been fun to get up for, but unfortunately that did not come true."
• Discuss this story on the Major League Soccer message board...


Major League Soccer Stories from December 8, 2020
The opinions expressed in this release are those of the organization issuing it, and do not necessarily reflect the thoughts or opinions of OurSports Central or its staff.
Other Recent Minnesota United FC Stories