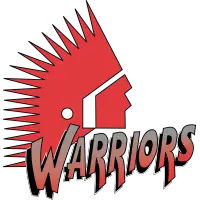 Calvert Aiming to Live His Warrior Dream
November 24, 2020 - Western Hockey League (WHL) - Moose Jaw Warriors News Release



When the puck drops on the 2020 - 2021 WHL regular season, Moose Jaw product Atley Calvert will be looking to make an impact for his hometown team.
Calvert was listed by the organization on October 12, 2018, and he committed to the team and the WHL with the signing of a Standard Player Agreement after the Warriors 2019 Training Camp.
"I'm a hardworking guy who likes to get into the dirty areas of the game," he said when asked to describe his style.  "I like to compete and try to win every battle.  I try to be hard to play against every time I step onto the ice."
"Atley is a great combination of competitiveness and skill. He does his best work in the tougher areas in the rink along the boards and in front of the net," commented Warriors Head Coach Mark O'Leary.  "He is reliable to trust with defensive responsibilities, and has the skill to help offensively."
"I think I first saw Atley play when he was 12. While he has always had a knack for scoring and no players compete harder, I think the biggest improvement has been in his strength and quickness," O'Leary added.  "It is all a credit to him, who I know has and still does put a lot of work in on and off the ice to get stronger and quicker.  There is no question he is been able to add a step and gotten stronger which allows him to do what he does even better, win puck races and puck battles."
The 17-year-old had a stellar 2019 - 2020 season with the Moose Jaw AAA Warriors where he had 23 goals, 23 assists, and 46 points in 39 games.
"Last season, my most memorable moment was scoring my first WHL goal in Swift Current.  I had lots of family there and it was an awesome experience," he said when reminiscing about last year.  "Playing in the final at the Mac's Tournament with the AAA's was also pretty memorable."
As Calvert mentioned, he was part of a AAA Warriors team that finished second at the annual Mac's Tournament, which was the best finish ever for a Moose Jaw team.  As well, before the SMAAAHL shut down due to the pandemic, the AAA Warriors had advanced to the league final.
Not being able to play in the championship series left a sour taste in his mouth.  "We had a special group and we were playing very well as a team.  I had to use that as motivation though to get better during the quarantine when everything was shut down."
Atley was the Captain of the AAA Warriors last season, and Warriors Head Coach Mark O'Leary says he sees plenty of leadership qualities within the young player.
"There's a lot of similarities between Atley and (former Warrior) Tanner Jeannot.  He wins races and puck battles, he does the small details right away, and he is willing and able to help the team on and off the ice, and on both sides of the puck."
Calvert had challenges just like everyone else early in the pandemic, but he was diligent in his planning and came up with a routine that worked for him.
"I worked out five to six days a week with my trainer (former Warrior) Travis Ehrhardt, with the goal of getting bigger and stronger.  I skated with my power skating coach for about a month to work on my skating and acceleration.  I also worked with (AAA Warriors Head Coach) Trevor Weisgerber on my shooting and all-around game."
"My goals were to improve my skating and acceleration and to put on muscle to get bigger for the upcoming season," he added.  "As a player, I worked also worked on changing the angle of my shot and getting better at all of the little details of the game."
With the WHL season currently on hold, Calvert is back with the AAA Warriors and leads the team in scoring with three goals, eight assists, and 11 points through six games.
When the time comes to make the jump to the WHL, Calvert feels that he will be ready.
"At the end of the day, the game is the same it is just the speed goes up to another level.  The speed and the strength of WHL players in all aspects of the game is the toughest challenge," he said.  You have to make decisions a lot quicker and in the right spots."
"The advice I would give to Atley, or any of our players, is to come to the rink with energy and enthusiasm, be relentless in his effort and compete level, take pride in improving each day by doing things right, and maybe most importantly enjoy every day.  It is the best years of their life, and it goes fast," said O'Leary.
If Calvert were to make the Warriors roster this season, he would be one of two players from Moose Jaw, joining defenceman Nolan Jones.
Some people believe there is pressure to play in your hometown, Coach O'Leary does not agree.
"I do not believe there is any more pressure.  I think the city of Moose Jaw is proud to have another hometown boy playing for the Warriors, especially one that plays as honest as Atley.  As far as being extra driven by playing in your hometown, you would have to ask Atley, but it would have to feel special."
"It is my hometown," said Calvert.  "I grew up as a little kid watching Warrior games, so to play for the Warriors would be a dream come true."
• Discuss this story on the Western Hockey League message board...


Western Hockey League Stories from November 24, 2020
The opinions expressed in this release are those of the organization issuing it, and do not necessarily reflect the thoughts or opinions of OurSports Central or its staff.