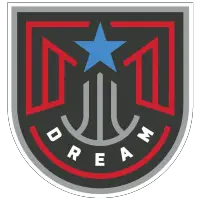 Billings Career-Night Not Enough as Dream Fall to Sparks, 78-66
July 23, 2019 - Women's National Basketball Association (WNBA) - Atlanta Dream News Release



ATLANTA - Monique Billings scored a career high 16 points to lead the Dream Tuesday night, but it was not enough to stop a comeback win from Los Angeles as they left Atlanta with a 78-66 win.
The Dream (5-15) led the Sparks through the first three quarters of the game but couldn't hold on in the fourth. Billings scored eight of her points in the first half, including a buzzer-beater to give the Dream a one-point lead at the end of the first quarter. Atlanta continued its aggressive play, attacking the Sparks but couldn't close out the win.
Los Angeles pulled into the lead in the third quarter and the game saw five lead changes in the second half before the Sparks were able to move ahead for good. A 15-4 run from Los Angeles late in the fourth quarter saw the game get away from the host Dream.
Tiffany Hayes returned to the lineup to score 15 points. Elizabeth Williams added nine points and eight rebounds in the loss.
The Dream will enjoy a long break as the league hosts the WNBA All-Star game Saturday in Las Vegas. Atlanta returns to action Wednesday, July 31 at the Indian Fever beginning at 7 p.m.
Atlanta Dream Notes
- Atlanta started Renee Montgomery, Tiffany Hayes, Brittney Sykes, Jessica Breland and Elizabeth Williams.
o Hayes sat out the previous two games with a hamstring injury.
- The Dream is now 16-11 all-time against the Sparks, and 9-5 when playing in Atlanta.
- Monique Billings scored a career-high 16 points (previous: 10, twice) on a career-high six made field goals on 14 attempted (previous: 4 and 11, respectively).
o This was Billings' first game of the season leading the team in points.
- LA's 32 points in the fourth quarter was the most a team has scored against Atlanta in the fourth quarter this season.
- Renee Montgomery's streak of 24 straight games with a three-pointer made came to an end Tuesday night.
Atlanta Dream Quotes
Head Coach Nicki Collen
On positive takeaways from loss versus Sparks:
"I thought for three quarters we defended really, really hard. I thought after that flurry of offensive rebounds on the first couple of possessions that we boxed better. We challenged (Chelsea) Gray on every possession. I thought at times we executed at a really high level offensively."
On believing in her team:
"I keep believing we're going to make our next shot. I'm not surprised when Tiffany (Hayes) hit that three in the corner because I think she's always going to make her next shot. I worked enough with Slim (Brittney Sykes) that I think Slim's going to step up and make a three and it doesn't happen very often but I keep believing it's going to happen because I've spent enough time in the gym individually with her to know she's capable of making open threes."
Guard Tiffany Hayes
On positive takeaways from loss versus Sparks:
"I think our defense was really good. We had good communication, and everything was flowing. Our defense was on point."
Atlanta Dream forward Monique Billings
On positive takeaways from loss versus Sparks:
"I thought we had good energy. I thought that we made good defensive plays and had good flow as a team, we're making shots, and everything seemed to be going right.
Los Angeles Sparks Quotes
Head Coach Derek Fisher
On what the team did in the fourth quarter to earn the win...
"I think remaining consistent, which had a lot to do with the fact that most, if not all of our offense was coming off of the pass. We are so accustomed at times to relying on Chelsea's (Gray) individual greatness off the dribble, and tonight we had 28 made field goals and 22 assists. I think even at times when it was a struggle at times in the fourth quarter because the ball was moving the whole game, everybody still felt involved. Then the shots started to fall, things started to go well, and then the energy just continued to build. This group is just continuing to learn how to trust themselves because we have a small core group that's been together for a number of years, but we have six new players and an entirely new coaching staff that is asking them to do completely different things than they've done before. There are times when they don't look comfortable, because they're not. They just kept finding a way tonight."
On Tierra Ruffin-Pratt...
"Just confidence. Tierra tries to always impact the game on the defensive end, that's what she's known for and she tries to let the offense come to her. Tonight, as part of Atlanta's game plan, which a lot of teams do, they help off of her and onto Nneka or Chelsea and tonight she was feeling good and stepped into it with confidence. You can't do that if you don't work at it. You can't just show up to the game and make shots if you're not putting in hours before and after practice. Tierra has put the work in because she wants to be good, and I'm very happy for her tonight."
Center Nneka Ogwumike
On tonight's game...
"Defense was huge, we gotta get stops! I think we play better when we get stops. We are able to control the tempo of the game but they're not an easy team to stop, of course. They have a lot of firepower in their backcourt and a lot of great rebounders. Defense is not just stopping their action but also securing the ball."
On the last two games between these teams...
They feel kind of the same to be very honest. The other game we just had an overtime game, it was really down to the wire last game. This time around we were able to really separate at the end when it really mattered and push past our opponent to get a win today."
Forward Tierra Ruffin-Pratt
On her career-best night...
"I just was shooting the ball when I was open. I passed up a couple in the first half after I missed my first one, and they all just came up to me and were like 'T, you gotta shoot it, you gotta shoot it- you're open!' So, I just shot it, and they were going in, so I went from there."
On team overcoming injuries to earn this win...
"I think we all just stay in our lane, stay in our place. We take our chances and take our shots when we're open. We have players like Chelsea Gray and Nneka who are our leaders, and we look to them for a lot. When we can take some pressure off them, and make the open ones, that makes the game a lot easier."
• Discuss this story on the Women's National Basketball Association message board...


Women's National Basketball Association Stories from July 23, 2019
The opinions expressed in this release are those of the organization issuing it, and do not necessarily reflect the thoughts or opinions of OurSports Central or its staff.