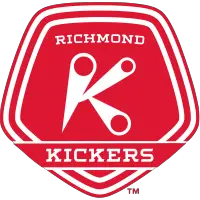 Aune, Crisler Strengthen the Kickers Backline for 2021
February 18, 2021 - United Soccer League One (USL1) - Richmond Kickers News Release



RICHMOND, Va. - The Richmond Kickers have signed a pair of defenders in Nathan Aune and Jalen Crisler for the 2021 USL League One season, pending league and federation approval.
"After the retirement of Kyle Venter and the promotion of Wahab Ackwei to Loudoun United in the USL Championship, we had a need at the central defender position," commented Darren Sawatzky, Chief Sporting Officer and Head Coach. "Adding Jalen and Nathan gives us two very tough central defenders with good experience. Both Jalen and Nathan are tough kids from the northwest. I am looking forward to them both bringing their competitive brand to our culture here in Richmond."
Both Aune and Crisler grew up in the Seattle area, where they both caught the eye of Sawatzky at early ages through club and academy teams. A region that produces hard-nosed players, both players know what it takes to play in any conditions to give the Kickers a defensive advantage on the field.
Aune was drafted 50th overall by the San Jose Earthquakes in the 2019 MLS SuperDraft, and he signed with the Earthquakes' USL Championship affiliate, Reno 1868 FC for the season. Making his pro debut that year, Aune played in two matches, with an astounding 92.5 completion rate for his 80 passes. Aune spent his second professional season with USL League One opponents Union Omaha, making four appearances for the newest side in the league in 2020. The gritty defender contributed to a backline that allowed the third fewest goals in the league (15) and tied for second for clean sheets (6).
"Nathan Aune had a stellar career at Seattle University playing under a close friend in Peter Fewing," said Sawatzky. "He was a leader for the Redhawks and his competitive bite sets him apart from many defenders in the college game. He spent the 2020 campaign in Omaha playing against us in USL League One and was looking for a place to make his stamp on the game. We both believe Richmond is that place. We are excited to get him into a red jersey and start battling for us."
A standout for the Seattle University Redhawks, Aune started in all but one of his 80 matches for the team, notching six goals and adding an assist. The Arlington, WA native led the Redhawks backline that earned 34 shutouts throughout his career. An All-Western Athletic Conference selection all four years, Aune earned national recognition in his junior and senior years being named to the United Soccer Coaches All-American Third Team and the United Soccer Coaches All-West Region Second Team in each year respectively. Aune was also named the WAC Defensive Player of the Year in his junior season.
"Darren brings an intensity and confidence to everything he does," noted Aune. "I know what he expects of me on and off the field and I'm excited to bring that to Richmond. Darren will have us all bought into what we can achieve as a group, and is an easy coach to go to battle for!"
In the summers after his junior and senior seasons, Aune played for Kickers Chief Sporting Officer and Head Coach Darren Sawatzky, then the Head Coach of the Seattle Sounders FC U23s. The defender made 18 appearances for the USL League Two side that finished third and second in the Northwest Division. Before joining Sawatzky at Seattle, Aune played one season with the Vancouver TSS Rovers FC after his sophomore season, where he played in 12 matches.
"My goals are to hold down the defense and put our offense in good positions to go win us a lot of games this year," added Aune. "I would like to establish myself as a solid defensive force in the center of our back line and a set piece threat when I get in the box. Our team goal is to win USL League One and we have a team that can do that."
Having just played his second professional season at league foes Forward Madison FC, Jalen Crisler featured in two matches in League One last season. His first professional season was with Detroit City FC in the National Independent Soccer Association (NISA) in 2019, playing 10 matches and scoring one goal.
"Jalen worked hard and blossomed toward the later parts of his youth career," noted Sawatzky. "He grew into a strong, hard nosed defender and he had a great college career at Gonzaga University as a leader in their team. He played well for the Seattle Sounders U23 team in the summer months and it translated into an all-league level fall at Gonzaga. Jalen has since played two professional seasons and grown into a valuable asset at the back that we look forward to having with us here in Richmond."
After redshirting his freshman year, Crisler went on to play four seasons at Gonzaga University and had impacts both on the field and in the classroom. He made 64 appearances, including 50 starts for the Bulldogs, finding the back of the net on six occasions and adding three assists. Along with his on-field accolades -- including a nod on the All-West Coast Conference First Team his junior year -- Crisler was acknowledged in the WCC All-Academic teams his final three seasons.
"Jalen's work rate is as high as any player I have coached and he has continually refined his game with each stage of his movement up the soccer ladder. He will give us a formidable option on set plays in the box and his ability to pick up target players helps as we prepare for the teams in USL League One."
Crisler also played for Sawatzky at the Sounders FC U23s, including the 2017 season alongside Aune. He made 11 total appearances and scored a goal and added an assist in the 2016 playoffs.
"Darren has always been a great coach and mentor," said Crisler. "And he's not only a great coach, but he genuinely cares about his players both on and off the field. From the first conversation I had with Darren this offseason, I knew Richmond was the spot I wanted to be. The team's clear vision, goals, and hunger to improve on last year made the decision to sign with Richmond easy. Darren's energy and passion for the game are contagious and seeing what he was able to do in a year here in Richmond is a testament to the winning culture he and the staff have created and will continue to grow this year. I am excited to be back playing for Darren and to be a Red!
"I think my personal goals go hand in hand with the team goals, which are to continue to improve and grow individually and as a team, win the league, and bring a championship to the fans and city of Richmond."
The defense is stronger and you need to be there to see them in action with your Kickers+ subscription. Kickers+ is a brand new subscription service for the 2021 season that provides fans tons of value, flexibility and sweet perks! Sign up today for only $59.99 - Kickers+ benefits include 50% off tickets to any regular season home match, 15% off merchandise at shop.richmondkickers.com, exclusive digital content, member events, and more! Click here for more info and to join today!
Stay up to date with all of the Kickers news at RichmondKickers.com and on social media on Facebook, Twitter, Instagram and YouTube.
TRANSACTION: Richmond Kickers have signed defenders Nathan Aune and Jalen Crisler for the 2021 USL League One season on February 18, 2021.
• Discuss this story on the United Soccer League One message board...


United Soccer League One Stories from February 18, 2021
The opinions expressed in this release are those of the organization issuing it, and do not necessarily reflect the thoughts or opinions of OurSports Central or its staff.