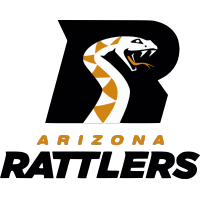 Arizona Rattlers game notes
May 4, 2005 - Arena Football League (1987-2008) (AFL I) - Arizona Rattlers News Release



The Stakes: The Rattlers play the role of spoiler, as they hope to damage the RushÂ's playoff hopes. Arizona fell in LA last week 59-56, while Chicago outlasted the Gladiators 63-62. Chicago is tied with Colorado for the Central Division lead.
The Series: This will be the fourth meeting between these two franchises. Arizona leads 3-0, including a 2-0 mark at AWA.
TV: FSN Arizona will be televising tonightÂ's game. Kent Derdivanis and Ron Wolfley will call the action, with Kevin McCabe patrolling the sidelines.
Radio: All Rattler games are broadcast on KMVP 860 AM. Kent Derdivanis and Ron Wolfley will provide the commentary.
ARIZONA RATTLERS (4-9)
Date Opponent Time TV
1/28 @ Grand Rapids Win 58-38
2/3 ORLANDO Loss 40-51
2/12 @ Georgia Loss 47-61
2/19 COLORADO Loss 69-74
2/27 @ New York Loss 37-61
3/6 LOS ANGELES Loss 29-33
3/13 @ Tampa Bay Loss 56-59
3/19 LAS VEGAS Loss 63-66
3/28 @ Nashville Win 48-35
4/3 @ San Jose Loss 27-48
4/8 COLUMBUS Win 70-53
4/22 AUSTIN Win 52-26
4/30 @ Los Angeles Loss 56-59
5/6 CHICAGO 7:00 FSNAZ
5/14 SAN JOSE 7:00 -
5/22 @ Las Vegas 12:00 NBC
CHICAGO RUSH (8-5)
Date Opponent Time TV
1/30 @ Dallas Loss 65-66
2/6 PHILADELPHIA Win 51-41
2/13 @ Colorado Win 51-48
2/19 @ Columbus Loss 39-52
2/25 ORLANDO Loss 35-48
3/6 NASHVILLE Win 45-38
3/13 @ Grand Rapids Win 48-45
3/20 NEW ORLEANS Loss 40-46
4/2 @ New York Win 44-43
4/10 SAN JOSE Win 55-39
4/17 COLORADO Win 75-51
4/23 @ Los Angeles Loss 49-52
5/1 LAS VEGAS Win 63-62
5/6 @ Arizona 7:00 -
5/15 GRAND RAPIDS 10:00a NBC
5/22 @ Nashville 12:00 NBC
Head Coaches: Todd Shell is in his first season as Head Coach of the Rattlers. The 2003 AFL Coach of the Year has a regular season record of 50-45 (.526), with stints in San Jose and New York. Shell has won three division titles, including back-to-back Eastern Divisions with New York in 2003 and 2004. Shell was ArizonaÂ's original Defensive Coordinator, helping lead the team to the 1994 ArenaBowl Title.
Mike Hohensee is in his 12th season as a Head Coach, and fifth with the Rush. Hohensee owns a career mark of 93-82, including a 46-34 record with Chicago. He also was a charter player in 1987, throwing the first TD pass in league history.
Next Week: Arizona hosts their arch-rival, the San Jose SaberCats, in the final home game of 2005. Kickoff for the Saturday May 14th affair is at 7:00 PM.
Last Meeting: The Rush and Rattlers met up on May 11, 2003 in Chicago. Randy Gatewood had four TD receptions to lead Arizona to a 56-44 victory.
Officials: Officials for todayÂ's game are: Tom McCabe (Referee), Matt Jordan (Umpire), Neil Brunner (Head Linesman), Bob McElwee (Line Judge), and Keith Washington. (Back Judge).
Last Game: Arizona fell in the last second to the LA Avengers, 59-56. Siaha Burley scored four touchdowns, but John Kaleo found Kevin Ingram in the end zone with four seconds left to seal the win for LA.
Records in Sight: With three games remaining, Siaha Burley has his sights set on some Rattlers single season records. Burley has 38 TD receptions so far, 6 short of the team record held by Calvin Schexnayder in 1998. The AFL record is 46 in a single season, held by four players. Burley also has 105 receptions, 31 shy of SchexnayderÂ's mark. He needs to average almost eleven receptions a game to break the record.
Still Throwing: Rattlers Quarterback Sherdrick Bonner ranks third in touchdown passes (642), passing yards (32,268) and fourth in pass completions (2,590) in AFL history. Bonner also ranks third for pass attempts (4,181). Bonner is the all-time leader in wins by a starting QB. He has 91 regular season wins and 108 total victories as a starter.
Most Passing Touchdowns
1. # Aaron Garcia 704
2. # Andy Kelly 697
3. # Sherdrick Bonner 642
4. # Clint Dolezel
Most Passing Yards
1. # Andy Kelly 35,865
2. # Aaron Garcia 33,837
3. # Sherdrick Bonner 32,268
4. # Clint Dolezel 31,828
Most Pass Completions
1. # Andy Kelly 3,244
2. # Clint Dolezel 2,666
3. # Aaron Garcia 2,633
4. # Sherdrick Bonner 2,590
Most Pass Attempts:
1. # Andy Kelly 5,245
2. # Aaron Garcia 4,211
3. # Sherdrick Bonner 4,181
Regular Season Wins as a Starting QB:
1. # Sherdrick Bonner 91
2. # Andy Kelly 81
3. # Aaron Garcia 70
4. # Clint Dolezel 60
# denotes Active Player
Penalty Marker Down: The Rattlers have committed 123 penalties so far this season, after being flagged 119 times last season. Those flags have translated into 740 yards, or 56.9 yards a game. They have given opponents 36 first downs via the penalty, and have had five touchdowns and six takeaways overturned by the flags.
Slippery Fingers: The Rattlers have turned the ball over 25 times this season. The Rattlers have not forced many turnovers this season, as their -8 turnover ratio proves.
The Kicker: K Gary Kral was signed as an Emergency Kicker before the Austin game, filling in for the injured Anthony Brenner. Brenner was placed on IR last week. Kral is the sixth kicker since camp began. The previous five were Brenner, Jason Witczak, Chris Sailer, Steve McLaughlin, and Danny Kight.
Hunkie Night: Tonight is "Hunkie Cooper Appreciation Night". Cooper will be honored at halftime, featuring his jersey being retired and several special guests. There are several former Rattlers attending the game, including Luis Zendejas, Cedric Tillman, and Chris Horn.
Quietly Stellar: Since most of the attention has been on Siaha BurleyÂ's chase for the TD record, Randy GatewoodÂ's career year has gone under the radar. Gatewood has set new career highs in receptions with 70, and yardage with 955. During his Ironman of the Year season in 2003, Gatewood had 69 catches for 779 yards, and a career high 32 touchdowns. He has scored 15 TDs this season. Gatewood has put up all these numbers while learning a new position on defense, playing WR/LB for the first time.
Milestones: The win over the Austin was the 50th career victory for Head Coach Todd ShellÂ…The triumph over the Wranglers also marked the 91st regular season win for Sherdrick Bonner. Bonner is first all-time for wins by a starting QB. He has 108 career wins, including 17 playoff victoriesÂ…Randy Gatewood needs 45 more receiving yards for his first ever 1,000 yard season.
In Honor of Al: Every AFL team will wear #76 stickers on their helmets in memory of Avengers Lineman Al Lucas.
Old Friends: Chicago FB/LB Bob McMillen played for the Rattlers from 1995 through 2000. Rush back up QB Asad Abdul-Khaliq was a college teammate of Rattlers QB Travis Cole. The two split snaps at Minnesota.
Roster Move: The Rattlers released lineman Nikia Adderson this week. Adderson had appeared in 12 games, making two sacks.
Burley Stats: Siaha Burley leads the AFL in scoring with 236 points. San JoseÂ's Rashied Davis trails him by 20Â… He leads Davis in touchdowns, 39-36Â…Siaha is third in All-Purpose yards, 3696 yards behind the leader, Steve SmithÂ…Burley is third in receptions. Aaron Bailey leads the AFL with 118, while Burley has 105. He is also third in yards. He trails Marcus Nash by 101Â…BurleyÂ's 38 touchdown receptions this season is second all-time in team history.
This WeekÂ's Games:
May 7
Columbus Destroyers at New York Dragons
Orlando Predators at Austin Wranglers
Grand Rapids Rampage at Nashville Kats
Dallas Desperados at Las Vegas Gladiators
Los Angeles Avengers at San Jose SaberCats
May 8
Colorado Crush at New Orleans VooDoo
Tampa Bay Storm at Georgia Force
Bye
Philadelphia Soul
• Discuss this story on the Arena Football League (1987-2008) message board...


Arena Football League (1987-2008) Stories from May 4, 2005
The opinions expressed in this release are those of the organization issuing it, and do not necessarily reflect the thoughts or opinions of OurSports Central or its staff.
Other Recent Arizona Rattlers Stories