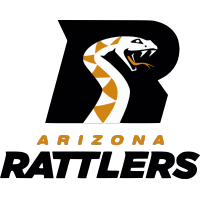 Arizona Rattlers game notes
March 16, 2005 - Arena Football League (1987-2008) (AFL I) - Arizona Rattlers News Release



The Stakes: The Rattlers hope to end their six game losing streak, as they host the Gladiators. Last week, Arizona fell to Tampa Bay on a last second field goal 59-56 while Las Vegas knocked off Columbus 63-34.
The Series: This is the sixth meeting between the Rattlers and the Gladiators, with Arizona holding a 4-1 advantage, including a 3-0 mark at America West Arena.
TV: FSN Arizona will televise tonight's game. Kent Derdivanis, Ron Wolfley, and Kevin McCabe will call the action.
Radio: All Rattler games are broadcast on KMVP 860 AM. Craig Grialou and Dale Hellestrae will provide the commentary.
ARIZONA RATTLERS (1-6)
Date Opponent Time TV
1/28 @ Grand Rapids Win 58-38
2/3 ORLANDO Loss 40-51
2/12 @ Georgia Loss 47-61
2/19 COLORADO Loss 69-74
2/27 @ New York Loss 37-61
3/6 LOS ANGELES Loss 29-33
3/13 @ Tampa Bay Loss 56-59
3/19 LAS VEGAS 7:00 FSNAZ
3/28 @ Nashville 6:30 -
4/3 @ San Jose 6:00 FSNAZ
4/8 COLUMBUS 7:00 FSNAZ
4/22 AUSTIN 7:00 FSNAZ
4/30 @ Los Angeles 7:30 -
5/7 CHICAGO 7:00 FSNAZ
5/14 SAN JOSE 7:00 -
5/22 @ Las Vegas 12:00 NBC

LAS VEGAS GLADIATORS (4-3)
Date Opponent Time TV
1/30 LOS ANGELES Win 46-37
2/5 @ San Jose Loss 31-66
2/11 NEW YORK Win 41-37
2/20 GEORGIA Loss 13-38
2/26 @ Nashville Win 40-32
3/4 AUSTIN Loss 41-42
3/12 @ Columbus Win 63-34
3/19 @ Arizona 7:00 FSN
3/28 SAN JOSE 7:00 NBC
4/3 @ Colorado 12:00 -
4/8 GRAND RAPIDS 7:00 FSN
4/17 @ Philadelphia 10:00a NBC
5/1 @ Chicago 10:00a NBC
5/7 DALLAS 7:00 FSN
5/14 @ Los Angeles 7:30 FSN
5/22 ARIZONA 12:00 NBC

Head Coaches: Todd Shell is in his first season as Head Coach of the Rattlers. The 2003 AFL Coach of the Year has a regular season record of 47-42 (.528), with stints in San Jose and New York. Shell has won three division titles, including back-to-back Eastern Divisions with New York in 2003 and 2004. Shell was Arizona's original Defensive Coordinator, helping lead the team to the 1994 ArenaBowl Title.

Ron James is in his first season as a Head Coach in the Arena Football League. James spent the past three seasons as an assistant for the Gladiators. He also was a coach for the Houston Thunderbears.

Last Meeting: The Rattlers spanked the Gladiators 80-63 at AWA in Week 10. Sherdrick Bonner tied a career high with nine TD tosses, including three to Randy Gatewood.

The Big Lefty: Rattlers Quarterback Sherdrick Bonner has etched his name into the AFL record books. He is third all-time in Arena Football history with 630 touchdown passes. He ranks third in passing yards (31,606) and second in pass completions (2,534). Bonner also ranks second for pass attempts (4,097).
Most Passing Touchdowns
1. # Aaron Garcia 669
2. # Andy Kelly 663
3. # Sherdrick Bonner 630
Most Passing Yards
1. # Andy Kelly 34,111
2. # Aaron Garcia 31,943
3. # Sherdrick Bonner 31,606
Most Pass Completions
1. # Andy Kelly 3,070
2. # Sherdrick Bonner 2,534
3. # Clint Dolezel 2,518
4. # Aaron Garcia 2,484
Most Pass Attempts:
1. # Andy Kelly 4,983
2. # Sherdrick Bonner 4,097
3. # Aaron Garcia 3,977
# denotes Active Player

Next Week: Arizona hits the road again, traveling to the Music City to take on the Nashville Kats on Saturday, March 26. The game is set for a 7:00 PM kickoff.

Officials: Officials for today's game are: Wes Fritz (Referee), Paul Frerking (Umpire), Greg Shields (Head Linesman), Dave Chesney (Line Judge), and James Cole (Back Judge).

Last Week: Arizona lost a heartbreaker to the Tampa Bay Storm, falling 59-56 on a last second field goal at the St. Pete Times Forum. Sherdrick Bonner threw eight TD tosses, but Matt George's three-pointer at the buzzer sent the Rattlers to their sixth straight defeat.

Home Sweet Home?: This is just the second time in team history the Rattlers have started a season 0-3 at home. During their second season in 1993, Arizona dropped the first three at the Snake Pit before winning their next four home games.

Show Your Love For Glove(r): Phil Glover had a monster day against the Avengers last Sunday, rushing for two touchdowns, recording two QB sacks, and scoring a safety. Glover now leads the Rattlers with three sacks, and has also rushed for three scores on the year. He has appeared in three career games for Arizona (one last year), and has four sacks.

#1 Tackler: With his seven tackles against the Storm, Randy Gatewood passes Cecil Doggette to become the franchise's all-time leader in tackles. Gatewood now has 285 tackles for his career, besting Doggette's 280.

Climbing The Charts: Wendall Gaines is making his ascent up the Rattlers all-time sack list. Thanks to his sack of Jim Kubiak against Georgia, Gaines now has ten career sacks, one short of Bryan Henderson's team record.

My Foot, Meet My Bullets: The Rattlers have been plagued this season by mistakes. The Rattlers have had four TDs called back due to penalties, and two fumble recoveries and two interceptions reversed due to flags.

Flag Happy: The Rattlers have committed 70 penalties so far this season, after being flagged 119 times last season. Those flags have translated into 429 yards, or 61.3 yards a game. They have given opponents 21 first downs via the penalty.

Snake Turnovers: The Rattlers have turned the ball over 18 times already this season, after giving it up only 22 times last season. The Rattlers are tied with Austin and Las Vegas for the most giveaways in the AFL, but Arizona owns the worst turnover margin in the league at -8.

Roster Moves: Arizona activated FB/LB Frank Trentadue prior to the Tampa Bay game. Trentadue had missed two weeks with a hamstring injury. The Rattlers placed OL/DL Zach Rupp on IR the day after signing him from the Practice Squad. Rupp pulled his hamstring in his first day off the Practice Squad. The team also traded WR/ DB Justin Taplin to the Georgia Force for OL/DL John Frank, who was waived by the Rattlers early last week. Arizona also released kicker Steve McLaughlin and WR/LB Ryan Dennard.

Snake Bites: Siaha Burley is second in the league in All-Purpose yards with 1,341. He trails only Steve Smith of Philadelphia, who has 1,419.

Other Games:
March 18
Dallas Desperados at Los Angeles Avengers
Grand Rapids Rampage at San Jose SaberCats

March 19
Orlando Predators at Georgia Force
New York Dragons at Austin Wranglers

March 20
Tampa Bay Storm at Philadelphia Soul
New Orleans VooDoo at Chicago Rush
Columbus Destroyers at Colorado Crush

BYE: Nashville Kats


• Discuss this story on the Arena Football League (1987-2008) message board...


Arena Football League (1987-2008) Stories from March 16, 2005
The opinions expressed in this release are those of the organization issuing it, and do not necessarily reflect the thoughts or opinions of OurSports Central or its staff.
Other Recent Arizona Rattlers Stories