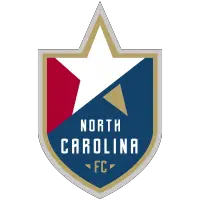 Albadawi Records Brace to Lift NCFC to 4-1 Win in Final Appearance Before Retirement
September 11, 2021 - United Soccer League One (USL1) - North Carolina FC News Release



CARY, NC - North Carolina FC win over the visiting New England Revolution II, 4-1, in captain Nazmi Albadawi's last match before entering retirement. Albadawi notched the brace in his final appearance, with Josh Coan and Jay Tee Kamara each adding individual goals to seal the result. Fifteen-year-old goalkeeper and recent signee Nicholas Holliday posted his first start at home in tonight's contest, making several key saves to limit the Revolution to a single goal. Academy product Rohit Thakur also made his first team debut during the match.
"Everything that could have been on display tonight in terms of what this night was about was on display," said Head Coach John Bradford following the match. "We've got special recognition for a special player, Nazmi, and a great crowd that came out, lots of noise, the respect that he deserves for such a great career and for what he's meant to our community, our club. The other thing on display tonight was Nicholas Holliday. [You] can't think about this game without thinking about the performance that he put in, big save after big save in the second half especially. I think it's easy for everyone to see the future that's ahead of that young man."
"It's bittersweet, right? I'm excited for this new journey, but I'll miss playing out here, especially on this field in front of our fans," said Albadawi in a postgame interview. "There was a great turnout today, which I was very touched by. More importantly, looking at the bigger picture, it's a big win for the team, which I'm really happy about. Everyone played great, I think it was our best performance of the season as well, so it was a great way to go out."
New England drew first blood in tonight's match, as 16-year-old Esmir Bajraktarevic received a pass from teammate Connor Presley and dribbled with pace into the North Carolina FC box. Cutting the ball toward his left foot, Bajraktarevic put away his first goal of the season to give the Revolution a 1-0 lead in the 12th minute.
North Carolina FC was quick to respond with an equalizer, however, leveling with their opponent in the 16th minute. The scoring play began with Kamara, who attempted to slip a ball to Albadawi in the final third. Whilst en route to Albadawi, the ball deflected off of a New England defender and into the captain's path. Albadawi put away his first goal of the season in his final match with North Carolina FC, deadlocking the score at 1-1.
Coan gave North Carolina FC the go-ahead goal a mere ten minutes later, doubling the home side's lead. Jackson catalyzed the attack, playing a pass into space for Coan. Taking the ball in stride, the midfielder beat his defender with a series of stepovers and buried a shot at the far post to notch his third goal of the season. The assist was Jackson's first with the club.
Making a lasting impression in his final appearance, Albadawi recorded the brace early into the second half. Receiving a backheel pass from Coan, the midfielder took a few quick touches upfield before tallying his second goal of the night. Kamara added another goal for NCFC in the 64th minute, utilizing his speed on the ball to leave his defender behind, creating his own space to tally his fourth goal of the season.
Match Notes:
- Nazmi Albadawi recorded a brace in his final performance with NCFC.
- Nicholas Holliday made his home starting debut in tonight's match.
- Rohit Thakur made his first team debut in the 87th minute, entering the match as a substitute for Josh Coan.
Up Next: North Carolina FC will travel to face the Chattanooga Red Wolves at CHI Memorial Stadium in Chattanooga, TN on Saturday, September 18 at 7 p.m. ET. The match will stream on ESPN+.
Box Score:
NCFC (4-5-1): Nicholas Holliday, Nelson Martinez, Malick Mbaye, Britton Fischer, Nelson Flores, Peter Pearson, Nazmi Albadawi (Daniel Steedman - 73'), Jay Tee Kamara (Luis Arriaga - 66'), Josh Coan (Rohit Thakur - 87'), Cole Frame (Parker O'Ferral - 86'), Aziel Jackson (Thorn Simpson - 65')
Subs Not Used: Jake McGuire, Shermaine Martina
NE (4-4-2): Yannik Oettl, Ryan Spaulding, Collin Verfuth, Sean O'Hearn (Colby Quinones - 45'), Pierre Cayet, Connor Presley, Michel Costa da Silva (Hikaru Fujiwara - 55'), Damian Rivera (Meny Silva - 45'), Noel Buck, Justin Rennicks, Esmir Bodraktarevic
Subs Not Used: Joe Rice, Tyler Freitas, Francois Dulysse, Dennis Ramirez
Score:
NCFC: 4
NE: 1
Goals:
NCFC: Nazmi Albadawi - 16', 54', Josh Coan - 26', Jay Tee Kamara - 64'
NE: Esmir Bajraktarevic - 12'
Cautions:
NCFC: Josh Coan - 30', Nelson Flores - 66', Luis Arriaga - 80', Nicholas Holliday - 90+2'
NE: Collin Verfurth - 21', Sean O'Hearn - 23',
Ejections:
NCFC: --
NE: --
• Discuss this story on the United Soccer League One message board...


United Soccer League One Stories from September 11, 2021
The opinions expressed in this release are those of the organization issuing it, and do not necessarily reflect the thoughts or opinions of OurSports Central or its staff.