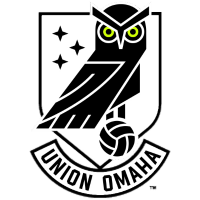 Union Omaha Takes 3 Points at Home and Retakes Top Spot on the Table
September 11, 2021 - United Soccer League One (USL1) - Union Omaha News Release



PAPILLION, Neb. - On a Super Saturday in USL League One, it was a super performance that saw Union Omaha top Toronto FC II, with phenomenal assists from top scorer Greg Hurst and reigning Goal of the Week winner Damià Viader.
Devin Boyce's 6th minute opener set the tone for Los Búhos, who came into the match looking to keep a leg up in the race for the top spot, especially if Chattanooga slipped in their concurrent matchup against Greenville.
Head Coach Jay Mims was effusive about the victory. "Huge three points tonight, especially since we've been up at home 1-0 and we've given up the lead. For us to do the same thing but then come back and get the second goal? Massive three points for us."
The Owls took off early thanks to a slick little bit of combination play. After Alihodžić won the ball in midfield, it came to Devin Boyce, who laid it off to Greg Hurst. Boyce turned and broke towards goal, and Hurst gave him the deftest of dinks over the top of Toronto's backline. Boyce did wonderfully to control it, and fired a rocket of a half-volley home for the 1-0 lead. It was Hurst's first assist of the season, though the quality of it would tell you otherwise.
Oddly enough, Toronto FC II's loss last weekend at Greenville began with them conceding a 6th minute goal as well, though there at least weren't two more unanswered goals to follow here.
The rest of the first half saw a little bit of everything except a change in the score. Hurst and Evan Conway had chances to run at goal thanks to TFC II overcommitting men forward, but fluffed their lines at crucial moments. Greg Hurst also made an attempt at a very long-distance chip, but couldn't find the target. Ferrety Sousa and Rashid Nuhu both took knocks in their own box when laying out for the ball, leading to six minutes of stoppage in the first half.
Toronto FC II took a while to grow into the game, but the possession stats began to slant in their favor as the first half wore on and the field began to tilt towards Omaha's goal. That momentum led them to an equalizer early in the second half, where Luke Singh curled a free kick into the left corner from just about straight-on. With four straight draws at home coming into this match, a leveler by Toronto really threatened a fifth, if they didn't kick on for a winner themselves.
Despite some initiative by Devin Boyce, who spent his whole night making cutbacks and stepovers even against two men covering the flank, no immediate response came about. In fact, not much of anything came about, with Toronto controlling more of the play and turning Union Omaha's attacks short and listless.
Until, that is, the 71st minute. A booming goal kick led to desperate defending to clear the ball away from Greg Hurst bearing down on goal, and the ensuing throw-in came to an urgent-looking Damià Viader. He collected himself before cutting inside and whipping a wicked cross to the far post, where a streaking JP Scearce booted it straight down and through the wickets of TFC II's keeper to take the lead right back.
From there, Union tightened it up and saw it out against the TFC reserves, who couldn't quite regain their footing after that second goal given up. It could hardly have been a better way to get into the home stretch of the season.
"We won last week 3-0, we won again, and the team's starting to find their rhythm again. They're playing incredible," said Coach Mims, who also noted how special a night it was, honoring 9/11 first responders, victims, and their families.
With Chattanooga Red Wolves' loss at Greenville, the Owls are level on points but ahead on goal differential, not to mention the two games in hand they possess to stretch their advantage further. After missing this kind of opportunity a couple weeks ago with a draw against North Texas SC, they'll be thrilled to have taken advantage of the result from Chattanooga to vault themselves forward in the standings.
Speaking of, Union Omaha will head south to face off against North Texas SC once again this season. It will be their third of four meetings in 2021, but their first away from home. Both of the previous matchups have ended all square, with 1-1 and 0-0 scorelines at Werner Park preceding the two fixtures down in Arlington, Texas to come. This next match will take place on Sunday, September 19th at 6:00 p.m. CDT. The Owls will then return to Omaha on 9/25 with a special edition of Downtown Owls as the match vs. FC Tucson to be played at Creighton's Morrison Stadium.
---------
Union Omaha vs Toronto FC II
Werner Park (Papillion, NE)
Goals by Half 1 2 F
Union Omaha 1 1 2
Toronto FC II 0 1 1
Scoring Summary:
OMA: Devin Boyce 6', J.P. Scearce 71'
TOR: Luke Singh 53'
Misconduct Summary:
OMA: JP Scearce (Yellow Card) 21', Greg Hurst (Yellow Card) 45+4'
TOR: Antonio Carlini (Yellow Card) 39', Luca Petrasso (Yellow Card) 58', Julian Altobelli (Yellow Card) 88'
Statistical Summary:
Shots (on goal): OMA: 9 (3); TOR: 12 (2)
Saves: OMA: Rashid Nuhu - 1; TOR: Andreas Vaikla - 1
Possession: OMA 45.3% - TOR 54.7%
Fouls: OMA 16; TOR 11
Corner Kicks: OMA 3; TOR 1
Attendance: 2,722
Lineups
OMA: GK, Nuhu; D, Viader; D, Malone; D, Crull; D, Sousa (Otieno 83'); M, Scearce; M, Doyle; M, Alihodžić (Rivera 70'); M, Boyce (Panchot 90+3'); F, Conway; F, Hurst (Osumanu 84')
TOR: GK, Vaikla; D, Franklin; D, Dunn; D, Singh; D, Petrasso; M, Thompson (Antonoglou 86'); M, Campbell (Rothrock 74'); M, Okello (Yeates 64'); F, Carlini; F, Altobelli; F, McLaughlin
All game stats are unofficial.
• Discuss this story on the United Soccer League One message board...


United Soccer League One Stories from September 11, 2021
The opinions expressed in this release are those of the organization issuing it, and do not necessarily reflect the thoughts or opinions of OurSports Central or its staff.