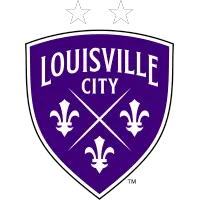 'A Chance to Do a Bit of Good'; LouCity Players Give to Refugee Toy Drive
December 18, 2020 - United Soccer League Championship (USL) - Louisville City FC News Release



The boys in purple donated their 2020 fine fund to Kentucky Refugee Ministries.
To keep its locker room accountable during the season, Louisville City FC players are at the mercy of petty fines, owing on everything from late attendance or messy locker to telling a bad joke.
As a tumultuous 2020 winds down, the boys in purple found that cash a charitable final destination.
The LouCity Ladies, an official supporter group, had during December drummed up a toy drive for families in need via Kentucky Refugee Ministries. On Thursday morning, midfielders Niall McCabe and George Davis IV joined LouCity Ladies at KRM to deliver a donation of their own purchased with the fine money.
"Every year we try to give back," Davis IV said. "We don't spend it on new shoes, Niall (McCabe)'s good gear -- we try to take that money and give back to the community. It's a good feeling to do that."
"The amount of money that we spent is irrelevant, but we know that the stuff we did bring makes the kids smile."
Davis IV and McCabe spent their morning shopping local at the Playthings Toy Shoppe's Shelbyville Road location. With a packed car, they headed up KRM's Highlands headquarters in the afternoon to join the LouCity Ladies in the donation process.
"I'll be honest, I've cried multiple times today because it's not been the most fun year," said Lillian Mathews, a member of the LouCity Ladies. "So to end the year doing something positive for the community meant a lot to all of us."
A non-profit organization, KRM's mission is to help families who have fled unfortunate situations from across the globe and assist them in settling into the United States. Sponsoring families of all walks of life, KRM teaches them how to become self-sufficient in their new home while integrating them with the community.
LouCity's involvement with KRM isn't new. Players spoke of getting involved in Thanksgiving dinners and bringing kids out to games. Earlier this month, coach John Hackworth and his wife Tricia partnered with Academy Sports + Outdoors to provide a family with a Christmas shopping spree after a fire claimed their home.
"When you have the opportunity to meet people from different parts of the world and some of the refugees that come to our country to find a better situation, it's really positive that we can help them adapt," Davis IV said.
"Soccer is a world sport and we can all find common ground and similarities in that. So if we can do that to help these families adjust and adapt to a new place, then we're all for it."
While 2020 posed many struggles for LouCity - an abbreviated season, the inability to open Lynn Family Stadium to its full capacity and sacrifices made by players and staff to complete the campaign - Thursday's toy drive kept things in perspective for the boys in purple.
"This year's been tough for me, for the team," McCabe said. "But if it's tough for me and the team, I can only imagine how tough it is for other people.
"It's been a miserable year but I think it's important to focus on the good. There hasn't been a whole lot of it, and when you have a chance to do a bit of good - it took us three hours to do everything - it's a small thing to do for such a big cause. Focus on the good, especially in a time like this."
• Discuss this story on the United Soccer League Championship message board...


United Soccer League Championship Stories from December 18, 2020
The opinions expressed in this release are those of the organization issuing it, and do not necessarily reflect the thoughts or opinions of OurSports Central or its staff.
Other Recent Louisville City FC Stories