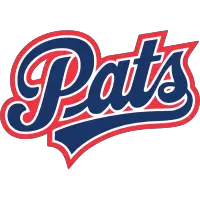 2022 WHL Prospects Draft Pats Preview
May 17, 2022 - Western Hockey League (WHL) - Regina Pats News Release



Regina, Sask. - Draft season is nearly upon us, and that means it's an exciting time for the Regina Pats, who have top-10 picks in both Wednesday's U.S. Priority Draft and Thursday's WHL Prospects Draft.
The Pats will select 3rd and 42nd overall in the U.S. Priority Draft and they have 13 total selections in the WHL Prospects Draft, including 6th overall and four picks in the top 54.
Below are all of the Pats draft picks.
2021 WHL Prospects Draft
Last December's draft was a success for the Pats, as Head Coach and GM John Paddock and his staff have already been able to ink their top three picks. Heading into the draft, the Pats did not have a first-round pick, but that changed when Paddock dealt his 2023 first-round pick to the Kamloops Blazers for the 21st pick in the draft. The Pats then selected twin-brothers Jaxsin and Corbin Vaughan with the 21st and 30th overall picks. The Pats finished with six forwards, two defencemen and one goalie.
RD OVR PLAYER NAME POS HT WT DOB HOMETOWN CURRENT TEAM
1 21 Jaxsin Vaughan C 6-1 185 01/10/2006 Merritt, BC Rink H.A Kelowna U18 Prep
2 30 Corbin Vaughan LD 6-0 190 01/10/2006 Merritt, BC Rink H.A Kelowna U18 Prep
4 75 Raiden Zacharias RW 5-10 179 03/01/2006 Saskatoon, SK Saskatoon Blazers U18 AAA
5 92 Aaron Krestanowich LD 6-0 175 06/02/2006 Winnipeg, MB Winnipeg Wild U18 AAA
5 107 Brock Souch F 5-8 140 10/11/2006 Edmonton, AB Northern Alberta Xtreme U16 Prep
6 119 Carter Ralson F 6-1 160 01/24/2006 Unity, SK Tisdale Trojans U18 AAA
7 141 Dru Mushumanski F 5-9 145 05/09/2006 Rossburn, MB Parkland Rangers U18 AAA
7 151 Kaslo Ferner F 5-8 135 04/14/2006 Kelowna, BC Okanagan Rockets U18 AAA
8 172 Nicolas Rempel G 6-0 156 08/01/2006 Winnipeg, MB Winnipeg Wild U18 AAA
"Overall, we're very pleased with the 2021 Draft," said Regina Pats Director of Scouting Dale McMullin. "The kids have to keep doing their part to keep improving. We've got three kids signed out of that draft, which is good. We've also had good reports on a lot of these players. With the three players we have signed now out of that draft, we believe we got three players that can add to the Pats lineup."
This year, the Pats have four picks inside the top 54 selections, giving them a good opportunity to add to a strong prospect pool, as the club looks to add depth transitioning out of a rebuild.
"It's exciting anytime you can get a number of picks inside the top three rounds, and especially the top five rounds. I think we've also had a little bit of success in the later rounds, whether it's the work the guys have put in or a little bit of luck. We gravitate to kids who work at their game, come from good families and put the effort in."
Here is a list of the Pats selections over the first four rounds over the last five WHL Prospect Drafts.
2021 WHL Draft
Round Selection Name Position
1 21st Jaxsin Vaughan Forward
2 30th Corbin Vaughan Defenceman
4 75th Raiden Zacharias Right Wing
2020 WHL Draft
Round Selection Name Position
1 1st Connor Bedard Centre
2 41st Matthew Wood Centre
4 71st Carter Herman Defenceman
4 73rd Tanner Howe Left Wing
4 74th Ty Plaisier Defenceman
2019 WHL Draft
Round Selection Name Position
1 17th Layton Feist Defenceman
2 41st Samuel Huck Forward
3 61st Zane Rowan Forward
3 63rd Matthew Kieper Goalie
3 66th Braxton Whitehead Forward
2018 WHL Draft
Round Selection Name Position
4 81st Jake Snashall Forward
2017 WHL Draft
Round Selection Name Position
3 51st Ty Smilanic Forward
The Pats also have a lottery pick for the second time in the last three years, but for just the seventh time since the year 2000. Here is a list of the Pats most recent lottery selections.
YEAR SELECTION PLAYER NAME
2020 1st overall Connor Bedard
2013 2nd overall Sam Steel
2010 5th overall Morgan Klimchuk
2009 5th overall
Chandler Stephenson
2005 1st overall Colten Teubert
2004 5th overall Brett Leffler
Five of these seven lottery selections have gone onto play in the NHL, as Sam Steel, Morgan Klimchuk, Chandler Stephenson and Colten Teubert have all played at least one NHL game.
"It's not an exact science but when you're picking a lottery type pick, you'd like a cornerstone player to anchor the franchise moving forward and a player you can build around."
With draft meetings underway this week, and both the U.S and WHL Draft set for Wednesday and Thursday, McMullin says he's enjoyed getting back into the war room with his scouting staff.
"It's exciting as you can have different discussions leading into the draft," he said. "Sometimes players come off the board and then you start looking at your overall list. You have to put it together in order and that's the order you have to go by. You build your team from the net out and you have to add skill. If you don't draft it, it's a hard commodity to trade for and if you do manage to trade for it, you pay a lot to do it. You gravitate to the best players and when you put your list together, you have to follow it very closely."
• Discuss this story on the Western Hockey League message board...


Western Hockey League Stories from May 17, 2022
The opinions expressed in this release are those of the organization issuing it, and do not necessarily reflect the thoughts or opinions of OurSports Central or its staff.