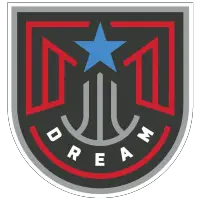 WNBA's Atlanta Dream Reveal First Half Entertainment Slate
June 1, 2023 - Women's National Basketball Association (WNBA) - Atlanta Dream News Release



ATLANTA, Ga. - The WNBA's Atlanta Dream announced a full lineup of entertainment for the first half of their 2023 home season, headlined by halftime performances from 1K Phew, Saucy Santana and Roscoe Dash.
Most games of the Dream's five-game home opening stretch are expected to be sold out and only limited inventory remains available for the New York (June 9) and Connecticut (June 11) games; tickets for each can be purchased here.
Baby Tate and Goldyard performed at the Dream's first two home games of the season, with Baby Tate's performance happening in front of a fully sold-out Gateway Center Arena.
The Dream's Friday, June 2 matchup against the Aces is sold out, the team's second sellout in three games. With two sell-outs in opening week to start off the 2023 season, the Dream currently leads the WNBA in ticket membership sales and are on track to sell out most of their home games this season in Atlanta. Fans are encouraged to arrive at Gateway Center Arena early as well as pre-pay for parking via the Ticketmaster app to avoid long entrance lines.
Friday, June 2 - Las Vegas Aces | 8:00 p.m. ET
Halftime: 1K Phew | Anthem: A.R.I.A.
1k Phew, also formerly known as Future Kid, is a Christian rapper hailing from Stone Mountain, Georgia. Known for his versatility and eccentric style, his personality is on full display in his music. 1k Phew is bridging the gap between faith and culture. Full of melodic flows and cadences, 1k Phew cites OutKast and Lil Jon as some of his main influences. After collaborating on Lecrae's song "Hammer Time", his standout performance increased his fan base and led to gaining a record deal with Reach Records
The Dream's first Friday night game against the Las Vegas Aces has already been announced as a sell-out, the second of the team's first five home games to be sold to capacity.
Friday, June 9 - New York Liberty | 7:30 p.m. ET
Halftime: Saucy Santana | Anthem: Nikita Hollins
After starting his career as a makeup artist for the Rap duo City Girls, Saucy Santana began rapping in 2019. He released his debut single "Walk em Like a Dog" in the same year. Saucy Santana gained acclaim in 2021 when his singles "Material Girl', "Walk", and "Here We Go" gave rise to several viral challenges on TikTok.
Sunday, June 11 - Connecticut Sun | 4:00 p.m. ET
Halftime: Canton Jones | Anthem: House of Hope Choir
Canton Jones is a Gospel/R&B Singer who grew up in Deerfield Beach, Florida. At the age of 5, Jones joined a singing quartet formed by his father. After high school, he attended Morehouse College where he joined the school's popular glee club. While apart of the club, Jones was afforded the opportunity to sing for Oprah Winfrey, Stevie Wonder, Bobby Jones, Ray Charles and more.
The Dream will celebrate Praise ATL day during the game, which will act as a celebration of the faith-based community in Atlanta. The Dream will debut their retail and on-court gear collaboration with God is Dope with limited edition merch for sale at Sunday's game.
Friday, June 23 - New York Liberty | 8:00 p.m. ET
Halftime: Roscoe Dash | Anthem: C West
Atlanta-native Roscoe Dash is a rapper, singer, and songwriter best known for his debut single "All the Way Turnt Up (featuring Soulja Boy)," which peaked at number 46 on the Billboard Hot 100 in January 2010. He is also known for featuring alongside Wale on Waka Flocka Flame's "No Hands" the same year, and alongside Kanye West on Big Sean's "Marvin & Chardonnay" in 2011, both reaching Nos. 13 and 32 respectively on the Hot 100.
The Dream will host Sneakerhead night as a celebration of Atlanta's sneaker culture, with a sneaker museum on the concourse showcasing our players' kicks and an artist designing Dream shoes on the concourse.
Friday, June 30 - Washington Mystics | 7:30 p.m. ET
Halftime: Victor Jackson | Anthem: Gay Men's Choir
The Dream celebrate Pride during Friday night's game against Washington, with the evening's entertainment headlined by College Park native Victor Jackson and the Gay Men's Choir returning to perform the National Anthem. Dubbed "Mr. Glam Rock Soul" As a choreographer and creative director, Jackson has worked with superstars including Jennifer Hudson, Lil' Wayne, and August Alsina. He has appeared on The Real Housewives of Atlanta, The Game, Step Up: Highwater, Lovecraft Country, and Kandi & The Gang with an electric performance of his single "He Belongs To The City". As a performing artist, Jackson has appeared in AT&T's Turn Up The Love campaign and was chosen as one of CITI & Music Forward's 2022 LGBTQ+ Emerging Artists.
As one of the Dream's tentpole themes, the Pride game will celebrate Atlanta's burgeoning LGBTQ community. The inside the arena will be decked out in a vivid Pride-themed montage including giveaways adorning seats, video board graphics and décor. Fans will also have the opportunity to purchase special Dream Pride shirts at the Dream Drip Shop inside the arena.
Sunday, July 2 - Los Angeles Sparks | 3:00 p.m. ET
Halftime: DSSD Step Team | Anthem: Helen Medlin
Daughter Sister Stepper Dancer (DSSD) is a local Atlanta dance group comprised of young girls ages 4-18 years old. DSSD strives to create a solidarity environment through an outlet of artistic expression through step, dance & cheer. DSSD has the most significant youth step following in the step world and is a national and state championship team.
Tuesday, July 18 - Minnesota Lynx | 7:00 p.m. ET
Halftime: 112 | Anthem: Jase (Soul4Real)
Atlanta-based 112 rose to fame in the late 1990s and continued into the early 2000s with hits such as "Only You" (featuring The Notorious B.I.G.), "Anywhere" and the Grammy Award-nominated single "Peaches & Cream". The group most notably won a Grammy Award in 1997 for Best Rap Performance by a Duo or Group, for featuring on the single by label boss Puff Daddy, "I'll Be Missing You" (alongside Faith Evans). On July 24, 2020, 112 released the single "Spend It All". In an interview with Rated R&B, they described the song as "an ode to women." "Spend It All" is the first single from 112's EP Forever.
112 will be a key feature of the Atlanta Dream's first-ever 90s night. The entire game experience will be a throwback experience to the 90s, highlighted by limited-edition Atlanta Dream 90s merchandise for sale.
Saturday, July 22 - Connecticut Sun | 1:00 p.m. ET
Halftime: Burn Unit Breakdance Company | Anthem: Bahja
Diverse in ethnicity, gender and age, Atlanta's Burn Unit breakdance crew brings a distinct style of dancing to the Dream's halftime on July 22. Their raw, edgy movements are reminiscent of house dancing, Capoeira, gymnastics, Cirque du Soleil and animalistic influences.
Tuesday, July 25 - Phoenix Mercury | 7:00 p.m. ET
Halftime: Suni MF | Anthem: Sirena Grace
Suni MF is an artist, songwriter, voiceover actress, actress & influencer from the westside of Atlanta, GA. She quickly built her reputation off amazing stage presence paired with powerful & catchy lyrics. Her latest single "Easy Money" has garnered over 300K streams on Spotify and sync'd in multiple TV shows such as Zeus's "One Mo Chance". With almost 1M views on TikTok, the sound started a dance trend which launched her acting career in Issa Rae's newest show "Rap Sh*t." Suni MF's songwriting breakthrough occurred when she received her 1st placement, with KeKe Palmer's "Sticky", which premiered & featured on MTV's Club MTV #DanceTogether & the 2020 VMAs. Since then, she has written for Central Park (Apple TV), FloMILLI, Sukihanna, and more.
This will the Dream's first superhero night which will feature superhero themed activations throughout the entire game experience.
The Atlanta Dream play all home games at Gateway Center Arena, located at 2330 Convention Center Concourse in College Park, Ga.
• Discuss this story on the Women's National Basketball Association message board...


Women's National Basketball Association Stories from June 1, 2023
The opinions expressed in this release are those of the organization issuing it, and do not necessarily reflect the thoughts or opinions of OurSports Central or its staff.