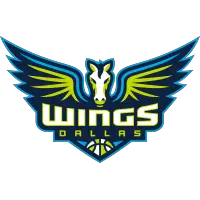 Wings Sweep Road Trip, Defeat Liberty, 81-71
May 15, 2022 - Women's National Basketball Association (WNBA) - Dallas Wings News Release



Brooklyn, New York - The Dallas Wings (2-1) defeated the New York Liberty (1 -3), 81 - 71, at Barclays Center Sunday afternoon.
The Wings had four scorers reach double-figures, led by Dallas guard Arike Ogunbowale, whose 21 points made her the first Dallas player to score 20 or more points in back-to-back games this season. She was joined in double figures for a second straight game by Isabelle Harrison (18 points, season-high), Marina Mabrey (14 points) and Allisha Gray (11 points).
Veteran Kayla Thornton spearheaded the rebounding effort, as she grabbed a season-high 10 rebounds, in addition to her career-high tying four assists.
After a perfect road trip, the Wings return home to College Park Center to take on the Washington Mystics (3-1) on Tuesday, May 17. Tipoff is at 7:00 p.m. CT.
Head Coach Vickie Johnson
On the win...
"I know a lot of you guys want to talk about our offense, but it was mostly our defense. The way we defended, the way we are rebounding the basketball, and then we were able to get out in transition and knock down some shots. Arike [Ogunbowale] was smart with the basketball, her IQ was getting people involved and making her own shots as well. But I thought it was a team effort, on both sides of the basketball."
On rookie Veronica Burton...
"She is very impressive. Especially for a rookie to have that time of pressure on the ball. And asking her to run a team, a team full of scorers, where she has to organize and have the patience to run the team for the team. It can be hard at times, because we have shooters that want the basketball, but she is demanding respect, and her teammates are respecting her and love playing with her."
On Burton's best defensive asset...
"Ball pressure. The way she can pick up the ball full court and stay in somebodies' space the whole time is very impressive. That is her go-to. When she was guarding [Betnijah] Laney, she wanted to drop off for a second, and I told her to get up and put pressure on her, and she turned the ball over. So I am very impressed with her, a great draft pick."
On Burton adjusting to the WNBA as the former #1 offensive option in college...
"This is the best league in the world. Her job for us is different from her college team, she has scorers two through five and coming off the bench that can score as well. We need her defense and her IQ as far as setting up players inside, and that's it. She is a very unique player. She affects the game on the defensive side of the basketball even if she doesn't score basketball, and she puts the team first in everything. She is a great one."
On the shift in pace...
"I think our defense and our patience. We just took what the defense gave us, we didn't get in a hurry. We took a couple quick shots, but for the most part we moved the basketball, and we found the open person, so I think that was the biggest thing. And then we realized that if we get to our spots, we can find open people and we have players that can knock down shots."
On wanting to lead the league in pace...
"I feel good about it. One thing I tell my players is that I just want them to play hard, guard and play for each other. If we do that, great things are going to happen. Everybody is going to get to eat. Get to share the basketball, get their shots but also play hard. Play your minutes and play your minutes hard. In those 22 minutes, you are going to be dead tired. So, then you tag out and let your teammate come in. And that's what we are doing. Thank God we have a 12-man roster."
On what stood out to you after the win...
"I think the ball pressure and switching and axing out. Our post players took pride in covering our guards and the guard took pride in protecting the post, meaning that when a post dove on a guard, we x'd out, and then when a big was posting up on a big, we were digging. We were just real active defensively and that is what stood out to me."
On forcing 17 turnovers...
"We want to be up; we want to apply ball pressure. Our fours (Isabelle Harrison, Kayla Thornton and Awak Kuier) are like guards, they can guard one through four, and so there is no reason for them to allow the easy swing to the four. We need to be aggressive, and we need to force turnovers in that area. Because in this league, a lot of the fours initiate the offence, and we can prevent that from happening."
On setting individual goals...
"A team without direction, you go nowhere. So, they know their goals as individuals, and they know our team goals. If each individual meets their individual goals, then the team will be very successful, and you see that now."
On the team's 2022 ceiling...
"I think, for the most part, it is getting the discipline and consistency game-to-game. Learning from our mistakes and building towards that. I don't put expectation on them, but I ask them to be disciplined and consistent for a long period of time. And let our defense speak for itself and play for each other. But I think great things can happen. If we continue to guard, play hard, and put the team first, then great things can, and will, happen for us."
On the biggest improvement from last year...
"I think the biggest thing is the growth. We belong. We believe we are ready now and it is all about us and what we do. Defensively and offensively. Nobody controls our destiny for us. We lost to Chicago; they won the championship. I thought we were the team that played them the best in the playoffs and regular season, so we matched up well. It was just a learning experience, and the offseason was totally different. They were telling me the expectations, as a team and as individuals, instead of me telling them. So, the growth and maturity, more than anything. Every last one of our players came in lighter, in great shape, and that says a lot about how you dedicated to the game, your team and the organization. And you are ready to go, so it is a great thing."
On Kayla Thornton and Isabelle Harrison...
"We ask them to do a lot to be honest with you. We ask them to switch, we ask them to help and run the court hard. We ask them to initiate the offense. They are the glue for us, our fours are the glue. They are able to do so many things for us. We ask them to rebound the ball, to pass the ball, we ask them to do so many great things and they do it. They take pride in doing it. And that is what I love about our fours. Even [Awak Kuier] as well. She is young and she is learning our league, and how to approach the game. But they are doing an amazing job and I am asking them to do a lot of stuff. If you notice I yell at them more than anyone, but I love them to death, and they are doing a great job."
On the expectation for the team with Satou Sabally retuning from overseas...
"To win. She has been watching, following, and wishing us good luck. She lands tomorrow and she is excited. She can't wait to join us and she knows it is not a new system, it is the same system. The expectations of her are still the same. She needs to come in and be a part of us and win a championship here."
Guard Arike Ogunbowale (21 points (team-high), four assists, one steal)
On her performance tonight
"That is how my game came to me. I didn't really score that much in the first half, but it is a game of runs. My team held it down and I held it down in the third quarter. It is all about a team effort. Someone falls and we pick them up and that is what we did."
On the defensive performance
"Defense is very important. Coach harps that on us every single day. The past two games we have been showing it.
Let me stop. First of all, when we get on the court, and we are in the game we are all thinking about BG [Phoenix Mercury's Brittney Griner]. I should have mentioned that in the beginning. We want her home as soon as we can. We are all a family. All 140+ [players]. Every time we step on the court it is for BG and hopefully her safe return.
Coach talks about defense a lot and that is what we tried to do and execute. We did that."
On Veronica Burton...
"How poised she is. Being a rookie in the league is hard, especially a point guard. I had to do it my rookie year and it was very tough. Her coming in, being comfortable and not being afraid in our place even if we are older. That is a great point guard. We listen to her because she demands that. She has a bright future. It is not a step down whenever she subs in - you can't say that about a lot of rookies in the league. She plays like she has been here. She will be in the league awhile and I am happy she is on our team."
On the team clicking defensively...
"Super noticeable. I was even noticing it in training camp. Like I said, Coach VJ [Head Coach Vickie Johnson] has made that an emphasis of the team. Obviously, we have a lot of scorers. If we can get stops that will win us games. Being out there and being all on one page it feels good. It feels like a team. We are competing as one. I love to play with these women."
On the return of Satou Sabally...
"It is going to be huge. We are already playing well without her, and she is an All-Star. She is an amazing player. She is going to demand a lot and now more people will be open, she will be open. She will be on our way back tomorrow, so I am super excited for her to be back."
On what stood out in the win today...
"I would just say the movement. Even when they made their runs, I feel like last year we would be in a lot of games, but in the last quarter we would fall apart. They made their runs, and we weren't able to respond. Even if they made their run, I think we stuck together and we held it together. I think that shows the maturity. It is our third year playing together, so we know each other. We know how to motivate each other and hold it together. I definitely see growth these past two games."
On how her teammates help her bring out the best in her game...
"Before every game we say we have to play for the team no matter what. If you play for the team, you will get your individual stats or whatever you are aiming for. Playing for the team, whatever you do is for the team. If you don't score and the team won, then it was for the team. It is all about playing for the team. I think that shows and that is why we are so close together right now."
On the focus on getting stops after halftime...
"We knew they were going to try to make a run. The first five minutes of the second half are always really important because it sets the tone for the rest of the half. So, we were not going to come out and let them get what they want and let them get their momentum back, so we got our stops and then we got flowing on offense. I think our offense is so much better when we get stops and get in the flow."
On the biggest improvement in the team...
"I would say just moving as one. I think last year, there were times where we moved as one, but a lot of times it broke down and led to more induvial play. But I think we are putting together longer stretches of playing team basketball, and when you are playing team basketball, especially on our team, it is tough to stop us. We have scorers, we can move, and we are versatile. If we play as one, we will do really well this season."
On the team's ceiling this season...
"It feels good. When we play as a team, it looks good, and it feels good. Even if they score, we still feel comfortable because you know that everyone is going to have your back and now, we are going to make a run together. I think us playing together, moving the ball, getting everyone involved just brings up everyone's confidence and now we want to get stops, we want to score, we want to pass because it looks and feels good. And it helps us win games."
On Head Coach Vickie Johnson saying the team can win now...
"I say she is absolutely correct. I think we showed it these past two games. Obviously, the first game was rough but that's not how we play. Like she said, we belong here, we belong in the league, and we are going to compete every single night. When we go into a game, whatever five against our five, we have our five and we are not scared of anybody, so she is right."
Wings forward Isabelle Harrison (18 points, six rebounds, two assists)
On Veronica Burton...
"I like the way that she stays with her game. She doesn't try and due to much and stays in her role. To have that as a rookie, that is pretty special. You don't have to tell her too much; you just say what she needs to do, and she executes it. And even defensively, she is good at getting stops. I know at her school she was known for her defense, so I am glad to still see that on this level."
On Burton's defensive prowess carrying over into the WNBA...
"I think that is good. It was a hard matchup with Sabrina [Ionescu] because she is pretty physical too. I am glad that V was pressuring her the whole game."
On Brittney Griner...
"If BG sees this at all, we miss you, we love you, and we are doing the best to get you back home and I hope you are staying in high spirits."
On differences in this year's team from past years...
"Our fight. I think we were always able to score, I think we were always able to be defensive stoppers. But the biggest thing is we have experience now. That comes with heart. Arike and I were talking about this in the locker room. We think last year we probably would have given up in a few of those stretches when they were going on a run. But I think that is what happens when you keep pieces together for a minute, we start to know each other, and know our ups and downs. So, I was really proud we were able to stick together and fight hard."
On building a winning culture...
"You are going to go through times where it is just a building process and move some pieces around to see what actually works together. I was pretty happy the way we started the game out tonight. I know that was a struggle for us in the first two games, and the story of Dallas recently. I think we were more attentive to what we need to do at the beginning of games and starting of well.
On the mindset on the road...
"Now we just gotta go back to CPC and get a win. I like the way we play on the road; I think it maybe gives us more focus because we center around what we need to do. So going back to Dallas, and facing Washington again, we just played them, so we know what we need to do. We know what their doing and we know what we need to execute to get a dub on our home court."
On her unit (the fours) ...
"I think when you look around the league and think about all the top players on each team, they are often at the four position. So, I think that now we have a good, solid base on me, Satou, Kay, that's a solid group right there and you could put any of us in at any time. I am just glad that we are able to look for each other and execute like other fours do on their teams. Defensively and offensively, I believe that we are the glue to the team, so we have to make sure we are always on it."
On winning now...
"We just got two road wins, and I am happy about that, and we just need to carry that momentum back to Dallas."
On being productive against larger bigs...
"I think in the first half I was rushing a lot of my shots, trying to be more physical. But my teammates did a good job encouraging me, urging to continue being physical and doing my moves to the basket, and so that second half I was that much more confident in the offensive areas. And defensively too. When your team rallies around you, you feel like you can do anything. I was really glad that I had my girls around me today."
On the return of Satou...
"We finally got the gang back together! We have been waiting on Satou this whole time, so I am glad she is going to be here tomorrow. I think we are just going to be that much stronger. Satou adds a different element to our team and the versatility that she brings is just going to help us that much more. I can't wait. She knows the system, so she is going to fit right in, and I am glad to have her back."
• Discuss this story on the Women's National Basketball Association message board...


Women's National Basketball Association Stories from May 15, 2022
The opinions expressed in this release are those of the organization issuing it, and do not necessarily reflect the thoughts or opinions of OurSports Central or its staff.