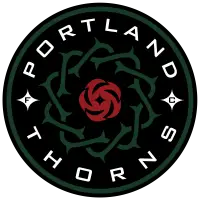 Thorns FC Advance to 2021 NWSL Challenge Cup Final with 2-0 Win over OL Reign
April 22, 2021 - National Women's Soccer League (NWSL) - Portland Thorns FC News Release



PORTLAND, Ore. - In their third match of the 2021 NWSL Challenge Cup, Portland Thorns FC clinched the top seed in the West Division and advanced to the final of the competition with a 2-0 win over OL Reign at Providence Park on Wednesday night. Lindsey Horan tallied the game-winning goal, while Simone Charley scored her first goal of the 2021 Challenge Cup as Thorns FC won their third consecutive match in the competition.
On To The Final
With the win, Portland (3-0-0, 9pts) clinched its spot in the Challenge Cup final. The championship match is set to take place on Saturday, May 8, with the site to be determined. It will mark Thorns FC's fourth trip to a final in nine seasons, which includes the club's three previous appearances in the NWSL Championship match (2013, 2017, 2018).
Portland Against OL Reign
Portland improved to 6-4-2 in 12 matches across all competitions at Providence Park against OL Reign. Additionally, Thorns FC are undefeated in their last four matches (3-0-1) against OL Reign dating back to July 13, 2020, outscoring them 8-2 during that span.
Streaks
Portland extended its unbeaten streak to seven games (6-0-1), dating back to the 2020 NWSL Fall Series. Across those six matches, Portland has outscored its opponents 15-3. Dating back to 2019, Thorns FC are unbeaten in their last six matches at Providence Park (5-0-1), outscoring their opponents by a margin of 12-2 during that span. Notably, Thorns FC have lost just once in their last 12 matches at home.
Thorns FC 2021 Debuts
Crystal Dunn made her first appearance for Portland, starting and playing 90 minutes. Horan, Becky Sauerbrunn, Christine Sinclair and Sophia Smith each made their first appearance of the 2021 campaign for Thorns FC. Additionally, Smith made her first appearance in an NWSL Challenge Cup match.
Goal-Scoring Plays
POR - Lindsey Horan, 17th minute: After Sophia Smith earned a foul just outside the 18-yard box, Horan curled her free-kick attempt into the top left corner of the goal.
POR - Simone Charley, 46th minute: A loose ball in the box fell to Horan, whose shot from close range was saved by Reign goalkeeper Karen Bardsley. The ensuing rebound fell to Charley, who fired a shot from the edge of the six-yard box into the back of the net.
Notes:
Portland is unbeaten in its last seven matches (6-0-1), dating back to a 3-0 win over Utah Royals FC in the NWSL Fall Series on Sept. 20, 2020.
Thorns FC are undefeated in 2021 (3-0-0), and are undefeated in two matches at Providence Park (2-0-0) this year.
This is the first time Portland has ever started a year with three straight victories.
Thorns FC had 29 shots in the match, which is the most by the club in a single match in club history
Lindsey Horan scored her first goal of the 2021 campaign.
The goal from Horan marked her second career goal from a direct free kick. Horan also scored from a free kick with a stoppage-time game-tying goal on July 8, 2017 against the Houston Dash.
Simone Charley had nine shots and six shots on target in the match. Both totals are the most in NWSL play since 2019.
Crystal Dunn made her debut for Portland, logging 90 minutes in her first start at Providence Park for the club.
Adrianna Franch logged three saves and registered her second shutout of the 2021 NWSL Challenge Cup.
Thorns FC's victory over OL Reign in tonight's match occurred on the anniversary - eight years ago today - of Portland first-ever NWSL match Providence Park in 2013, which was against Seattle Reign FC and ended with a 2-1 Portland victory.
Next Game
Thorns FC travel to face the Houston Dash on Sunday, May 2, at BBVA Stadium; kickoff is set for 4:30 p.m. (Pacific) and will be broadcast live on Paramount+.
Portland Thorns FC vs. OL Reign - 2021 NWSL Challenge Cup
April 21, 2021 - Providence Park (Portland, Ore)
Goals by Half 1 2 F
Portland Thorns FC 1 1 2
OL Reign 0 0 0
Scoring Summary:
POR: Horan, 17
POR: Charley, 46
Misconduct Summary:
OLR: Brooks (cautionary), 65
POR: Horan (cautionary), 72
Lineups:
POR: GK Franch, D Kuikka, D Hubly, D Sauerbrunn, D Klingenberg (Pogarch, 77), M Horan, M Salem (Rodríguez, 55), M Dunn, F Charley (Lussi, 69), F Sinclair © (Boureille, 69), F Smith (Weaver, 77)
Substitutes Not Used: GK Bixby, D Nally, D Westphal, F Everett
TOTAL SHOTS: 29 (Charley, 9); SHOTS ON GOAL: 10 (Charley, 6); FOULS: 11 (Four players tied, 2); OFFSIDES: 3; CORNER KICKS: 6; SAVES: 3
OLR: GK Bardsley, D McNabb (Cox, 77), D Hammond, D Brooks, D Jiménez, M Quinn, M Cruz © (Weatherholt, 57), M Huerta, F Angelina (Rapinoe, 57), F Balcer (Pruitt, 57), F King (Fishlock, 51)
Substitutes Not Used: GK Dederick, D Barnes, M White, F Momiki
TOTAL SHOTS: 10 (three way tie, 2); SHOTS ON GOAL: 3 (Three players tied, 1); FOULS: 16 (Weatherholt, Jiménez, 3); OFFSIDES: 0; CORNER KICKS: 3; SAVES: 7
Referee: Karen Abt
Assistant Referees: Salma Perez, Stephen McGonagle
4th Official: Corbyn May
Weather: Partly cloudy, 70 degrees
All statistics contained in this box score are unofficial
• Discuss this story on the National Women's Soccer League message board...


National Women's Soccer League Stories from April 22, 2021
The opinions expressed in this release are those of the organization issuing it, and do not necessarily reflect the thoughts or opinions of OurSports Central or its staff.