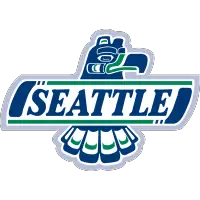 T-Birds Broadcasting All Games from 2017 Championship on YouTube
April 30, 2020 - Western Hockey League (WHL) - Seattle Thunderbirds News Release



KENT, April 30, 2020 - The Seattle Thunderbirds are broadcasting all six games of the 2017 WHL Championship on YouTube.
Game 2 of the series will be broadcast on Friday, April 30, at 7pm on the team's YouTube channel and can be watched by clicking on the widget below.
As part of the YouTube broadcasts the T-Birds are giving high school students in the Kent School District who have an interest in or are studying journalism, graphic design and video production the opportunity to be part of the team's promotion of the YouTube broadcasts as an extended learning opportunity. High school students will produce stories, graphics and video highlights that will be posted on the team's website and social media platforms during and after the YouTube broadcasts.
"We are so proud to have won the 2017 WHL Championship. Being able to put the games on YouTube for our fans is something we thought would be a positive for our community right now as we all deal with the COVID-19 pandemic," said Ian Henry, T-Birds director of communications.
"Supporting the education of our players is a cornerstone of the T-Birds and WHL. Being able to give high school students in our community, who are obviously facing an unprecedented change in their education, an extended learning opportunity that will provide valuable real world work experience, portfolio and resume material, and develop new skills is something we thought would be beneficial to our community," continued Henry.
The T-Birds will have a page on their website each week that will have a embedded YouTube widget on the page that fans can click on to watch the game. Fans can also go to the team's YouTube page to watch the games.
The game broadcasts are the original Shaw Cable broadcasts featuring Peter Loubardias with the play-by-play and Kevin Sawyer with color analysis. All broadcasts have player intermission interviews by Darren Dupont and Stu Walters, intermission analysis by Joey Kenward and Jeff Odgers, and post-game press conferences and interviews. Several of the broadcasts, but not all, include a pre-game show hosted by Andy Neal.
The team broadcast Game 1 on Friday, April 24, and will broadcast a game every Friday thereafter, culminating in Game 6 on Friday, May 29. All games can be seen on the T-Birds YouTube Channel and will be broadcast using YouTube Premier at a start time of 7pm.
YouTube Premier Broadcast Schedule
Game 1 Broadcast - Friday, April 24, 7pm
Game 2 Broadcast - Friday, May 1, 7pm
Game 3 Broadcast - Friday, May 8, 7pm
Game 4 Broadcast - Friday, May 15, 7pm
Game 5 Broadcast - Friday, May 22, 7pm
Game 6 Broadcast - Friday, May 29, 7pm
• Discuss this story on the Western Hockey League message board...


Western Hockey League Stories from April 30, 2020
The opinions expressed in this release are those of the organization issuing it, and do not necessarily reflect the thoughts or opinions of OurSports Central or its staff.
Other Recent Seattle Thunderbirds Stories