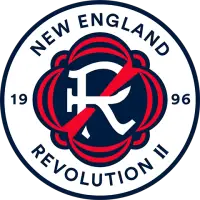 Revolution II Falls at North Texas SC, 4-1
October 23, 2021 - United Soccer League One (USL1) - New England Revolution II News Release



FOXBOROUGH, Mass. - New England Revolution II (11-12-4, 37 pts.) fell on Saturday night at North Texas SC (10-8-9, 39 pts.), 4-1. Justin Rennicks put New England ahead four minutes into the match before North Texas equalized six minutes later. The hosts added three second-half goals to secure the victory, including two from Bernard Kamungo.
Rennicks and Ryan Spaulding combined for the opening goal, exchanging passes down the left flank before the striker cut inside and fired a low shot into the bottom corner for New England's fastest goal in team history. The hosts equalized six minutes later, with Edwin Munjoma pouncing on a loose ball in the box.
New England went up a man in the 24th minute when North Texas SC center back Mark Salas was sent off for denying an obvious goal scoring opportunity. Revolution II also had a penalty kick with the game knotted at 1-1. Damian Rivera scored, but the goal was disallowed for encroachment as the 18-year-old slipped on the shot, hitting the ball twice. Two minutes later, Kamungo put North Texas in front.
Four Revolution Academy products started the match for New England - Tyler Freitas, Noel Buck, Justin Rennicks, and Damian Rivera - as did current Academy midfielder Esmir Bajraktarevic, making his 10th professional appearance since joining the club in August. Fellow Academy products Meny Silva, Hikaru Fujiwara, and Colby Quiñones also featured in the match for New England as substitutes.
New England will close the USL League One regular season next Friday afternoon, making their second trip this month to face Toronto FC II. Kickoff is scheduled for 4:00 p.m. ET on ESPN+.
POSTGAME NOTES
New England Revolution II 1, North Texas SC 4
October 16, 2021 - Choctaw Stadium (Arlington, Tex.)
New England Revolution II fell on the road at North Texas SC on Saturday, 4-1, shifting their record to 11-12-4 (37 points) on the year.
With 37 points through 27 games played, Revolution II remains above the playoff line in sixth place with one match remaining in the USL League One regular season.
Forward Justin Rennicks tallied his fifth goal of the season, scoring the quickest goal in Revolution history in the fourth minute of the contest. Five goals marks a new career high for Rennicks, who finished the night with three shots.
Defender Ryan Spaulding added his first assist of the season, and first since Sept. 19, 2020. Spaulding had five shots and two key passes offensively and five duels won, four recoveries, two interceptions, and two tackles defensively.
Defender Sean O'Hearn had team highs in recoveries (14), duels won (6), tackles (3), clearances (3), chances created (3), and interceptions (2) in a 90-minute effort at center back.
Midfielder Jake Rozhansky completed 64 of his 67 passes (95.5 percent) on the night, including three key passes.
Forward Edward Kizza set a new career high with six shots, including two on target.
Revolution II Head Coach Clint Peay made three changes to the Starting XI from New England's last match on Oct. 16 at Greenville Triumph SC, with François Dulysse, Tyler Freitas, and Esmir Bajraktarevic starting in place of Collin Verfurth, Pierre Cayet, and Maciel, respectively.
GAME CAPSULE
Referee: Corbyn May.
Assistant Referees: Ken Mizuno (AR1); Jay Norris (AR2).
Fourth Official: Jason Guillen.
Attendance: 880
Weather: 81 degrees and clear.
Scoring Summary:
NE - Justin Rennicks 5 (Ryan Spaulding 1) 4'
NTX - Edwin Munjoma 3 (Kalil ElMedkhar 5) 10'
NTX - Bernard Kamungo 3 (Blaine Ferri 3) 57'
NTX - Gibran Rayo 7 (Dominick Hernandez 4) 83'
NTX - Bernard Kamungo 4 (Edwin Munjoma 1) 89'
Misconduct Summary:
NTX - Mark Salas (Red Card - Denying Obvious Goal Scoring Opportunity) 27'
NE - François Dulysse (Yellow Card - Bad Foul) 31'
NE - Jake Rozhansky (Yellow Card - Bad Foul) 80'
New England Revolution II: Joe Rice; Ryan Spaulding, Sean O'Hearn, François Dulysse (Hikaru Fujiwara 72'), Tyler Freitas; Esmir Bajraktarevic (Meny Silva 61'), Jake Rozhansky ©, Noel Buck (Colby Quiñones 84'), Damian Rivera; Justin Rennicks, Edward Kizza.
Substitutes Not Used: Yannik Oettl, Dennis Ramirez.
North Texas SC: Richard Sánchez; Collin Smith, Lucão, Mark Salas, Derek Waldeck ©; Edwin Munjoma, Kazu (Bernard Kamungo 45'), Blaine Ferri, Kalil ElMedkhar (Devin Benton 84'); Gibran Rayo (Gabriel Morais 90'+3), Dominick Hernandez (Rio Ramirez 90'+1).
Substitutes Not Used: Juan Carrera, Hope Avayevu, Michael Maldonado.
North Texas SC Team Statistics New England Revolution II
16 (6) Shots (on Target) 24 (8)
5 Blocked Shots 5
7 Saves 2
5 Corner Kicks 4
3 Offsides 4
12 Fouls 10
417 (85.7%) Passes Attempted (% Completed) 413 (86.7%)
50.1% Possession 49.9%
POSTGAME QUOTES:
New England Revolution II 1 vs. North Texas SC 4
New England Revolution II Head Coach Clint Peay
On the teams trading goals in the opening 10 minutes:
Peay: "Both teams were looking to play. [North Texas SC] did a good job of making the field big and opened it up, and I thought we did a good job of building, so it was a little bit of back and forth. It was good to get the first goal. Unfortunately, we kind of made a little bit of a blunder to giveaway a second goal and then after that I thought we obviously started to threaten again and were able to get some looks in behind. We drew the red card and had the game under control from a professional standpoint, but we needed to be more dangerous in the final third. I just thought in the second half, the guys just struggled. We didn't have the killer instinct that you needed to be able to go out and go win the game."
On going up a man after a North Texas red card:
Peay: "In the first half, I thought it was fine for the most part. A couple times in transition, we could have done better with stopping them sooner with our counter press. But in the second half, they made it a game of keep away and I thought our guys didn't have the desire and the will to hunt for the ball and to win it back and to be able to dictate things, and it cost us in the end."
On the halftime adjustments the team looked to implement:
Peay: "We had the man advantage. We wanted to be able to create opportunities and be able to press them, and like I said, the guys didn't have a desire to press them, and it made the game stretched out longer and with longer periods of time that they had the ball and we were chasing. And it wasn't collective enough, and those are some of the things we talked about and at the end of the day the players didn't execute."
On the team getting discouraged following the missed penalty:
Peay: "I think it was a big momentum shift. We get a penalty, we botch that, and then they come down and they score a goal that was offsides. And so, you get this big momentum shift, and at that point we just needed to keep our cool and be able to get the tying goal back and then try to push for third. Again I thought we chases the game poorly, we didn't have the desire to work to win the ball back, and they did a good job of just keeping the ball and having a full field keep away game against us. And our guys weren't able to adapt."
New England Revolution II Defender Sean O'Hearn
On adjusting with an injury-ridden back line:
O'Hearn: "The biggest challenge was definitely the chemistry. Like you said, we haven't played a lot of games together, so it was hard. All in all, getting more minutes will help us click even better."
On the inability to convert after going up a man:
O'Hearn: "Honestly, we took our foot off the gas as soon as we scored the first goal. It's kind of embarrassing to say the least. Offensively, we couldn't put the foot back on the petal. Obviously, Justin made a good run in behind to draw the red card but obviously we didn't execute on the night. In the second half, we were a man up but couldn't find the right first touch. We had a lot of chances to score but just couldn't put the ball in the back of the net."
On the weather conditions and the bigger field:
O'Hearn: "Honestly, the field was pretty similar to the one at Gillette Stadium, so it wasn't that big of an issue. The thing that we weren't used to was the heat during the fall season. It's 82 degrees here so I think that the big field was causing us problems, but the weather here."
On the team's mindset heading into the final week of the regular season:
O'Hearn: "We need to put this result in the past and get a result on the road in Toronto [next Friday] because right now the playoffs are still in our hands. This week, we need to focus on getting the result in Toronto and really putting this result behind us so we can move forward."
• Discuss this story on the United Soccer League One message board...


United Soccer League One Stories from October 23, 2021
The opinions expressed in this release are those of the organization issuing it, and do not necessarily reflect the thoughts or opinions of OurSports Central or its staff.
Other Recent New England Revolution II Stories