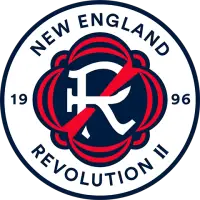 Revolution II Fall at Toronto FC II, 1-0
October 29, 2021 - United Soccer League One (USL1) - New England Revolution II News Release



FOXBOROUGH, Mass. - The 2021 USL League One season came to a close for New England Revolution II (11-13-4, 37 pts.) on Friday afternoon with a 1-0 defeat at Toronto FC II (10-10-8, 38 pts.). Toronto forward Paul Rothrock fired in a volley in the 62nd minute off a cross from Luca Petrasso to give the Reds a lead.
With a constant wind of up to 30 miles per hour blowing across the field, both sides struggled to provide service into the box. An early cross from Justin Rennicks hung up in the air for Edward Kizza, but the striker couldn't get on the end of the blowing ball. Kizza's best chance came in the 57th minute, when his shot was punched away by Toronto goalkeeper Caleb Patterson-Sewell.
Defensively, New England was aided by first-team players Jon Bell and Maciel, both of whom earned minutes with Revolution II following a 90-minute effort at the MLS level last Sunday. Four other first-team players started the match New England with Justin Rennicks, Edward Kizza, Damian Rivera, and Collin Verfurth all playing 90 minutes.
New England's 2021 season comes to an end following Friday's match, as the result eliminates Revolution II from playoff contention while keeping Toronto FC II alive. The USL League One regular season concludes with four matches on Saturday.
POSTGAME NOTES
New England Revolution II 0, Toronto FC II 1
October 29, 2021 - BMO Training Ground (Toronto, Ontario)
New England Revolution II fell on Friday afternoon at Toronto FC II, 1-0, closing the 2021 USL League One with a record of 11-13-4 (37 points).
Defender Ryan Spaulding recorded team highs in duels won (9), tackles (4), and interceptions (2) and also recorded a blocked shot and a shot attempt.
Defender Sean O'Hearn had a team-high 12 recoveries to go along with nine duels won, six clearances, three tackles, and a pair of chances created.
Defender Collin Verfurth pitched in with seven recoveries, three clearances, three tackles, and two interceptions while winning three of his four duels.
Forward Damian Rivera had a team high two shots and completed 22 of his 24 passes (91.7%) including one key pass.
Forward Edward Kizza registered the lone attempt on target for New England on the afternoon, also factoring in with one key pass.
Defender Jon Bell had a team high seven clearances, won five of his seven duels, and added seven recoveries in a 90-minute effort.
Midfielder Noel Buck recorded a pair of shot attempts, had one key pass, and won his lone aerial duel of the afternoon.
Revolution II Head Coach Clint Peay made three changes to the Starting XI from New England's last match on Oct. 16 at Greenville Triumph SC, with Collin Verfurth, Jon Bell, and Maciel starting in place of François Dulysse, Tyler Freitas, and Esmir Bajraktarevic, respectively.
GAME CAPSULE
Referee: Michael Mund
Assistant Referees: Peter Pendli (AR1); Maroune Mouhtadi (AR2).
Fourth Official: David Barrie.
Weather: 54 degrees and cloudy.
Scoring Summary:
TOR - Paul Rothrock 4 (Luca Petrasso 3) 62'
Misconduct Summary:
NE - Maciel (Yellow Card - Bad Foul) 37'
NE - Noel Buck (Yellow Card - Dissent) 66'
NE - Jake Rozhansky (Yellow Card - Unsporting Behavior) 90'+3
NE - Joe Rice (Red Card - Handball) 90'+4
New England Revolution II: Joe Rice (Red Card 90'+4); Ryan Spaulding, Collin Verfurth, Jon Bell, Sean O'Hearn; Maciel (Yannik Oettl 90'+6), Jake Rozhansky ©, Noel Buck (Esmir Bajraktarevic 84'), Damian Rivera; Justin Rennicks, Edward Kizza.
Substitutes Not Used: François Dulysse, Tyler Freitas, Colby Quiñones, Dennis Ramirez, Hikaru Fujiwara.
Toronto FC II: Caleb Patterson-Sewell; Kobe Franklin, Talen Maples, Kevin Politz © (Antony Curic 45'), Luca Petrasso; Steffen Yeates, Antonio Carlini; Paul Rothrock, Julian Altobelli (Dante Campbell 87'), Rohan Goulbourne (Hugo Mbongue 90'+2); Garrett McLaughlin (Kosi Thompson 83').
Substitutes Not Used: Andres Vaikla, Mehdi Essoussi, Themi Antonoglou.
Toronto FC II Team Statistics New England Revolution II
10 (5) Shots (on Target) 7 (1)
3 Blocked Shots 3
1 Saves 4
4 Corner Kicks 8
1 Offsides 1
10 Fouls 12
338 (74.3%) Passes Attempted (% Completed) 474 (81.0%)
41.4% Possession 58.6%
POSTGAME QUOTES:
New England Revolution II 0 vs. Toronto FC II 1
New England Revolution II Head Coach Clint Peay
On Friday's match at Toronto:
Peay: "Yeah, it was a difficult day to play a match in with the winds the way they were. I thought both teams were competing for the most part and making it difficult on the other to create a lot of chances. At the end of the day, I think the moments where we maybe had them in some good situations, we just weren't good executing or hitting the target."
On the team's overall urgency on the day:
Peay: "I mean, I think there's individuals certainly who could have been better in certain duels. There's no question. But I didn't think it was a sort of a collective team thing, I didn't think that was an issue."
On Joe Rice:
Peay: "[Joe Rice] was steady. Sort of a weird decision by him at the end but I thought overall he did a decent job."
On Maciel and Jon Bell joining the team for minutes:
Peay: "Yeah, look, [Jon Bell and Maciel] are guys who I think are good depth guys for the first team right now. They haven't played a lot of minutes recently, so I think it was a good opportunity for them to be in a competitive game to do that, but also hopefully to help our team that was a little bit depleted with some injuries. I thought both guys were okay. I don't think it was either guy's best day, but I thought their effort was okay."
On waiting until the 84th minute to make a substitution:
Peay: "I didn't really think that we needed to make a change. I thought what we had going on the field was good. Naturally, when they scored the goal, now you're thinking about what kind of attacking changes that you can make. At the end of the day, unfortunately most of our guys who were reserves were defenders and deeper midfielders, so we didn't have a lot of offensive options. We just ended up going with Esmir [Bajraktarevic] to see what he could create in the last few minutes of the game."
On the growth of the team as a whole throughout the season:
Peay: "I think certainly guys have taken some strides forward. At this point, I don't really have a lot to reflect on right now. I think I've got to sit back and think about that one a little bit more."
New England Revolution II Defender Ryan Spaulding
On the weather conditions:
Spaulding: "Yeah, I mean it was definitely tough. We tried to adjust; it was tough getting a read on actually how the wind was going to grab the ball once it was in the air. It's something that you kind of just have to just try to play through, try to keep things on the ground as much as possible, and then really just do what you can because there's only so much you can do."
On the difficulty generating scoring chances:
Spaulding: "I mean, we kind of know what they were going to bring to the table defensively. They're going to press at the times and mostly just going to sit back in their shape. I think we had a couple decent opportunities; we just didn't get a good clean either finish or final pass out of it. Yeah, it's just a game and, again, with the weather conditions, it's just tough."
On the final three matches of the season:
Spaulding: "I mean, this is a tight league. All these teams knew that coming down the stretch, every game was going to be a vital game. We treated them like playoff games, and we know the other teams did as well, and they were just fights. We just had to grind them out and it just didn't go for us this year."
On the urgency of the team winning duels:
Spaulding: "I think we put in a good effort. Again, it was tough kind of trying to get a good read off the ball whether it was coming off someone's head, you weren't really sure where it was going to end up. I think that kind of affected some of the guys when they're trying to pick up the second ball. Honestly, I think when you when you lose a game like this, there's always room to say 'I think we could have been better in this area or we could've won more duels here,' but that's just the game and that's just how it goes."
On his own personal growth throughout the season:
Spaulding: "Overall, with the team, of course we didn't make the playoffs, but I thought it was a pretty successful year. The league was so tight. We will have ended on 11 wins, which is what many of the teams have that did end up making the playoffs. I think Omaha had 14, Chattanooga had 13, but everyone else is on 11. So, I mean, I'm happy with that part of it. Obviously, we wish we could have made it to the playoffs. For me specifically, I think just kind of growing into the system and just kind of doing week in week out what the coaches ask of me and what the team kind of needs from me, and just trying to bring a hard work ethic every time we step out there and just trying to lead by example."
• Discuss this story on the United Soccer League One message board...


United Soccer League One Stories from October 29, 2021
The opinions expressed in this release are those of the organization issuing it, and do not necessarily reflect the thoughts or opinions of OurSports Central or its staff.
Other Recent New England Revolution II Stories