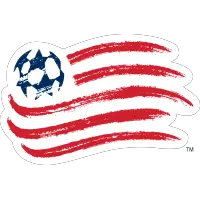 Revolution Defeat LA Galaxy II, 2-1, in Preseason Scrimmage
April 7, 2021 - Major League Soccer (MLS) - New England Revolution News Release



CARSON, Calif. - The New England Revolution defeated LA Galaxy II, 2-1, in a 60-minute scrimmage on the grounds of Dignity Health Sports Park in Carson, Calif. Midfielder Emmanuel Boateng recorded the opening goal in the 20th minute, beating several Galaxy defenders on the dribble for the unassisted score. Midfielder Damian Rivera tallied the game winner in the 42nd minute with a calm finish into the bottom-right corner, assisted by first-round MLS SuperDraft pick Edward Kizza.
The Revolution will conclude the 2021 preseason on Saturday, April 10 with a friendly against Los Angeles FC before returning to Foxborough in preparation for the regular season opener, Saturday, April 17 at Chicago Fire FC.
Match Notes:
- New England defeated USL Championship side LA Galaxy II, 2-1, in a 60-minute scrimmage, played over two 30-minute halves.
- Winger Emmanuel Boateng beat multiple Galaxy defenders for a goal in the 20th minute, his first tally as a member of the Revolution. Boateng joined New England as a free-agent signing in January.
- Revolution Academy product Damian Rivera delivered the game-winning goal in the 42nd minute. Edward Kizza, the Revs' first-round pick in the 2021 MLS SuperDraft, provided the assist.
- Goalkeeper Earl Edwards Jr. saw his first competitive action since an arthroscopic knee procedure on March 10. He was replaced by Revolution II goalkeeper Joe Rice for the final 30 minutes, as Rice made debut appearance with the first team.
- Emmanuel Boateng, Luis Caicedo, Scott Caldwell, A.J. DeLaGarza, Edward Kizza, Christian Mafla, and Connor Presley all played the full 60 minutes.
New England Revolution 2, LA Galaxy II 1
April 7, 2021 - Dignity Health Sports Park (Carson, Calif.)
Scoring Summary:
NE - Emmanuel Boateng (Unassisted) 20'
LA II - Goal 37'
NE - Damian Rivera (Edward Kizza) 42'
New England Revolution Lineup: Earl Edwards Jr. (Joe Rice 30'); Christian Mafla, A.J. DeLaGarza, Henry Kessler (Collin Verfurth 30'), Connor Presley; Tajon Buchanan (Damian Rivera 30'), Scott Caldwell, Luis Caicedo, Emmanuel Boateng; Teal Bunbury (Justin Rennicks 30'), Edward Kizza
Postgame Quotes
Midfielder Emmanuel Boateng (April 7, 2021)
On scoring his first preseason goal with the Revs:
Boateng: "It felt good. I think the mentality of the guys today was really nice. Everybody was focused. Tried to get a good session in, and I think we came and did what we wanted to do. We had a lot of guys playing well, so it felt good to be able to help the team get the win, for sure."
On his fitness level after playing the full 60 minutes:
Boateng: "Fitness level is good. I've been doing a lot of extra work, too, after training, getting some extra runs in because I haven't been getting the same minutes as the other guys, so just keep pushing myself and keep working hard every day, and I felt good. I feel ready for any minutes that get thrown at me going forward."
On both Tajon Buchanan and Henry Kessler making their preseason debuts:
Boateng: "It's good having them back. They've been back in quarantine for a week or so, and it was nice to get them onto the field. They looked pretty fresh out of national team camp, so definitely good to have them back."
On final steps ahead of the April 17 season opener:
Boateng: "Just need to stay fresh. I think the fitness level for most of the guys, the coaches are happy with, so right now that everybody's back, just the last 10 days, get ready. We've got a game coming up in a few days, just kind of get some finishing touches, what we need to get ready for the season. But I feel pretty confident that we'll be ready by then."
Goalkeeper Earl Edwards Jr. (April 7, 2021)
On working his way back from arthroscopic knee surgery four weeks ago:
Edwards Jr.: "Fortunately, I'd put a lot of work in in the offseason and I came in strong and fit, so the process coming back was much faster than we anticipated. They put me at four-to-six weeks, got back in three. I was able to train over the last five, six days, get some time in a game, so it's nice to get some preseason before the regular season starts."
On getting his first preseason minutes with New England:
Edwards Jr.: "Yeah, it was a good feeling. I think, again, having those last five or six days to be able to train allowed me to be more comfortable than I would have been being thrown into it straight off of returning, so felt good to be back out there with the guys."
On the team's performance in the 2-1 win:
Edwards Jr.: "I thought it was good. I thought it was a good exercise for us. I think oftentimes when you're playing a younger team, it's easy to play down to a certain level, but I think we did well in doing the right things, staying disciplined, and at the end of the day, results matter, so it was a good win for us."
On final steps ahead of the April 17 season opener:
Edwards Jr.: "I think it'll be a good test for us this weekend against LAFC. Tough result tying them last time we played them, so it'll be another good test a week out from our opening game, and I think we'll be prepared."
• Discuss this story on the Major League Soccer message board...


Major League Soccer Stories from April 7, 2021
The opinions expressed in this release are those of the organization issuing it, and do not necessarily reflect the thoughts or opinions of OurSports Central or its staff.