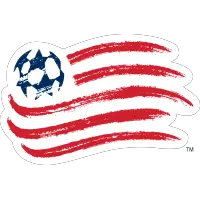 Revolution Battle LAFC to Preseason Draw, 2-2
April 3, 2021 - Major League Soccer (MLS) - New England Revolution News Release



LOS ANGELES, Calif. - Several New England Revolution players saw a full 90 minutes of action as the club played to a 2-2 draw against Los Angeles FC in preseason action at Banc of California Stadium on Saturday. Gustavo Bou and Adam Buksa both tallied in the first five minutes of the second half, before LAFC pulled within one and then equalized in the final minutes of the match.
Bou and Buksa each notched their second goals of the preseason through three matches. Brandon Bye picked up the assist on Bou's opener, while Carles Gil and DeJuan Jones recorded their second assists of 2021. Goalkeeper Matt Turner played all 90 minutes in net and produced four highlight-reel saves in the first half. In the second frame, Turner preserved New England's 2-1 lead when he denied Diego Rossi from the penalty spot with a diving save to his right. However, Rossi leveled the scoreline in stoppage time to force a 2-2 stalemate.
Defender Christian Mafla made his New England Revolution debut in the 78th minute. The left back joined New England from Atletico Nacional this past offseason. Fellow Colombian Luis Caicedo also saw his first preseason action as he returns from a knee injury that sidelined him for the entire 2020 campaign.
The Revolution will continue the preseason on Wednesday, April 7 against Los Angeles Galaxy II, before closing the exhibition slate on Saturday, April 10 vs. LAFC. Neither match will be streamed. After next Saturday's contest, New England will turn its attention to the 2021 MLS regular season opener on Saturday, April 17 at Chicago Fire FC, followed by the Revolution's home opener at Gillette Stadium on Saturday, April 24 vs. D.C. United.
Match Notes:
- All 11 of the Revs' starters in today's match played more than 70 minutes, while Matt Turner, Andrew Farrell, Brandon Bye, Maciel, Carles Gil, and Gustavo Bou each recorded their first 90-minute outings of 2021.
- Gustavo Bou's goal in the opening moments of the second half was his second of the preseason. Brandon Bye's low cross from the right side found Bou for the near-post finish, while Carles Gil also picked up his second preseason assist.
- Adam Buksa's goal in the 49th minute was also his second of 2021. The striker finished off a cross from DeJuan Jones, who now has two helpers this preseason.
- Goalkeeper Matt Turner played all 90 minutes in net and preserved New England's lead with a penalty save low and to his left in the 81st minute. In the first half, Turner kept LAFC off the scoreboard with four impressive saves.
- Midfielder Luis Caicedo and defender Christian Mafla each made their first appearances of the preseason as second-half substitutes. Mafla's 12 minutes of action were his first with the Revolution since joining the club this offseason. Caicedo made his first appearance since Oct. 6, 2019, as he missed the entire 2020 campaign recovering from a knee injury.
New England Revolution 2, Los Angeles FC 2
April 3, 2021 - Banc of California Stadium (Los Angeles, Calif.)
Scoring Summary:
NE - Gustavo Bou (Brandon Bye, Carles Gil) 46'
NE - Adam Buksa (DeJuan Jones) 49'
LAFC - Eduard Atuesta (Tristan Blackmon) 63'
LAFC - Diego Rossi 90'
New England Revolution Lineup: Matt Turner; DeJuan Jones (Christian Mafla 78'), Andrew Farrell, Jon Bell (A.J. DeLaGarza 84'), Brandon Bye; Tommy McNamara (Teal Bunbury 72'), Matt Polster (Luis Caicedo 72'), Maciel, Carles Gil ©; Adam Buksa (Edward Kizza 72'), Gustavo Bou
Postgame Quotes
Goalkeeper Matt Turner (April 3, 2021)
On the 2-2 draw with LAFC:
Turner: "I'll take some thought to let things settle in, but I think overall we were up to the task. A little frustrated - I think the first 20 minutes we were pretty flat. They were all over us. Once we settled down, started connecting a few passes, switched the point of attack, we started finding some gaps and some opportunities, and obviously coming out of the gate in the second half was great to come out, score two goals, create - I don't know - four, five, maybe even six really good chances to score. Their keeper made a great save to keep it from being 3-0. But from there, we've just got to do the right things to kill the game off. It's a good thing that it's preseason and we can learn these lessons, because it's kind of like the same old story, sort of like set pieces being our undoing (today), in the Galaxy game not scoring goals, so we're seeing some of the same messages from last year, but hopefully early enough that we can identify them and work on them, and get it right for April 17."
On Jon Bell's performance:
Turner: "I think, for me, I think he played excellently today. He was up for the challenge, he was up to compete, and that's the starting point - that intensity, that competitiveness. He did a really great job with that. He was calm on the ball under pressure, and that's not an easy attacking team to play against, and he made it look pretty easy, so I was happy for him to go out there. Now it's not the time for him to be like, 'Okay, job done.' He's got to compete - [Henry] Kessler's in front of him right now - and push Henry to continue to be better, [Andrew] Farrell to continue to be better, and I think he's got real potential."
On Luis Caicedo's return to action after a long injury layoff:
Turner: "I'm happy for him, because it's been a year and a half sidelined, a global pandemic, not being around the game that he loves. It took a toll on him mentally, I know. He's a happy guy, happy-go-lucky, and I know it was hard for him at times. So to see him be able to get out there and get his first competitive minutes under his belt, I think it really meant a lot to him and it was a good boost for our team, even though we didn't come out with the three points."
On integrating Tajon Buchanan, Henry Kessler, Wilfrid Kaptoum, and Arnór Traustason into the team moving forward:
Turner: "It's great because we put out a good performance today, and then you're like, 'Oh my gosh, we still have four or five guys that can still make a real impact off the bench, in the starting XI, as well. So I think it speaks to the depth that we have this year as a team, and now the competition. Hopefully trainings start heating up a bit, people are going to be jockeying for positions in the XI, in the 18, in the travel squad, all that kind of stuff, so it should be a fun final few weeks of preseason, and we can't wait to get back out there. And especially on the 24th, we're looking forward to getting out in front of our fans."
Defender Jon Bell (April 3, 2021)
On how the Revs handled a significant test against LAFC:
Bell: "This was a good test for us starting into preseason - the season starts in about two weeks. I think the first half was really us just feeling the game for a minute, then obviously the second half we come out and we get two quick goals and we started to get into more of a rhythm for ourselves. We were able to pass the ball around a lot more. So I think this was a really good test for us and a true test to see how we're going to develop over the season."
On Bruce Arena's message at halftime:
Bell: "He said we were playing fine. Defensively we were holding our ground, we were winning first balls and second balls, too. It was just that final third, it's putting that last puzzle together, that last piece which is getting the last touch and finishing the goal. We went out there and did exactly that."
On testing himself against top-tier MLS competition:
Bell: "It's great, especially for your development. For me, it's a blessing just to be able to come out here and showcase my talent, play at this level and play against a team like LAFC with [Carlos] Vela and [Diego] Rossi. For me, it's just a great opportunity to showcase what I can do. I think for all of us others, like Maciel, it shows, too."
On Matt Turner's penalty save:
Bell: "To be honest, I knew he was going to save it. I'm not going to lie. He did it with the [United States Men's] National Team. He's done it in the playoffs last year. He's just good at it. That's all I can say about it."
On objectives through the final two weeks of preseason:
Bell: "I think for us it's discipline, defensively and offensively. Like I said before, just finishing our chances. The first game of our preseason we lost 1-0, but if you had watched, we had a lot of chances there and we didn't take full advantage. The second game we were able to do that. Today, first half, we were kind of shaky. Second half, we picked it up."
• Discuss this story on the Major League Soccer message board...


Major League Soccer Stories from April 3, 2021
The opinions expressed in this release are those of the organization issuing it, and do not necessarily reflect the thoughts or opinions of OurSports Central or its staff.
Other Recent New England Revolution Stories