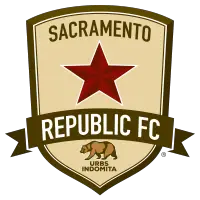 Republic FC's Ashley Horsley Proof That Girls & Women Belong in Sports (On & off the Field)
February 1, 2023 - United Soccer League Championship (USL) - Sacramento Republic FC News Release



Today is National Girls and Women in Sports Day, an annual celebration of all women athletes, their achievements, and the positive inclusion of women in aspects of sports. One of those women making an impact: Republic FC's Executive Vice President of Business Operations, Ashley Horsley. While her journey to Sacramento has certainly been untraditional, it's a story that demonstrates how creating new opportunities through innovation and risk-taking can unlock skills and passions you didn't even know you had, and lead you to a career in sports.
In her first job out of college, Horsley was in an entry-level position at 360 Blue - a small startup managing vacation rental homes, where she seized every opportunity to learn and grow. With only 10 employees, she took on many different responsibilities and discovered a passion: "I really enjoyed learning how every piece of the company came together the whole, and I was always looking at ways that we could improve," she said.
She grew with the company and was named Chief Financial Officer in 2013, working on the strategy team to create processes and strategies to transform the company by building an extraordinary portfolio of high-end luxury homes and providing boutique-level service. When an unexpected opportunity arose in 2014, Horsley doubled down on her commitment to the company: "I was presented with an opportunity to stay at 360 Blue and really take the reins, and with that I also took an ownership stake in the company. At first, I was a bit hesitant because it was so different than the life I had imagined for myself, but I decided to take the risk and everything really took off from there."
After she was named 360 Blue's Chief Executive Officer, Horsley led the company to reach record revenue and was instrumental in the acquisition and oversite of three similar companies. With the company expanding in every way, Ashley and her team were constantly looking for innovative ways to improve business operations and increase revenue. The first step was developing Glad to Have You, a customer-facing mobile app created to give guests easy 24/7 access to reservation and property details. The app became so popular that it is now used by property managers worldwide. After successfully breaking into the tech world with Glad to Have You, Ashley and 360 Blue founded Key Data Dashboard in 2018, created to provide data benchmarking and market analytics for the vacation rental industry to achieve greater occupancy revenue for homeowners. Ashley has served on Key Data's Board of Directors since its inception.
Even as her professional career was reaching new heights, Horsley never forgot her original dream to pay it forward and in 2015, 360 Blue founded The Sonder Project, a non-profit organization whose mission is to empower impoverished communities through high-impact sustainable development. Through the work of the Sonder Project - where Horsley has served as the President of the Board of Directors since 2015 - 43 wells have been drilled to provide over 50,000 people with increased access to clean water, 14 schools have been built, and over 1,000 people have increased food security through the development of a community farm.
After 360 Blue was acquired by Natural Retreats - a leading national brand in luxury rental management - in Fall 2020, Horsley continued to oversee the day-to-day operations of 360 Blue, while also joining Natural Retreats as a Senior Vice President. When she left the company in October 2021, she was named Key Data Dashboard's Chief Commercial Officer and her family relocated to her hometown of Nashville.
So how does all of this turn into a position in professional sports - especially for someone like Horsley who considers herself a "non-athlete" (although that's a lie because she is an avid runner)? "I didn't know I loved soccer until we lived in Nashville, and as soon as we went to a Nashville SC game, I fell in love," she said. "We bought season tickets immediately - I was hooked on everything and I tried to learn everything I could about the business of professional sports." From that point on, she knew what her next career step needed to be: "I loved what I was doing before, but I wanted to wake up every single day and be really excited about what I was doing, and I was confident that would be possible in sports."
After joining Republic FC in August 2022 - right before the club's appearance in the U.S. Open Cup Final - Horsley has hit the ground running with zero hesitation, helping the club close out the season with record revenues in ticket sales, partnerships, and merchandise. As Republic FC begins its 10th season, Horsley is eager to build on the club's rich history to lead the club into the next era: "I think this club is just getting started. I hope that in my role I can help Republic FC continue to make an impact on and off the field, and continue the trajectory that has already been established by so many fans, employees, and partners that have come before me."
As one of two women Executive Vice Presidents across all of USL Championship, Horsley is deeply committed to serving as a mentor for other women in the organization, while also striving to make professional sports more inclusive and diverse for all: "Being a woman in business comes with challenges that aren't faced by many people who aren't women," she explained. "It is important for women to know that there is a place for them in every industry, but especially in sports, and we have the ability to make just as much of an impact-if not more-than a man does in the same role. And I think that the more women that we can get in sports, the better off everything will be."
Fast Facts
Hometown: Nashville, TN
College: Colorado Tech (Major - International Business & Finance)
Favorite Sports Team (besides SRFC): Kansas City Chiefs
Biggest Women Rolemodels: Michelle Obama, Louisa May Alcott (more specifically the character of Jo March in Little Women), Brené Brown
Personal: Outside of work, Ashley and her husband Jordan enjoy the chaos of raising their 5 kids (who are all under age 5)
• Discuss this story on the United Soccer League Championship message board...


United Soccer League Championship Stories from February 1, 2023
The opinions expressed in this release are those of the organization issuing it, and do not necessarily reflect the thoughts or opinions of OurSports Central or its staff.