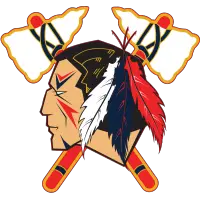 Real Hawks Wear Pink
November 9, 2020 - North American Hockey League (NAHL) - Johnstown Tomahawks News Release



Even during a pandemic-stricken, tumultuous year, the Johnstown Tomahawks set their sights on yet another successful off-ice campaign. The organization has been vital to the Johnstown community since its inception in 2012. Between schools, nonprofits and other charitable efforts, the Tomahawks have donated over $150,000 to the local community. The organization uses grassroots marketing and event planning initiatives, with a few special ideas thrown in.
This year, Head Coach Mike Letizia enlisted members of the team to use their social media platforms for the good of the campaign. The team set a goal of $5,000 for their campaign.
Between the help of friends, family and fans of the Johnstown Tomahawks, the campaign raised a grand total of $5,373 for the American Cancer Society.
Coach Mike first participated in the Real Men Wear Pink campaign last year to honor his wife, Alana who battled breast cancer throughout 2018 and 2019. This year, using the name #REALHAWKSWEARPINK to promote their campaign, players had their designated "day" in October to wear pink to help bring in donations and raise awareness via social media.
The Real Men Wear Pink of Central PA Campaign began in 2015 and usually has about 8 to 10 participants every year. The participants range from individuals to entire group efforts and the initial goal for the month is set at earning $2,500 in donations, wear pink every day to help raise awareness, and utilize social media to help promote their campaign. The men usually have events and fundraisers to help bring in donations, but due to COVID-19 that was not an option for the groups this year. Because of this, earnings were not quite as high as previous years.
Shannon Warburton, Senior Community Development Manager at the American Cancer Society praises the Letizia family for their dedication to helping those fighting breast cancer.
"Last year Mike and his wife Alana had reached out about being involved in this campaign," said Warburton. "They were so grateful for all of the support that their family had received during Alana's cancer journey and wanted to give back."
All the money raised helps the American Cancer Society with early detection and prevention, innovative breast cancer research, and patient support. Last year, Letizia's campaign raised over $10,000 for breast cancer research.
"Mike, Alana and family have been truly amazing to work with," said Warburton about the Letizia family. "It has been so heartwarming to see the love and support that they have for each other and it's truly inspiring to see them making an impact within their community. I feel so grateful for the opportunity to know them and to hear their story. Their support of the American Cancer Society is more than I could ever express."
When asked what the RWMP campaign means to him, Coach Mike said, "It's obviously an important battle for not only us, but so many men and women across the country. We knew that we have a large platform and a great, supportive following, and that we could capitalize on that for the greater good. A main goal of the Tomahawks organization is to be heavily involved in the community each year", said Letizia. "Our guys receive so much support from our local fan base, and they want to show their appreciation by giving back. Given the unprecedented time we are in right now, using social media to reach a wide audience and reach our goal had to be the plan. We're thankful that it worked."
• Discuss this story on the North American Hockey League message board...


North American Hockey League Stories from November 9, 2020
The opinions expressed in this release are those of the organization issuing it, and do not necessarily reflect the thoughts or opinions of OurSports Central or its staff.