Rattlers Ground Strike Force, 91-58
April 6, 2019 - Indoor Football League (IFL) - Arizona Rattlers News Release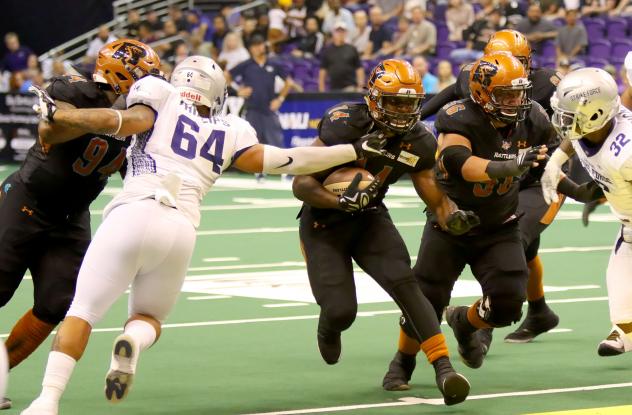 Darrell Monroe of the Arizona Rattlers runs the ball against the San Diego Strike Force
(Arizona Rattlers)
PHOENIX - The Arizona Rattlers (5-0) wrapped up their four-game homestand with a 91-58 victory over the San Diego Strike Force (0-6) at Talking Stick Resort Arena on Saturday.
The 91 points set an all-time Rattlers record; the previous record was 86 points on May 19, 2012 on the road against the Utah Blaze in the Arena Football League. Arizona's previous home record for scoring was 84, done twice, most recently against the Cedar Rapids Titans on April 28, 2018. Arizona K Jimmy Camacho also set a Rattlers record with 13 successful extra point attempts.
WR Jamal Miles played a big role in Arizona's record-setting night with five catches for 70 yards and four touchdowns and had another touchdown on the ground.
"He's done a great job for us since he's been playing for us," Rattlers Head Coach and General Manager Kevin Guy said. "He did a great job at running routes tonight and catching the ball."
"There was a lot of open space," Miles said. "We took advantage of it and got to the right lane and we did what we've been doing in practice."
QB Jeff Ziemba was 11-of-15 passing for 124 yards and five touchdowns. RB Darrell Monroe made his season debut and had 10 carries for 64 yards and two touchdowns.
For San Diego, QB Derrick Bernard had 119 passing yards for three touchdowns. RB George Moreira Jr. had 11 carries for 55 yards and two touchdowns.
Defensively for the Rattlers, LB Ricky Wyatt Jr. led the way with 8.5 total tackles and a sack. DB Davontae Merriweather and DB Dillion Winfrey both had an interception.
DB Omar Cook led the Strike Force defense with 4.5 tackles and an interception, and LB Mikell Mair had a fumble recovery.
The Rattlers started with the ball and Monroe made three straight runs, capped off with a 2-yard run into the end zone to give the Rattlers an early 7-0 lead.
After WR Jamal Miles returned a missed San Diego field goal attempt all the way to the Strike Force 20-yard line, Ziemba found Miles for a 20-yard touchdown pass to double the lead to 14-0.
On the next Strike Force drive, DL Connor Flagel forced a fumble, scooped up the loose ball, and took it 18 yards to the end zone.
The Strike Force would get on the board with 3:04 left in the first quarter with a Moreira 4-yard run.
After an unsuccessful San Diego onside kick attempt, Ziemba would connect with Miles again for a 6-yard touchdown pass to put Arizona up 28-7.
The Rattlers would try their own onside kick but San Diego would recover. The Strike Force would take advantage of the short field and score early in the second quarter on a 10-yard pass from Bernard to WR Julian Stafford.
Miles would help the Rattlers get that touchdown back as he returned the ensuing kickoff all the way to the San Diego 13-yard line before punching it in from 1 yard out two plays later.
Moreira would score on the first play on San Diego's next drive with a 41-yard carry.
The Rattlers answered immediately on their next possession as Ziemba threw a 34-yard strike to Miles for his third receiving touchdown of the game.
San Diego would cut the Rattlers lead to 14 as Moreira would score his third touchdown of the game with a 12-yard run.
Arizona would bump their lead back up to 21 as Monroe reached the end zone from 6 yards out.
Following an interception by Merriweather, Ziemba would find Miles for a 4-yard touchdown pass to put the Rattlers up 56-28 before halftime.
After a blocked Strike Force field goal attempt, Ziemba would throw his fifth touchdown pass of the game, completing a 24-yard strike to WR Jarrod Harrington.
QB Caleb Holbrook took over for Ziemba with 6:17 left in the third quarter and he would score on a 1-yard keeper to give the Rattlers a 70-28 lead.
San Diego would answer with a 37-yard touchdown pass from Bernard to WR David Carter.
Early in the fourth quarter, Holbrook would connect on a 5-yard pass to WR Sheldon Augustine for a Rattlers touchdown.
After a Strike Force interception, QB Jiha Vercher would fire a 36-yard touchdown pass to WR Marques Rodgers.
San Diego would get another turnover on a fumble recovery and Bernard would score on a 4-yard run. Vercher would then find Rodgers for a successful two-point conversion to make it 77-50 Arizona.
On the next Rattlers drive, Holbrook would connect with Augustine again for a touchdown, this time for 11 yards, to put Arizona up by 34.
With 37 seconds left, Rodgers would score on a 2-yard run and Vercher would connect with Moreira for another two points.
Augustine took the San Diego kickoff 50 yards to the end zone, giving the Rattlers an all-time high 91 points.
The Rattlers now head on the road for three games, starting with a trip down to Tucson to play the Sugar Skulls (3-2) on Sunday, April 14. The game starts at 3:00 p.m. AZT and can be seen on YouTube Live.
Images from this story
• Discuss this story on the Indoor Football League message board...


Indoor Football League Stories from April 6, 2019
The opinions expressed in this release are those of the organization issuing it, and do not necessarily reflect the thoughts or opinions of OurSports Central or its staff.