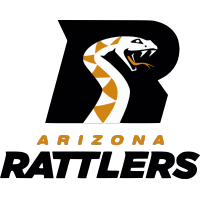 Rattlers Fall to Fighters in Final Minute
May 22, 2022 - Indoor Football League (IFL) - Arizona Rattlers News Release



PHOENIX - The six-time World Champion Arizona Rattlers fell 48-45 on Saturday night to the Frisco Fighters in a last-minute finish in downtown Phoenix.
"We flat out didn't get it done," Rattlers head coach Kevin Guy said. "They outplayed us and outcoached us.
"...There's nothing to be happy about."
Down to the wire
The Rattlers found themselves in a situation not previously encountered in 2022: First, needing a touchdown late in the game to secure a win, and then having to defend a game-winning drive by their opponent.
The first part was successful for Arizona. After a 41-yard touchdown pass from Frisco quarterback TJ Edwards to wide receiver Jerminic Smith to give the Fighters a 40-38 lead with 6:23 left, Arizona responded well, as Rattlers quarterback and 2021 IFL MVP Drew Powell led a drive that culminated in him running in for a one-yard score to give the Rattlers a 45-40 lead.
But Arizona came up short when it came to defending its lead - a common theme from the night. Frisco running back Justin Rankin had yet another tough run by a Fighter to help kick off the drive, as he slipped in and out of tackles.
"I think the tackling was the difference," Guy said. "We [have] got to tackle. There were several times we [Frisco] in the backfield and they got out."
Arizona appeared to gain an advantage when the Fighters were hit with a false start penalty, but after an unsportsmanlike penalty on the Rattlers after hitting Edwards late negated it.
"Stupid penalty," Guy said. "They were able to run all of the time off the clock.
"We [had] just had a huddle and said, 'Do not commit a penalty. If they score, they score, but do not commit a penalty.'"
Two plays later, Edwards used his legs again to give the Fighters a 46-45 lead and, after an easy two-point conversion, the win as only three seconds remained.
"There was one play where we were going to let them score, and he went down at the one," Guy said. "Smart play on their part. We should have helped him get across the goal line."
Blown leads plague Rattlers
One of the biggest issues that affected Arizona on Saturday night was its three blown leads of two possessions.
The Rattlers were up 21-7 with 9:03 left in the second quarter, 31-21 with 10:16 left in the third quarter and 38-27 with 3:10 left in the third.
"We were up two scores with [just] minutes left," Rattlers defensive back Dillion Winfrey said. "Personnel was there. We were up two scores and we didn't finish. We have got to finish."
Guy added: "We need to look at ourselves in the mirror. We need to be a physical football team."
The Rattlers put together two solid drives in the third quarter, but two big passing plays from Edwards and the Fighters got Frisco right back in the game. First, with Frisco down 11, Edwards found Augustine for a 21-yard pass. Edwards then nearly got another first down with his legs, gaining nine yards, before Rankin ran it in for four yards.
"We don't have much poise," Guy said. "Every time the game gets tight, we crack and melt. We are not mentally tough at all."
On Arizona's next drive, kicker Ernesto Lacayo missed a 32-yard field goal. Frisco took advantage, and subsequently the lead, via Smith's 41-yard touchdown reception.
"They were beating us on both sides of the ball, and the score just didn't reflect it," Winfrey said.
Back and forth first half
The Rattlers and Fighters looked like two of the best teams in the IFL early on Saturday night, as the first half between the two saw four lead changes.
Arizona got out to a 21-7 lead thanks to a touchdown pass from Powell to running back Shannon Brooks, who was wide open in the back of the end zone. The Rattlers' second score came via a one-yard run by Powell, which was set up by his 44-yard throw to wide receiver JT Stokes.
Arizona was able to extend its lead to two possessions after forcing a sack-fumble on Frisco quarterback Blake Sims, which gave the Rattlers the ball at the Fighters' seven-yard line. Sims was subbed out of the game and replaced by Edwards as a result. Arizona struck quickly, as on the next play, running back/wide receiver Jamal Miles scored on a seven-yard option pitch from Powell to give the Rattlers their 21-7 lead with 9:03 left in the second quarter.
Frisco came roaring back though, as Edwards, on his first drive of the night at the helm of the Fighters, rushed in for a seven-yard touchdown with 7:17 left in the second quarter. After getting the ball back, Powell and Miles couldn't complete a pitch handoff in the backfield, leading to a turnover and Frisco getting the ball at its own 20-yard line.
"We run that play every game and it was just one of those days that the ball bounced the wrong way," Powell said.
On their very first play of the drive, Edwards threw a deep pass to wide receiver Jerminic Smith for a 22-yard score, tying the game at 21 with 54 seconds left before halftime.
"They were giving us different formations," Winfrey said. "I was coming up, backing up. We've got to figure it out."
The Rattlers quickly regained their lead after Frisco failed to recover an onside kick after tying the game. The Fighters were primed to knot things even before the break, but watched Coach Guy call three straight timeouts to try and ice Frisco kicker Bryce Crawford before his attempt. After making all three attempts prior to Arizona timeouts, Crawford missed as time expired, giving the Rattlers a three-point advantage heading into the break.
• Discuss this story on the Indoor Football League message board...


Indoor Football League Stories from May 22, 2022
The opinions expressed in this release are those of the organization issuing it, and do not necessarily reflect the thoughts or opinions of OurSports Central or its staff.