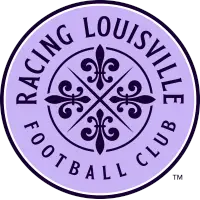 Racing Rides 'Learning Curve' to Narrow Loss vs. NC Courage
April 26, 2021 - National Women's Soccer League (NWSL) - Racing Louisville FC News Release



Yuki Nagasato of Racing Louisville FC vs. the North Carolina Courage
(Racing Louisville FC, Credit: ISI Photos)
Coach Christy Holly has often promised that despite Racing Louisville FC's status as an expansion side, the club won't give up points easily this year.
That proved true for the third straight game within the NWSL's preseason Challenge Cup tournament, as it took an 84th-minute goal for perennial league power North Carolina FC to escape with a 3-2 victory Monday at Lynn Family Stadium.
Racing also previously played to a 2-2 draw with the Orlando Pride in its inaugural NWSL game before being done in by a stoppage time strike in a 1-0 loss to the Washington Spirit.
"The mentality is tremendous," said coach Christy Holly. "I am so proud of the girls for their work ethic, the bravery that they put forth in terms of putting themselves in positions to compete and being in every game.
"What we need to do is we need to trust ourselves a little bit more. We are so much better than what we have shown in these first few games. I really believe that. We know we are on a learning curve. We know that we are taking things onboard.
"It is up to us to make sure that we are sponges here. We talked about it after the game. We've got to absorb this, let the scars happen and push on."
Racing played to an audience of 3,742 including Kentucky Gov. Andy Beshear, who lauded the club's willingness to make Monday evening's game the state's first pop up COVID-19 vaccine site at a sporting event. More than 50 people received doses. Those who didn't have a ticket to the game got in free; those who had a ticket received a voucher to a future game.
Continuing to play on its front foot, Racing gave away early chances, such as a second-minute corner kick knocked down in the box, shot and saved by Louisville's goalkeeper, Michelle Betos. The new club also converted somewhat against the run of play 24 minutes in.
Working the end line, Emina Ekic made her way into the box, had possession deflected away and out to Erin Simon, who looped a cross back into the penalty area. Cece Kizer - much like in Racing's first home game - netted the opening goal on a header.
"I was talking to Christy this past week about how I want to make my runs more toward the goal and not get so pulled out making my reruns - which is something I could add to my game," Kizer said. "Just be more dynamic in the box."
Nine minutes after Kizer's heroics, North Carolina equalized when Kristen Hamilton directed a header off the back post and in after a quickly taken corner by the visitors.
Into the second half, some of the NWSL's best attackers began to make their mark. U.S. National Teamer Lynn Williams had a 57th-minute counter stopped but not completely cleared. The ball found Julia McDonald, who tapped to Brazilian star Debinha for a world-class strike from the top of the box.
That wasn't it for a game that delivered plenty of highlights. In the 75th minute, the same as when Jorian Baucom subbed into the game for Racing, she flicked a cross from Kizer out wide to even the score at 2-2.
"I believe that was my first touch," Baucom said. "I tried going up for a header and was just a couple inches off that but first time, first touch, and first finish. It all just ended up working out perfectly.
"Our team environment and chemistry are next level. I immediately wanted to sprint to the bench and sprint to my team. My first instinct was, 'I need to go celebrate with the people who made it possible for me.' It was just an awesome first goal in the league to experience that with the club."
An 84th-minute own goal ultimately did Racing in after Betos turned away Debina, only to see the ball carom back toward the her net. Julia Ashley attempted to clear it but to no avail, making the difference in a back-and-forth contest.
While Racing has been mathematically eliminated from making the Challenge Cup final, there's one more game left to prepare for the regular season. The club visits NJ/NY Gotham FC for a 12:30 p.m. Sunday kickoff on Paramount+.
Game Summary: Racing Louisville vs. NC Courage
Venue: Lynn Family Stadium
Kickoff: 6:07 p.m.
Weather: 78 degrees, sunny
Woman of the Match: Cece Kizer
Attendance: 3,742
Scoring
Racing Louisville (1, 1, 2)
North Carolina Courage (1, 2, 3)
Goals
Racing Louisville: 24' Cece Kizer (assisted by Erin Simon); 75' Jorian Baucom (assisted by Cece Kizer)
North Carolina Courage: 33' Kristen Hamilton (assisted by Carson Pickett); 57' Debinha (assisted by Jessica McDonald); 84' own goal
Stats Summary: Racing Louisville / North Carolina Courage
Shots: 6 / 14
Shots on Goal: 3 / 5
Fouls: 6 / 8
Offside: 2 / 2
Corner Kicks: 1 / 9
Saves: 3 / 1
Lineups
Racing Louisville: 1 - Michelle Betos, 11 - Emily Fox, 18 - Kaleigh Riehl, 15 - Brooke Hendrix, 5 - Cece Kizer (70' 22 - Katie McClure), 2 - Lauren Milliet (83' 19 - Taylor Otto), 8 - Freja Olofsson, 3 - Erin Simon (70' 16 - Julia Ashley), 13- Emina Ekic, 17 - Yuki Nagasato (74' 33 - Jorian Baucom), 7 - Svannah McCaskill
Subs not used: 21 - Shelby Money, 23 - Katie Lund, 14 - Nealy Martin, 24 - Noelle Higginson, 27 - Vanessa Kara
North Carolina Courage: 0 - Katelyn Rowland, 3 - Kaleigh Kurtz, 4 - Carson Pickett, 15 - Schuyler Debree, 8 - Denise O'Sullivan, 10 - Debinha (88' 13 - Ryan Williams), 11 - Merritt Mathias (86' 20 - Lindsay Agnew), 23 - Kristen Hamilton (69' 16 - Hailie Mace), 25 - Meredith Speck (69' 21 - Cari Roccarro), 9 - Lynn Williams, 14 - Jessica McDonald
Subs not used: 1 - Casey Murphy, 2 - Taylor Smith, 7 - Diane Caldwell, 6 - Hailie Mace, 24 - Peyton Perea, 29 - Raylee Baisden
Discipline Summary
NC Courage: Pickett (yellow) 12'
NC Courage: Kurtz (yellow) 49'
Referee: Tori Penso
Assistant Referees: Maggie Short / Rebecca Luther
Fourth Official: Chris Schurfranz
Images from this story
• Discuss this story on the National Women's Soccer League message board...


National Women's Soccer League Stories from April 26, 2021
The opinions expressed in this release are those of the organization issuing it, and do not necessarily reflect the thoughts or opinions of OurSports Central or its staff.
Other Recent Racing Louisville FC Stories