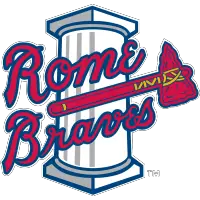 R-Braves' Bats Lead the Way in Series Split against Tourists
September 14, 2021 - South Atlantic League (SAL) - Rome Braves News Release



In their final road trip of the season, the Rome Braves (54-59) utilized strong offensive showings to force a series split with Asheville (50-60). The R-Braves took three out of six highly-competitive games against the Tourists in North Carolina.
September 7, Asheville wins 12-10
The Tourists picked up a walk-off victory in Tuesday's series opener. After Asheville scored a run in the first inning, Rome responded with a two-run homer by Drew Campbell to make it 2-0. A solo shot from Vaughn Grissom the following inning put the Braves up by two runs. Grissom then tallied a two-run single in the fifth, plating Cody Milligan and Michael Harris II. However, the Tourists scored six runs between the fourth and fifth innings, then dropped a three-spot in the bottom of the eighth to make it a five-run game. Fortunately for the visitors, the offense would not go down without a fight. RBI singles from Rusber Estrada, Andrew Moritz and Harris, and a two-run double by Grissom tied it up in the top of the ninth. Sadly, Asheville crushed a two-run walk-off homer the following half-inning to walk away with the Tuesday night triumph. Grissom led the offense by going 3-for-5 with a home run, a double, five RBI and two runs scored. Campbell (1-5, HR, 2 RBI, R), Harris (2-3, 2B, 2 R, RBI), Estrada (3-4, RBI), and Jesse Franklin V (2-5, 2B, 2 R) all had solid performances at the plate. William Woods (3IP, 3H, 0BB, 1ER, 2K) had a solid start, but relievers Davis Schwab (1 1/3 IP, 4H, 2BB, 1ER), Marrick Crouse (1 2/3 IP, 2H, 1BB, 2ER, 2K), Zach Daniels (2IP, 2H, 3R, 0ER, 3K), and Trey Riley (2/3 IP, 1H, 1BB, 2ER) ran into some trouble and four errors from the defensive did not help Rome's cause either.
September 8, Rome wins 10-7
The R-Braves bounced back from a poor start to win Game 2 of the series in Asheville. After falling behind 7-4 entering the sixth inning, Rome rallied to score four runs in the top of the sixth (thanks to a two-run blast by Campbell and RBI singles from Riley Delgado and Estrada) and two runs in the top of the ninth (on a Cody Milligan two-run double) to retake the lead and hold on for the victory. Campbell (2-5, 4 RBI, 2 R) homered twice and Carlos Martinez (3-5, 2 R) hit three doubles on the day. Grissom (2-3, 2 R, RBI), Milligan (2-6, 2 RBI, 2 R), Javier Valdes (1-1, R), and Franklin (1-5) all recorded two-baggers on Wednesday. Tanner Gordon got the win (1-4) after giving up five earned runs in five innings. AJ Puckett (1IP, 0R) and Jake Higginbotham (1 2/3 IP, 0R) each picked up their first hold of 2021 while Justin Yeager (1 1/3 IP, 0R) received the save. Each of Rome's three relievers combined to pitch the final four innings without surrendering a run.
September 9, Rome wins 11-9 (10 Innings)
An extra-innings triumph handed Rome the series lead on Thursday evening. After leading by four going into the bottom of the ninth, the R-Braves almost gave the game away as they allowed the Tourists to battle back and tie it up. Asheville forced extras, but all that did was give Rome's bats another chance to make an impact. They would not pass up this opportunity. A balk let Martinez score to make it 9-8, then a two-run homer by Shean Michel- his fifth of the season- made it a three-run difference. Although the Tourists would add one run in the bottom of the tenth, it would not be enough as they would fall by two scores. Michel was 3-for-6 with a home run, 4 RBI, and one run while Martinez finished 3-for-4 with four runs scored and one run batted in. Moritz (3-6, 2 RBI, R) had a three-hit day, Garrison Schwartz (1-4, RBI), Beau Philip (1-4, R), Delgado (1-5), and Valdes (1-4, 2 R, RBI) recorded one hit each. Darius Vines (5IP, 4H, 2BB, 2ER, 6K) had a great start. Coleman Huntley III (2 1/3 IP, 3H, 3BB, 2ER, 4K) and Benjamin Dum (2 2/3 IP, 5H, 4ER, 3K) pitched in relief, with the latter receiving the win (2-1).
September 10, Asheville wins 8-2
The High-A Braves got behind early and could not catch up in Game 4 of the series. Rome struck first, as a Martinez groundout in the top of the second drove in Grissom from third base. However, the Tourists scored four runs of their own in the second. After Harris doubled to bring in Delgado and make it a two-run game, Asheville created some separation by scoring one run in the fourth, two runs in the fifth, and one run in the eighth, then held on for a six-run win. Harris was a bright spot on offense, going two-for-three with a pair of doubles and one run batted in. Delgado finished three-for-four with one run. Martinez (0-4) added an RBI and Grissom (1-4) scored once. Jake McSteen (6IP, 8H, 1BB, 6ER, 5K) was handed the loss (2-4) and Schwab (1H, 1BB, 1R, 0ER) entered to pitch the last two innings.
September 11, Asheville wins 15-3
Saturday's matchup in Asheville went even worse for the Braves. Trailing 2-0 in the second, Rome scored two runs to tie it up as a Campbell triple drove in Grissom and a double from Martinez allowed Campbell to touch home plate. The Tourists added four runs in the third to create a four-run cushion. Although Campbell doubled in the fourth to score Grissom, Asheville continued to pour it on. The Tourists dropped a four-spot in the fourth and a five-spot in the eighth to pull away in a 15-3 victory. Campbell had a solid day on offense, going 3-for-4 with a double, a triple, two RBI, and one run. Grissom (1-2, 2 R) and Martinez (1-4, RBI) were the only other Braves to record a hit. Starter Dylan Dodd allowed eight earned runs in three innings. Mitch Stallings (4IP, 2ER) and Crouse (1IP, 5ER) pitched in relief.
September 12, Rome wins 10-5
An amazing comeback netted the R-Braves a win in Sunday's series finale, forcing a series split in the week-long series. Down 5-4 heading into the eighth inning, Rome scored six runs in the final two frames to pick up a clutch win in Asheville. A sacrifice fly by Martinez allowed Harris to score in the eighth. Then, in the ninth, an error brought home Garrett Saunders, a pickoff error let Moritz touch home plate, a Harris double drove in Milligan, and then Franklin capped it all off with a two-run blast to right-center field. Franklin (2-3, 2B, HR, 4 RBI, R), Harris (1-4, 2B, 3 R, RBI), Moritz (1-3, 2 R), Saunders (1-4, R), and Grissom (1-4) were the only R-Braves to tally hits on Sunday afternoon. Woods (3H, 1BB, 2ER, 3K) and Puckett (4H, 1BB, 2ER, 1K) pitched three innings while Higginbotham (1IP, 3K) and Trey Riley (W, 5-1; 2IP, 1H) pitched three scoreless frames to close it out.
Starting Pitcher of the Week
Right-hander Darius Vines continued a string of strong outings last week, and for that he has been named the Rome Braves Starting Pitcher of the Week. The Cal State Bakersfield product got the start in Thursday's extra-innings victory. Vines allowed two earned runs on four hits and two walks in five innings pitched. He finished with a WHIP of 1.10 and struck out six Tourist batters.
Relief Pitcher of the Week
Jake Higginbotham earned the title of Relief Pitcher of the Week for his efforts against the Tourists. The Buford, Ga., native had two relief appearances for the R-Braves last week. Higginbotham received credit for a hold on Wednesday after surrendering just one walk and one hit in 1 2/3 innings. He returned on Sunday to strike out the side in the seventh inning and give Rome's offense a chance to battle back in the series finale. Higginbotham denied Asheville any runs in those two appearances and finished with six strikeouts, a perfect 0.00 ERA, and a WHIP of 0.75.
Offensive Hitter of the Week
Vaughn Grissom's fantastic week in Asheville allowed him to take home Offensive Hitter of the Week honors. The 20-year-old infielder hit played in all six games against the Tourists. He hit .400 with two doubles, one home run, six RBI, and nine runs. Grissom was also walked seven times in North Carolina. His on-base percentage of .536 and slugging percentage of .650 combined to make for an outstanding OPS of 1.186. The Orlando, Fla., native and 2019 eleventh-round pick is now hitting .414 in nine games with High-A Rome since getting promoted from Augusta on Sept. 2.
Up Next
After splitting the series in Asheville, the R-Braves are now 54-59 overall. Although Rome has been eliminated from playoff contention, the High-A Braves still have a chance to win this week's series and finish above .500.
Rome will host Hickory six times in six days to close out the 2021 season. The two teams will play one game each day at State Mutual Stadium from Tuesday through Sunday. Games will start at 7 p.m. EDT Tuesday through Friday, 6 p.m. Saturday, and 2 p.m. Sunday. Gates open one hour before first pitch.
Tuesday's series opener will start at 7 p.m. in Floyd County and gates will open at 6 p.m. The daily promotion is $2 Tuesday, in which fans can receive $2 off any bowl ticket or purchase hot dogs, popcorn, 12oz fountain drinks, and domestic draft beer for $2 each.
Tonight's game will also be the Public Safety Appreciation and First Responders Night. Join us pregame to engage with police cars, EMS vehicles, firetrucks and more from local institutions such as Floyd County Police, Rome Police, Floyd County Sheriff's Office, Rome Fire Department, Georgia Department of Community Supervision, Redmond EMS, Floyd EMS, Floyd Prison, and Coosa Valley Fraternal Order of Police. All First Responders (EMTs, Paramedics, Firefighters, Police Officers, and Medical Personnel) get two free club level tickets courtesy of the Rome Braves. Show proper ID at the ticket window to redeem the offer.
For more information or to purchase tickets, please visit RomeBraves.com/Promotions or call the Rome Braves Box Office at 706-378-5144.
Images from this story
• Discuss this story on the South Atlantic League message board...


South Atlantic League Stories from September 14, 2021
The opinions expressed in this release are those of the organization issuing it, and do not necessarily reflect the thoughts or opinions of OurSports Central or its staff.