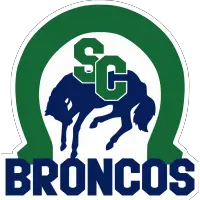 Prospect Profile: Connor Hvidston
December 2, 2020 - Western Hockey League (WHL) - Swift Current Broncos News Release



The moment Connor Hvidston found out he was drafted by the Swift Current Broncos in the 2019 WHL Bantam Draft is one he'll never forget. It's the manner in which he found out that could have been delivered slightly different.
"I was in the middle of a school badminton tournament," Hvidston recalled. "I was in the middle of a game and all the sudden one of my friends' parents yelled out to me that I got drafted by Swift Current."
He admits to losing his focus on the game and while he says he can't fully remember whether he won or lost that match, he says he probably lost.
The news of the draft came after a 2018-19 season with the North East Wolfpack where Hvidston scored 27 goals and added 30 assists in 31 games. His 57 points put him tied for seventh in SAAHL U15 scoring, but despite the strong offensive output, he wasn't sure whether or not he would be drafted into the WHL.
"I talked to about five or six teams on the phone over the season," Hvidston said. "I was definitely nervous heading into the draft. I didn't know if I was going to go or not, and it was definitely exciting when I saw Swift Current took me."
A congratulatory phone call from Broncos head scout Chad Leslie followed, giving Hvidston a run down on how the Broncos want their players to conduct themselves, along with details of when training camp would be.
Before making the transition to the U18 level, Hvidston came to Broncos training camp to get his first taste of how different the WHL level is. It was an eye-opening experience for the 14-year-old to say the least.
"It was a really good camp with all the stuff I learned and how Swift Current runs their organization," he said. "It was definitely a lot faster than what I was used to, it wasn't easy to keep up out there. You just have to do your best and take in as much as you can during the camp."
Being a Tisdale native the obvious team for Hvidston to join would have been the Trojans, but after previously committing to the team, a coaching change in Tisdale had Hvidston look elsewhere for a landing spot. He eventually decided on the Yorkton Maulers.
"My dad and I were talking and there were a few teams that I could have gone to," he said. "I had a good friend from Tisdale who was going to Yorkton for that season and I knew a few of the other players there already. I thought it would just be a good fit and a good year for me."
It did turn out to be an excellent decision by Hvidston as he flourished with the Maulers during the 2019-20 campaign, leading the team in scoring with 14 goals and 14 assists. There were only seven 2004-born players that scored more points than Hvidston in the SMAAAHL U18 in 2019-20, and only three who scored more goals.
The success wasn't there right off the hop, however.
"I think it took me like eight to 10 games to really get used to it," he said. "I don't even think I got my first point until the sixth or seventh game of the season. Once you get a little more used to the league and the speed you can be more confident with the puck and things just kind of went from there."
For his efforts Hvidston was named the Maulers top forward, top scorer, top rookie and team MVP.
While the individual success was prevalent last season, the team did not have a successful year as the Maulers limped to a 3-40-0-1 record.
"Going through a season where you don't win many games is tough," Hvidston admitted. "Last year I think there were times where we tended to give up on games at certain points. You just have to make sure you quickly put the last game out of your mind and focus on the next one to try and get the best result out of it."
With the season behind him, Hvidston returned home to Tisdale to prepare for his summer training. Luckily for him, the Covid restrictions put in place didn't affect his training regimen all that much as he was able to workout at home with his older brother Drayton.
"We've got a home gym setup in our basement so I didn't even have a gym membership over the summer," he said with a laugh. "We're brothers so we argue a lot, but we have a good relationship. We worked out together, skated together and went to conditioning camps together."
Drayton began the 2020-21 season with the Swift Current Legionnaires after spending last season in Tisdale.
Preparing for a second season in Yorkton, Connor wanted to make sure he was ready for a larger role with the Maulers in 2020-21. The coaching staff there felt the same way, leaning on him to be even more of an impact player.
"At the of the year the coach said they wanted to become more of a younger and hardworking team for next season," Hvidston said. "He was hoping I could be a leader on the team since we don't have a lot of returning guys this season."
Hvidston kicked off the new season leading by example as he racked up six goals and six assists in just seven games before the season was put on hold. He says confidence played a huge role in the early success.
"I'm just more used to the league," he stated. "It's my second year so I didn't have that adjustment period for the first few weeks. I'm not as nervous heading into each game like I was last season, which just allows you to be a little more confident with everything. I get a lot of ice time as well so that definitely helps."
The Maulers final game before the season pause was against the Legionnaires on November 22, and Hvidston went into the pause on a high note as he recorded a hat trick.
The strong performance wasn't enough to take bragging rights over his brother however, as the Legionnaires won the game 6-4.
"They beat us that weekend so he had the full bragging rights," Hvidston said. "But I was giving it to him because one of the goals was on a 2-on-2 against his defence pair, so I gave him a tough time about that."
With the season now paused, Hvidston is still going to school in Yorkton and is able to practice and workout in smaller groups while waiting for an update about their season.
While waiting for an update on what will happen this season, it was announced by the Melfort Mustangs that Hvidston has committed to them for the 2021-22 season Wednesday afternoon. The Mustangs drafted Hvidston ninth overall in the 2019 SJHL Bantam Draft.
"[Mustangs head coach and general manager] Trevor [Blevins] called me a few days ago and asked me to commit to them for my 17-year-old season," Hvidston said. "I told him I'd be more than happy to do that."
While excited for the chance to play for the Mustangs, Hvidston says his number one goal for the future is still the WHL.
"It's definitely my main goal," he said of playing in the WHL. "It would be exciting to play for Melfort, but Swift Current is definitely my number one choice. I think I'm more of an offensive player, so I think after getting used to the league and get more confidence I could be an offensive threat for the Swift Current Broncos."
• Discuss this story on the Western Hockey League message board...


Western Hockey League Stories from December 2, 2020
The opinions expressed in this release are those of the organization issuing it, and do not necessarily reflect the thoughts or opinions of OurSports Central or its staff.
Other Recent Swift Current Broncos Stories