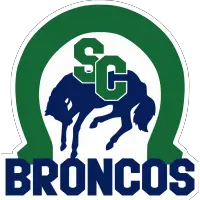 Prospect Profile: Carter Stebbings
November 26, 2020 - Western Hockey League (WHL) - Swift Current Broncos News Release



Carter Stebbings's stop in Nipawin turned out to be a brief one. With the Government of Saskatchewan's new restrictions putting a hold on the Saskatchewan Junior Hockey League's season until the new year, Stebbings is set to head home to Saskatoon, the city he's spent basically his entire life.
It was with the Saskatoon Maniacs where Stebbings, despite posting 60 points in 29 games, didn't see his name listed during the 2017 WHL Bantam Draft.
"I wasn't sure if I was going to go undrafted or be a late-round pick or something," Stebbings recalled. "I was a little nervous and also a little excited. When the draft was over and I didn't get drafted, I knew I just had to keep working and keep pushing myself to hopefully get listed and signed."
Stebbings went undrafted after talking to nearly half of the teams in the WHL in the weeks and months leading up to draft day.
Transitioning into the U18 level, still in Saskatoon, Stebbings suited up with the Saskatoon Blazers for the 2017-18 season, scoring a respectable 24 points in 44 games.
"I thought I had a pretty good year, I got a lot of opportunities which was really nice," Stebbings said. "It was a fairly new and young team, so all the chances to play allowed me to capitalize."
Leading up to training camps ahead of the 2018-19 season, Stebbings was ready to accept an invitation to training camp by another WHL team until he received a phone call from Dean Brockman.
"It was just before camp was about to start before my second year with the Blazers," Stebbings said. "I was already planning on going to Regina Pats camp, and then a week later I got a call from Dean saying he had listed me. So, plans changed and I went to Swift Current's camp instead."
The offensive production nearly doubled for Stebbings in his second season with the Blazers, scoring 13 goals with 32 assists in 44 games. The Blazers also made it to the league finals, but fell to the Notre Dame Hounds.
"We had a really solid team all around that year," he said. "We had tons of depth and really good coaching too."
The leading scorer on that 2018-19 Blazers team was current Broncos forward Cole Nagy, who finished second in league scoring with 65 points.
Stebbings says he and Nagy have known each other for a long time, forming a strong friendship.
"I've known him for basically my whole life," he said. "Our families are friends too, and we golf together pretty regularly. We both got a job working at the same place this summer. He's a great player at both hockey and golf. Last time we went out for a round he kicked my butt pretty good."
After spending the summer deciding whether or not to return to the Blazers for a third season or make the jump to junior, Stebbings came to the conclusion that returning for a third and final year would be the best for him.
The coaching staff was certainly happy to have him back, naming him the team's captain for the 2019-20 season.
"I had been there for so long and knew everybody really well," he said when asked why he felt the coaching staff wanted him to be the captain. "I think my style of play was a big factor in it as well. I work hard, don't take shifts off and do what the coaches ask. I work hard in practice too which I think is an important thing for a captain to do."
It was halfway through the 2019-20 season that Stebbings officially put pen to paper, signing a Standard Player Agreement with the Broncos on January 1.
He took his time making sure it was the right decision before coming to a final conclusion, however.
"I got the offer to sign pretty early in the season, and I took quite a bit of time to think about it and choose what path would be best for me," Stebbings said. "I talked with Dean pretty regularly and it was at the Mac's Tournament when I made the decision to sign."
A month and a half later, Stebbings got the chance to throw on a WHL jersey for the first time as a player, again in his hometown of Saskatoon.
While he appeared calm walking into the locker room ahead of the February 22 game against the Blades, he admits there were some nerves on the inside.
"Going into that game I was really nervous actually," he said. "It was nice to be in my hometown. I'm really familiar with that rink so that was nice too. Going out for that solo lap was really cool, just growing up in that same town and going to that rink all the time to watch games. It was a really cool experience."
He says he had 10 or 15 family members in the stands to take in his first WHL game.
Stebbings led by example as the captain of the Blazers this past season, posting a career high 50 points in just 35 games as the Blazers finished with a 33-9-2 record and atop the league standings.
Unfortunately, they couldn't replicate the playoff run they had the year before, losing in the opening round to the Tisdale Trojans in four games.
While the playoffs were cancelled not long after that, Stebbings says his offseason got off to a slower start with the early restrictions that were put in place in Saskatchewan.
"It was a very different summer, not being able to get on the ice as often or working out in my basement before gyms were open," he recalled. "But eventually it started to become a little more normal and I was able to get back training with my usual group, hanging out with friends and going golfing."
With the WHL season pushed back until early January, but the SJHL season getting a head start in November, Stebbings had the opportunity to get into some game action to keep himself sharp.
"It wasn't an immediate choice to go there, but I had been talking to them for a while," he said. "Once they were able to start, I talked to Dean about it and we thought it would be a good choice for me to get into some games and get a little bit of a head start."
Stebbings played four games with the Hawks before their season was put on hold, scoring one goal.
For now, Stebbings says he'll return to Saskatoon and resume his normal offseason routine of skating regularly and working out with his trainer.
He hopes to head south to Swift Current in the next month or so to be able to make an impression on the coaching staff at training camp.
"I really just want to stick to the way I've always played," Stebbings said. "I have to make sure I play that 200-foot game and try to use my playmaking to make an impact with the coaches. It's a mix of nerves and excitement to get down there and hopefully it works out the way I want it to."
• Discuss this story on the Western Hockey League message board...


Western Hockey League Stories from November 26, 2020
The opinions expressed in this release are those of the organization issuing it, and do not necessarily reflect the thoughts or opinions of OurSports Central or its staff.
Other Recent Swift Current Broncos Stories