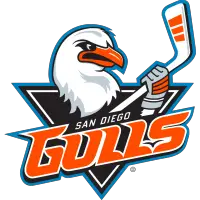 POSTGAME NOTES & QUOTES: December 9, 2017, San Diego 4 at Iowa 3 OT
December 12, 2017 - American Hockey League (AHL) - San Diego Gulls News Release



Wells Fargo Arena
10-11-1-0, 21 points
San Diego concluded a season-long five-game road trip with a 4-3 comeback win in overtime over the Iowa Wild at Wells Fargo Arena. The Gulls erased a 2-1 deficit entering the third period, and trailed 3-1 in the game, scoring three unanswered goals to for their second win of the season when trailing after two periods (also trailed 1-0 after two periods in a 3-2 SO win on Nov. 18 vs. Tucson). San Diego earned wins in three of the final four contests on the road trip to conclude the trek with a 3-2 record.
San Diego improved to 3-0 all-time versus Iowa and 12-6-1-0 against Central Division opponents. San Diego has also earned points in 17 of their last 19 road games (15-2-2-0) outside the state of California dating back to Dec. 29, 2016. San Diego begins a three-game homestand on Wednesday, Dec. 13 against the Stockton Heat at Valley View Casino Center (7 p.m. PT).
Eric Fehr scored his fifth and sixth goals in the season (2-02), his first multi-goal game as a Gull.
Kalle Kossila scored the game-tying goal at 11:18 of the third period, his fourth goal and 11th point (4-711) of the season.
Right wing Ryan White scored the game-winning goal in overtime, his first goal of the season and first for San Diego. The goal marked his first career AHL overtime winner and ninth career AHL game-winning goal. White also earned an assist for his first multi-point game as a Gull.
Scott Sabourin earned an assist on Eric Fehr's second goal to extend his point streak to a career high four games (2-24), surpassing his previous high of three games set twice previously (last: Feb. 24-28 (0-33)).
Reto Berra made 18 saves to earn his third consecutive win and improve to 4-2-0 on the season.
POSTGAME QUOTES
San Diego Gulls
Ryan White
On the road trip
We had a good couple of games on the trip. We didn't get the result we wanted in Chicago the other night. I thought (Head Coach Dallas Eakins) came in there after the second to kind of challenge us a bit. We weren't going to be denied tonight. Guys started putting pucks to the net, going hard to the cage and we found a way to win.
On lineup changes
That's the name of the game. If one guy goes down or gets shipped out it's next man up. That's part of pro hockey. I think the guys did a good job of not pouting today. We lost a good guy in (Spencer Abbott) the other day but I thought the guys did a good job of putting the work boots on and earning that win tonight. We needed it.
On his overtime winner
You are taught as a kid that if the guy has a breakaway to just keep your feet moving and follow up for a rebound. It kind of worked out in my favor tonight. I was a little shocked when I got the puck and to have the open net and I wanted to make sure that I put it away.
On earning points this time of year
I think any team you're on you want to make the playoffs. We're in a little bit of a spot here and need to get moving here and to pick up four points out of six points on the trip is big and we have to go back home here and get back to work.
Eric Fehr
On the comeback win
We really wanted to get this one. It was important for us to finish off the road trip on a positive note and I thought we brought great energy in the third and made a good effort in the comeback.
On his two goals
As a line we tried to keep it simple and just make sure we're putting pucks to the net and make it tough on them. We got a couple lucky breaks and we were able to put them in.
On he and Ryan White bringing veteran leadership
We're trying to help out in any way we can, whether it's in the room or on the ice. We're trying to bring it every night for the team and it was great to finally be able to chip in and really help the guys in a big win for us. I think this one can be a big turning point for us. We had some great energy down the stretch.
On the game-winning goal
I'm not ever sure how that all broke down. I just saw (White) had the open net from the side. Those ones are never easy when the game is on the line. He had a pretty tough angle there and he made a good play. It's a little river hockey, it's fun for the fans, and you want to make sure you're on the right side of those ones.
Steve Brown
San Diego Gulls Hockey Club
Communications Manager
(619) 359-4704 phone
(714) 323-0454 mobile
sbrown@sandiegogulls.com
• Discuss this story on the American Hockey League message board...


American Hockey League Stories from December 12, 2017
The opinions expressed in this release are those of the organization issuing it, and do not necessarily reflect the thoughts or opinions of OurSports Central or its staff.
Other Recent San Diego Gulls Stories